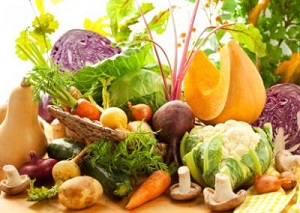 First there was Halloween to get through now Thanksgiving is looming up and it's so easy to give up on all the healthy eating plans you've been so carefully sticking to. You have, haven't you?
Spending time with the family is wonderful, and catching up with old friends is great but you might be thinking that Thanksgiving dinner would not be the same without all those rich and unhealthy dishes.
There are so many healthy recipes around now that come quite close to the original fare  that it's not hard to cook and eat healthy Thanksgiving dishes.
If there's one food that everyone's Thanksgiving has in common, it's potatoes.  Mashed potatoes, roast potatoes and sweet potatoes.
Mashed White Potatoes Are A Thing Of The Past

If you've been following a diet that frowns on white potatoes you might think you couldn't do without mashed potato but try this mashed butternut casserole instead. Many who have tried it were surprised how much they liked it. The problem with mashed white potato is that it has a high GI value which means it can raise your blood sugar.
Mashed Butternut Casserole
Ingredients
8 cups of cubed butternut squash ( about a 5 lb whole squash)
1.5 cups of diced sweet onion
1/8 of a teaspoon of cayenne pepper
1 teaspoon of finely chopped garlic
1 tablespoon of grass fed butter
¼ teaspoon of freshly ground black pepper
¾ of a teaspoon of sea salt
3 wedges of organic hard cheese
3 slices of free range turkey or pork bacon
Directions
Preheat oven to 356F (180C)
Cook the bacon in a frying pan until it's crispy, then crumble it and set aside for later.
Gently melt the butter in a pan and add the onion, cayenne pepper and a ¼ teaspoon of the salt and stir for 5 minutes.
Reduce the heat and stir carefully until caramelized. Remove from heat.
Bring a pot of water to the boil and steam the squash over it until tender.
Mash it in a large bowl, add the garlic, rest of the salt, cheese and pepper and mix it well.
Spread the mixture into an 8 x 8 baking pan and top with the caramelized onions and the crumbled bacon.
Bake it at about for around 15 minutes or until hot through.
Enjoy!
Say Goodbye To Candied Yams

Here's a tasty recipe for yams that does not use refined sugar.  The cinnamon besides making the dish tasty can help to prevent any blood sugar rise from the maple syrup. You can increase the basic recipe to suit the number of people you are cooking for.
Healthier Candied Yams
Ingredients
1 yam cubed
1/4 cup orange juice
1 tablespoon maple syrup
1 tsp cinnamon
1/2 tsp nutmeg
Directions
Preheat oven to 400F. (200C)
Chop the yam into 1 inch cubes
Cook them in a pan of boiling water for about 5-7 minutes until they are slightly underdone
Grease a suitable sized baking pan with coconut oil and place the yams in it
Mix together the orange juice, maple syrup, cinnamon and nutmeg in a small bowl and pour over the yams
Bake in the oven for about 25 minutes
Boxed Stuffing Isn't A Necessity

Instead, consider making a vegetarian cornbread stuffing.
Vegetarian Cornbread Stuffing                                                                                                                  
Ingredients
2 leeks, trimmed, cleaned and diced
2 tablespoons of avocado or coconut oil oil
8 celery stalks, finely chopped
3 organic eating apples, cored and diced
1 cup of chopped pecans
1 tablespoon of poultry seasoning
1 large free range or organic egg, beaten
4 cups of gluten-free cornbread (crumbled)
1 quart cup of port/sherry
Freshly ground pepper and Himalayan or Celtic salt to taste
Directions
Pre-heat oven to 350 F ( 175 C).
Heat the chosen oil gently over medium heat.
Add leeks and celery and sauté till slightly golden.
Add apple and cook for about 3 minutes.
Next, add the pecans and seasonings and sauté for another two minutes to allow the flavors to infuse.
Add 2 tablespoons of port/sherry and cook for a minute.
Set the mixture aside and allow it to cool for 10 minutes.
Put the cornbread in a large bowl and mix in the remaining port/sherry, egg, and sautéed mixture and combine well.
Transfer it to a baking dish greased with coconut oil and cover with foil.
Place it in the pre-heated oven and bake for 45 minutes, then remove the foil and bake for another 10 minutes to brow.
Healthy Pumpkin Pie
If Thanksgiving is just not the same for you without pumpkin pie then check out the recipes for a healthier baked or raw one at the link below.
Healthy Eating Plan & Healthy Thanksgiving Recipes
You see Thanksgiving can be healthy and delicious without much more effort! You will be able to indulge without piling on the pounds or feeling guilty afterwards.
Candied Yams Image By My Wholefood Life
Save
Save