Easter is yet another time when your post detox diet healthy eating plan can get a little sidetracked. With so much unhealthy food and chocolate treats around it's easy to give in to temptation and ruin all the effort you put into the detox and put on a few unwanted pounds as well.
Traditionally people celebrated the resurrection of Jesus on Easter Sunday with a feast following 40 days of fasting during Lent but these days, for many, it seems to be yet another excuse for a long weekend filled with excessive eating and drinking.
On a fitness forum I saw some one asking if she could pigout on Easter Sunday day if she ran 4 miles first. One reply was "Stop worrying and enjoy yourself. One day won't make a difference in the grand scheme of things." That's true to a certain extent but are you going to keep it to one day?
If you pig out on junk food it can help to fuel an addiction or cravings that you've had before. Binging on unhealthy and junk food may give you some pleasure while you are eating it, but it sure won't make you feel good afterwards. Not only will you feel lousy and bloated the next day but you will feel sooooo guilty.
So, here are some easy healthy Easter recipe ideas for you that won't spoil the January detox.
Happy Easter Smoothie
Well, of course you are going to start your day with a Green Smoothie! This Happy Easter Smoothie by Kathy Patalsky is the ideal way to kick off your holiday with a burst of healthy energy. I love the 3 color layered effect don't you? Great for the kids too. Break them in to healthy green smoothies this fun way.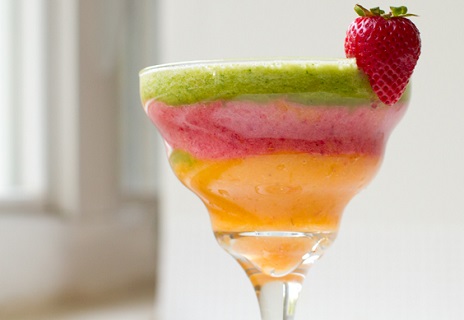 Breakfast
If you are into eggs for breakfast why not try this recipe for parsnip, carrot and kale hash with poached eggs. This will keep you going all morning and you won't be craving chocolate at all. Kale is said to be queen of the greens and for good reason. It is one of the cruciferous vegetables, full of fibre, antioxidants and sulfur compounds, so is excellent for supporting liver detox.
I don't recommend spoiling it with HP sauce or Ketchup. Top it with some healthy no added sugar home made or bought tomato sauce.
Parsnip, Carrot & Kale Hash with Poached Eggs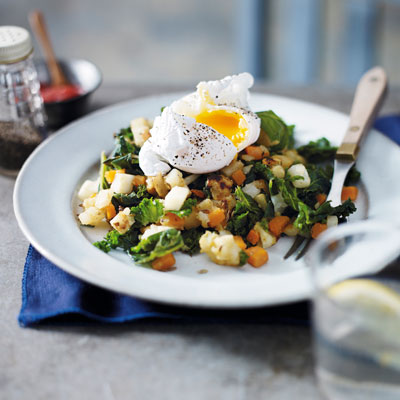 If oatmeal is more your thing then these Banana Pancakes might fit the bill.  They are so easy and quick to put together and are very filling. Oats are full of soluble fiber so are slower to digest and won't spike your blood sugar like refined cereals do eventually causing a blood sugar low making you crave sugar. Combining fruit and nuts with your oats adds more nutrients and cinnamon or nutmeg adds great flavor.
Banana Pancakes
You can also make some tasty healthy pancakes with buckwheat flour. Buckwheat has been in the news recently because several TV chefs have used it in recipes they have demonstrated and it's also on the list of food for the Sirt Food diet.  Read more about buckwheat and get the buckwheat pancake recipe here.
Easter Lunch
Serve these tasty zucchini (courgette) rounds as a healthy snack before lunch. Zucchini are rich in phytonutrients and minerals and low in calories. Sundried tomatoes are rich in the antioxidants lycopene, lutein and zeaxanthin.
Crunchy zucchini rounds with sun-dried tomatoes and goat cheese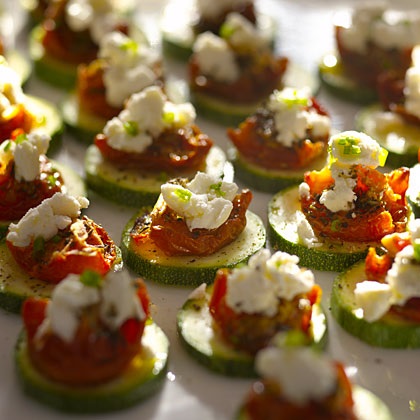 If you are a lover of Deviled eggs then try this Paleo and Healthy Avocado Deviled Eggs recipe instead of the usual ones that use unhealthy mayonnaise. You could add a teaspoon or two of Dijon mustard if you want to make it spicier.
Eggs can form part of a detox diet as they contain sulfur which the liver uses in one of the Phase 2 detox pathways. Just make sure they are organic.
Paleo and Healthy Avocado Deviled Eggs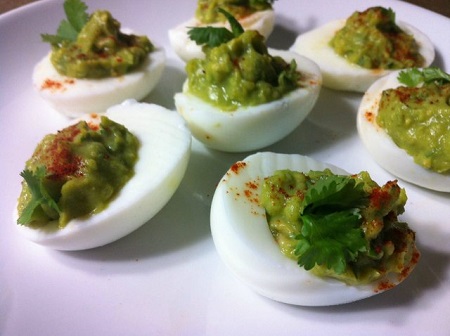 Roast lamb is the traditional meat for the main meal on Easter Sunday in the UK but Americans tend to favor Ham. What ever meat you eat have some healthy vegetables and salad with it.
Here's a recipe for an tasty and impressive looking vegetable medley.
Healthy Vegetable Medley with Warm Vinaigrette
Serves 4
Ingredients
400g butternut squash, peeled and cut into finger width batons about 3″ (6cm) long
1/2 large savoy cabbage, trimmed, core removed and finely shredded
200g purple sprouting or green broccoli, trimmed
2 zucchini ( courgettes) trimmed and cut into finger width batons about 3″ (6cm) long
125g asparagus
2 tbsp avocado oil
2 cloves fresh garlic
1 tbsp fresh thyme leaves
1 tsp Dijon mustard
zest & juice 1 organic lemon
1 tbsp pumpkin seeds
1 tbs sunflower seeds
A little Celtic or Himalayan salt
Black pepper
Directions
Steam squash & cabbage for 5 mins. Remove cabbage when wilted.
While they are steaming gently heat the avocado oil, garlic and thyme leaves for a few minutes.
Take off heat and allow the flavors to infuse.
Remove squash from steamer when cooked but still has a bit of bite.
Add broccoli and zucchini cook for 3 minutes
Then add asparagus and cook for another 2 minutes until all veg are tender but are still al dente.
Mix mustard, lemon juice and zest into the oil mixture and whisk to combine
Toss cooked veg in the dressing, seaon with a little Himalayan salt and freshly ground black pepper and sprinkle with seeds.
Place on an attractive serving dish.
Or try Roasted Spring Vegetables with Arugula Pesto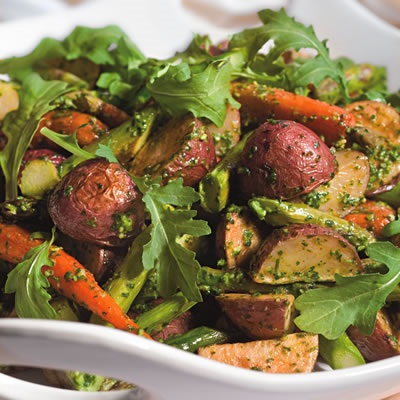 For a simple healthy salad try this tasty combination of beets ( beetroot)  and baby spinach. Beets are good for the liver and support liver detox. Leave off the goat cheese if you prefer.
Beet Bliss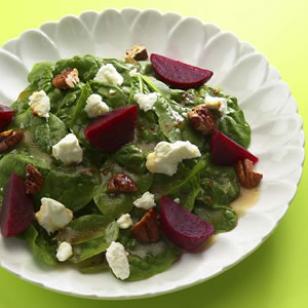 If you want a raw salad try this easy raw root veg salad
Raw Root Vegetable Salad
serves 4
Ingredients
2 carrots, about 300g, peeled and grated
300g celeriac, peeled and grated
2 large raw beetroot, peeled and grated
50g pumpkin seeds
Juice of 1 organic lemon,
1 tsp raw honey
3 tbsp cold pressed extra virgin organic olive oil
20g flat-leaf parsley, leaves
Himalayan salt & black pepper
Directions
Combine the carrots, celeriac and beetroot in a large bowl.
Whisk the lemon juice, honey and olive oil together. Taste and season.
Toss the salad with dressing, parsley leaves and pumkin seeds.
Dessert
Now for the desserts. You can still enjoy fantastic desserts. Many traditional desserts that are full of white flour, sugar and fat have been transformed by clever cooks into healthier versions using almond flour (ground almonds), coconut oil (yes, it is healthy), coconut flour and natural sweeteners.
One I tried out recently was Paleo Strawberry Banana Pie.
I have got used to less sweet tastes but my husband thought this could have been sweeter. If you want it sweeter you could add some date puree or xylitol. I would also put more vanilla in it when I make it again.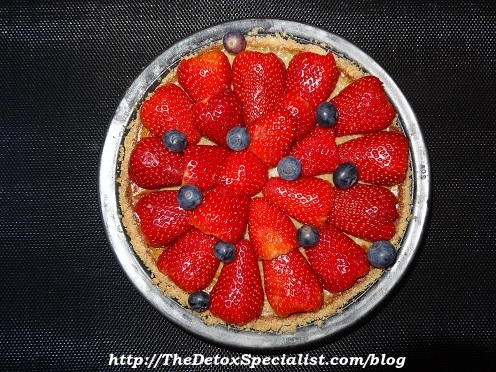 If you are a chocoholic then try the raw Chocolate Banana Coconut Cream Pie below. There's has been a lot of research on chocolate and you've no doubt heard that chocolate is good for you and is being called a superfood, but it's the dark chocolate that has the health benefits.
The potential benefits of eating chocolate are said to be due to the antioxidants it contains and include lowering cholesterol levels, preventing cognitive decline, and reducing the risk of cardiovascular problems.
Pure chocolate contains antioxidants like flavonols and theobromine but is quite bitter, which is why confectionery makers remove healthy flavanols such as epicatechins and combine it with other ingredients like milk, refined sugar and unhealthy fats.
To get the health benefits researchers suggest looking for chocolate with 70% cacao (or cocoa, which is cacao in its roasted, ground form) or higher. The health benefits of chocolate may disappear if you are adding the calories above and beyond your regular intake. A one inch square is all you need a day. Yes, that's all, really!
Raw Chocolate Banana Coconut Cream Pie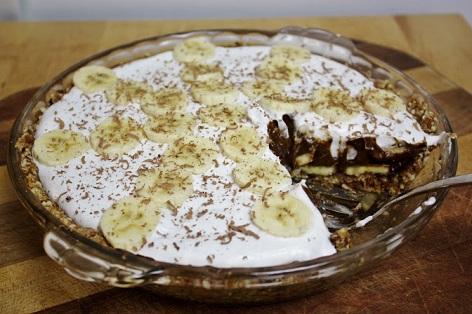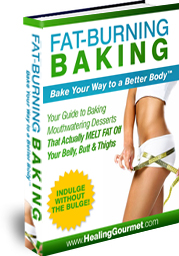 Exercise moderation with these desserts. Even though they are made with healthy ingredients you could find yourself gaining weight with too many healthy pie crusts and calorie laden fillings.
Want to know about Fat burning desserts?
Click here to download your guide to baking mouthwatering desserts that melt fat off your belly, butt and thighs.
If you enjoyed this post it would be fantastic if you would share it using the share button below, by "Liking" it on Facebook, "Tweeting" it to your Twitter followers and "Pinning" it to your Pinterest boards and leave a comment 🙂