One of the topics in my last week's detox subscriber newsletter was about the horse meat scandal in the UK & the safety of Veggie Burgers.
Even if you don't live in the UK you will no doubt have heard about the shocking horse meat scandal. Earlier this year horse DNA was found in some beefburgers labelled as 100 % beef being sold in UK and Irish supermarkets.
There were also reports that a drug, now banned for humans, given to the horses could have made its way into the food chain.
AS a consequence supermarkets have reported that sales of veggie burgers and other vegetarian meals had increased but the safety of those was questioned in an article that appeared in the Daily Mail.
The problem lies in the fact that the veggie burgers are often made from soy (soya) beans or contain soy (soya) protein.
Toxins in Soy Products
Soy protein is made by washing soya flour in acid in aluminum tanks. There are concerns that aluminum, which is toxic for the brain and nervous system, can get into the product.
Another concern is the chemical solvent hexane, listed by the EPA as "hazardous" and a known nervous system poison, is used to extract the oil from soya beans.
Toxic Addititives
Besides this soy protein is almost taste-free, so manufacturers add a host of sweeteners, artificial flavourings, salt and colourings to their products make them more tasty.
So, if you buy ready made vegetarian meals whether you are on a detox diet or not you are eating products with as many additives and industrialised ingredients as are found in cheap, processed meat products.
While you can buy some reasonably healthy ready made veggie burgers it's quick and easy to make your own and more economical than buying ready made ones.
Easy to make

The burgers can easily be made by combining nuts, cooked beans or peas with potatoes, cooked grains, onions, herbs or spices and binding the mixture together with tofu, eggs or tahini.
By the way, traditionally fermented soy products like tofu, tempeh, natto & shoyu and soy sauce are entirely different from modern soya proteins so they are fine to include in small amounts.
This recipe is a healthier recreation of the delicious burger that Wendy of the Healthy Girl's Kithchen Blog ate at the NorthStar Cafe in Columbus Ohio. It is apparently the most famous dish of the restaurant!
According to Kasey of Turntable Kitchen who also adapted the recipe "It's extremely complex in flavor–in part thanks to the assortment of spices (the coriander, particularly) present in the mixture. The beans and rice give it a great texture"
If you are on a detox diet you can eat it with some steamed vegetables or a large salad.
Alkaline Grain Veggie Burgers Recipe
This recipe is from Kimberley Snyder, the go-to nutritionist for many top celebrities, and author of The Beauty Detox Solution.
She says "These delicious veggie burgers are made with actual vegetables and the alkaline-forming grains of millet and amaranth. If you can't find amaranth, you can substitute in brown rice flour."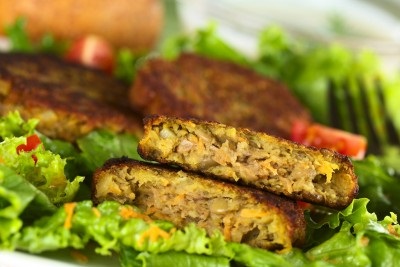 Sweet Potato & Black Bean Burgers With Asian Slaw and Spicy Mayo
This recipe comes from Megan of The Gluten Free Vegan. Her husband has celiac disease and is intolerant to a lot of foods so her household is gluten free and vegan.
On her blog Lunch Box Kathy Patalsky say's
"Easy Burger. You simply take a baked sweet potato, some soft canned beans (I used cannellini white beans) add in a few accents, mash, saute and serve. You can also bake for a healthier preparation. And you could add in other whole food ingredients too like brown rice, finely chopped apple, hemp seeds – whatever! The sweet potato is such a nice binder – you can really get creative if you choose."
Kathy's recipe contains wheat flour so if you are on a detox diet and are avoiding wheat Megan's gluten free version works fine.
Crispy Chickpea Burger Patties
If you like something spicy then you will love these patties which also come from Megan. "They are made with whole chickpeas still in the patty, and not a mushy mess like when I recall making chickpea patties ages and ages ago."
And if you want an ultra healthy burger then this raw vegan recipe from Dr Gabriel Cousens will fit the bill. You will need a dehydrator for this recipe although it is possible to dehydrate in an oven.
You should have the oven on the lowest setting, use the fan if you have one and prop the oven door open while dehydrating. You may need to only dehydrate for half the time recommended for a dehydrator. Most things will still take at least 8 hours to "dehydrate".
These healthy veggie burger recipes are ideal for when you are on a detox diet as you can feed them to the whole family. Try out the recipes and let me know your favorite.
If you enjoyed this post it would be fantastic if you would share this post by "Liking" it on Facebook, "Tweeting" it to your Twitter followers and "Pinning" it to your Pinterest boards. 🙂