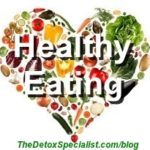 Like Christmas and Thanksgiving, the summer months are a time for indulging in in sweet treats. Summer always makes its mark with the smoky scents of a neighbor's backyard barbecue and late-night street fairs selling ice cream sundaes. With friends and family constantly inviting us to these events, it makes you question if it's even possible to eat healthy during the next three months.
However, while summer is the season of livin' easy and perfect beach weather, it doesn't mean you should abandon the notion of being healthy all-together. Eating clean and detoxing during the summer can actually be fun and doable with the right attitude and dedication!
These are some solid tips that will help you eat and stay healthy during the summer holiday.
1.  Educate yourself on nutrition and wholeheartedly implement your knowledge
Knowing what nutrition is how it works in the first place is a fantastic start to eating healthy. Take some time this summer to learn about nutrition, how to read nutrition labels, and eat in a way that best serves your health goals during the summer. Having solid knowledge on nutrition and food labels will enable you to make smarter food choices both in the summer and long run. You will always know from then on what is healthy for you and what is not!
2. Prepare your meals at home instead of going out to restaurants
When in the comfort of your own kitchen, you're able to control portion sizes and carefully prepare your food. The way food is cooked is just as important as the actual food being eaten. For example, broccoli sautéed with oil and salt in your favorite restaurant is not going to give you the same benefits as broccoli steamed in a pot of water at home. If broccoli is cooked in high-heat under a short period of time, majority of its antioxidants and nutrients will disappear. Not saying this for all restaurants, but what you may deem as healthy on their menu them may not actually be good for you at all.
3. Make water your main source of hydration
Cutting down on the soft drinks and monitoring alcohol consumption will do wonders – that's because soft drinks and alcohol are always bad sources of carbohydrates! By limiting yourself to only drinking water and allowing yourself an indulgent drink every now and again, you contribute to aiding your metabolic functions and overall organ health which can deteriorate under excessive sugar and alcohol consumption.
4. Follow diets that aim to improve your body's overall well-being
Diets that have been gaining popularity this summer are: the Mediterranean diet, Paleo diet, and Lipotropic diet. First, the Mediterranean diet is a wholesome and rich plant-based diet that aims to improve cardiovascular health. Under this diet, you can reap the delicious benefits of vegetables, fresh fruit, and olive oil, all of which aim to improve your heart and lower cholesterol. Next up is a Paleo diet -which excludes gluten, anything processed, sugar and grains. The paleo philosophy is that we should eat exactly what humans were biologically designed to eat: pesticide-free produce, herbs and spices, and grass-fed animals. Lastly, a diet with Lipotropic foods, or "fat-burning foods" aids in burning off excess fat, detoxifying the liver, and harmonizing a digestive system's functions. Lipotropic compounds such as a methionine and choline are commonly found in lean meats. These compounds disintegrate harmful fats during the metabolic process and prevent your liver from failing.
5. Curb cravings with smart snacking
When you're on a sugar or savory kick, substitute desserts and take-out for fresh fruit and lean or fatty protein, such as an organic blueberry smoothie or a hearty serving of salmon. Since sugar and salt can be addicting, it's best to tackle them by eating healthier and not caving into temptation! In the long run, you eventually stop having cravings all together if you keep up the healthy eating.
6. On a social note: when talking about the next get-together with loved ones, suggest a visit to a healthy restaurant or host a healthy potluck!
Make cooking at home fun by inviting over friends and family or hunt for new healthy food spots in the area. Not only do you get to socialize and still catch-up with everyone this summer, you're also able to keep your healthy eating in check and share what you know with everyone else! To take it even further, encourage your loved ones to make their own healthy foods and have them bring it over to your place sometime. This way you can indulge in and enjoy healthy food together!
Author Bio: Trevor is a freelance writer and recovering addict & alcoholic whose been clean and sober for over 5 years. Since his recovery began he has enjoyed using his talent for words to help spread treatment resources and addiction awareness. In his free time, you can find him working with recovering addicts or outside enjoying about any type of fitness activity imaginable.
Save
Save
Save