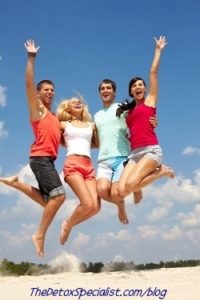 Following a party, you may have great memories but they may be accompanied by unwelcome effects if you indulged a bit too much. Fortunately, there are a variety of simple ways to help detox your body and encourage your system to bounce back
1. Hydrate Properly With Water and Lemon
Your first step in recovering from a night of partying is proper hydration since alcohol is known to be dehydrating. Adequate amounts of water will help rid your body of toxins from junk food, smoking, and drinking. As a bonus, it helps keep you satisfied and helps to fight off any unhealthy cravings.
Consider starting the day by warming up a mug of water in the microwave and then squeezing the juice of a half a lemon into it. Drink this hydrating, cleansing mixture throughout the day to boost hydration levels and encourage detox. Also, it is important to avoid any additional alcohol as well as caffeine (it can be dehydrating as well). Aside from lemon water, additional healthy drinks include dandelion or chamomile tea.
2. Eat Clean and Lean
Fueling your body with a wide array of vitamins, minerals, antioxidants, and nutrients is a sure way to boost your recovery process. Consider including a variety of fresh fruits, high-quality protein, whole grains, and vegetables into your diet to give your body the proper nutrition it needs. Berries, grapes, asparagus, steel-cut oatmeal, broccoli, eggs, bananas, leafy greens, and other non-processed foods are all excellent options to incorporate into your diet to assist your body in ridding itself of toxins.
An example of a post-detox meal plan would be a veggie-packed omelette for breakfast, fresh fruit salad with a bowl of oatmeal for lunch, a lean meat for supper with a side of steamed vegetables, and of course, lemon water throughout the day. If your stomach is particularly upset, stick to foods that are simple to digest for the first day.
3. Exfoliate Naturally
One of the best ways to rid yourself of skin that looks tired and dull in appearance is through proper exfoliation. Exfoliating removes old surface cells to reveal fresh, healthy, new cells underneath. These fresh cells will increase your glow and radiance to hide any signs of partying.
For you face, consider exfoliating every other day for the first week. About once a week should be enough to properly exfoliate your body. For an excellent option, consider an exfoliant that contains crushed walnut shells. Crushed walnut shells are an effective, gentle option for refreshing skin, boosting smoothness, and revealing a brighter tone.
4. Get Active
Make a point to get active and work at least 45 minutes of exercise into your day. Sweating and raising your heart rate is a natural way to encourage the release of toxins and help your body recover.
Great post-party exercise activities include jogging, aerobics, rebounding, or a fun sport such as tennis, basketball, or baseball. If you lack enough energy to workout, sitting in a sauna will also help your body detoxify through sweating.
5. Prioritize Sleep
Sleep is an essential part of recovering from a night of partying. Catching up on lost sleep will help re-energize your body, give it the appropriate time it needs to repair itself, and help you fight off any cravings for junk food that will inhibit the success of your detox. Aim to get at least 7 or 8 hours of sleep each night following a party.
Final Words
All in all, an enjoyable party does not need to lead to negative lingering effects. By following one or more of the tips above, you can indulge and still feel healthy afterward.
Author Bio:
Bill Gordon is a freelance writer who likes writing articles that cover health and family related topics. He has written numerous articles and contributed to several other blogs. When he is not writing, he enjoys spending time with his wife and riding bikes.
Save
Save
Save