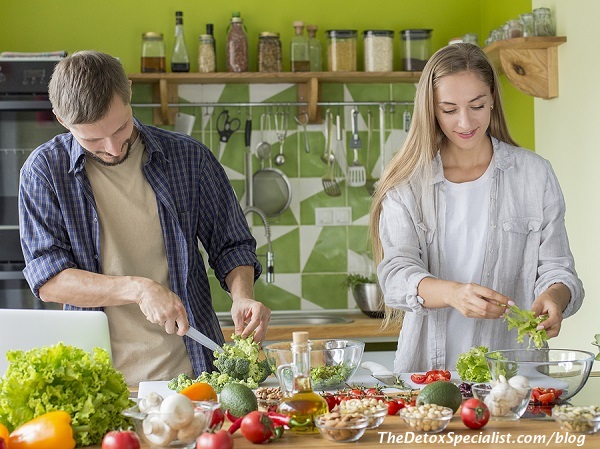 Your home is where you spend a great deal of your time. Your home is where you relax, eat your meals and go to sleep, which is why it is important that you feel your best self at home. It is a well-known fact that feeling good is reliant on the combination of your physical and mental health, which ultimately determines your general wellbeing. If you are fit, healthy, and feel happy, energized, and enjoy your life, you may be interested in knowing how you can further enhance your good health at home. Read on to find out how.
Weekly Plan Healthy Meals
Not only will planning your healthy weekly meals enable a better shopping experience at the grocery store, but it will also save you time and money. Often when people are grocery shopping, they go off on a tangent of picking out unhealthy snacks they do not need because they do not have a list to stick to or a plan in mind. It is highly advisable that you sit down before your weekly grocery shop and plan out exactly what meals you will be having each day. This way, you can also batch cook if you wanted to.
Related reading: Healthy Snack Recipes – Sugar Free & Gluten Free
When you stick to a healthy meal plan, you feel like you have accomplished the week, and that is a feeling you do not want to miss out on.
Related reading: 5 Ways To Stick To Healthy Eating No Matter How Busy You Are 
Be Prepared for Medical Emergency
Medical emergencies are unpredictable but being prepared for them encourages good health at home. Is your first aid kit fully stocked up? Do you have plasters readily available and bandages? If not, it is recommended that you invest in first aid refills, as this way you are getting everything you need in one order. It makes life that little bit simpler.
Declutter Anything That No Longer Serves You
Did you know that decluttering reduces stress levels and improves air quality? You should aim to declutter every few months if you find yourself struggling to find storage for things or keeping rooms tidy. For many people, their 'spring clean' is the biggest declutter of the year; however, you should get rid of any items in your house whenever you feel they no longer serve your purpose, such as any old clothing items you have not worn for years, that sit at the back of your closet.
When you declutter, here are some questions you should ask yourself:
Does this item serve me a purpose?
Do I use this item?
Will getting rid of this item benefit me more than keeping it?
Surround Yourself with What Makes You Happy
Life is too short not to be surrounded by what you love. Whether you enjoy bright paintings on your walls, shabby chic ornaments on your shelves, or photographs of your loved ones on your fireplace mantel, surround yourself with anything that puts a smile on your face when you see it. A big part of feeling good at home is being proud of what you see.
Conclusion
If you want to have good health at home, you should aim to do all these things. Not only will your physical health benefit, but so will your mental wellbeing.
Related reading: 5 Simple Ways To Stay Fit and Healthy
Remember, health is happiness.