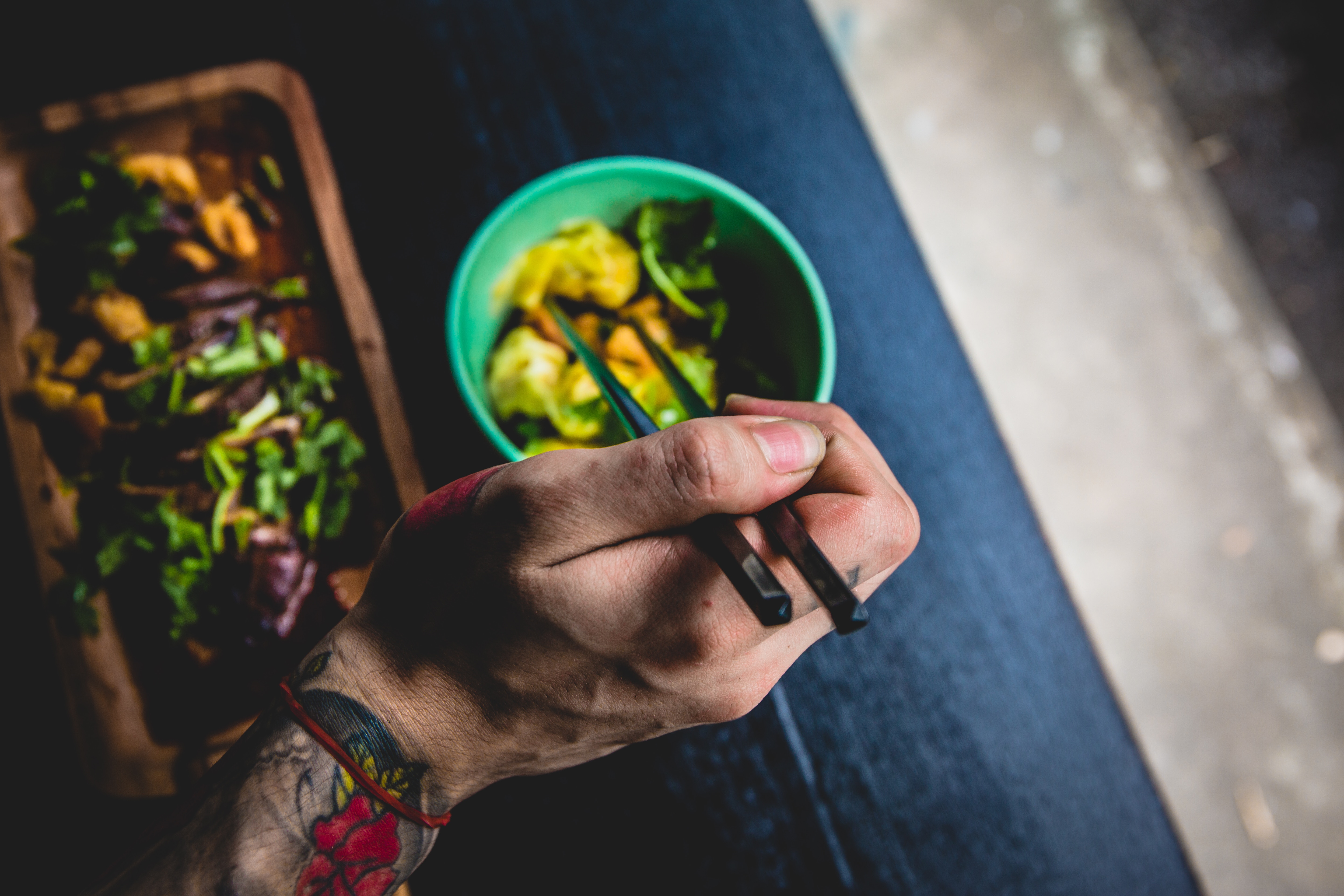 Have you noticed a huge shift in trends in the past few years, where eating healthy, exercising and just being fit is in fashion? Trends come and go, but this one is really meaningful, as it prompts more people to take care of their bodies. The only problem – sometimes it's difficult to do so, as our lifestyles are busier than ever. We face deadlines at work, try to maintain social lives, meet friends after work for drinks, stay up late. It's easy to forget about our healthy habits, however good intentions we have. Somehow, we reach for easy instant solutions, such as a bag of chips for lunch. But it doesn't have to be like that. Here's how you can stick to a good, healthy dietary routine no matter how busy you are.
1. Never Skip Breakfast

For those of you who routinely rush and run to make it to the office on time, skipping breakfast is a no-brainer, especially if you indulge in a bucket of coffee at your desk. But this meal is crucial for the beginning of your day, and it can help you start your day right. If you don't have time for elaborate eggs Benedict or French toast, get the habit of making an overnight oatmeal: pop all the ingredients in a jar, put it in the fridge in the evening, and grab it on your way out. Or prepare the ingredients for a sandwich the night before and just assemble it in the morning. Complex carbs, fruits, vegetables, and protein will keep you full and energized.
2. Keep Healthy Snacks in Your Bag

Or in a drawer at work. Skip chocolate bars from the vending machine; they're convenient and tasty, but full of sugars and excess calories and they're not going to keep you full or do anything for your overall wellbeing if munched on every day. Instead, opt for nuts, cereal bars, yogurts if there's a fridge at work. You could also bring a kilo of apples on Monday and keep it there throughout the week. That way, when you get a craving, whether you're sitting at your desk or on the move running errands, you'll have a small something to nib on without wreaking havoc to your diet.
3. Master Meal Prepping (Or Let Someone Else Do It For You)
While bringing lunch from home is a healthier and cheaper alternative of grabbing something in a cantina near the office, a lot of people skip it because they don't have the time to cook every day or every morning. We get it – no one is crazy about cooking early in the morning or late at night when all you want is your couch and Netflix. Enter healthy meal prepping. Dedicate a few hours of your Sunday to fry or grill several batches of lean protein, cook vegetables, make a huge batch of salad. This can easily keep you going from Monday to Friday. But if you'd prefer just resting on the weekend, there's a solution for that as well. Did you know that you can get your whole food meal delivered to your office? Busy lifestyles made meal delivery companies popular, and it's understandable: you get a fresh healthy meal without having to make it, or even fetch it. Sounds ideal!
4. Be Choosy When Eating Out

Many people's decisions to eat healthy crumble when faced with social activities such as meeting friends for brunch, or attending office parties, or just plain grabbing something to eat because you haven't had the time to cook. But it doesn't have to be so if you know what you're looking for. Skip the French fries and heavy sauces, and go for the grilled chicken breast and salad instead. Look for words such as baked, roasted, steamed, grilled, broiled, and avoid fried, crispy, sautéed. If it's impossible, for example, if you're out with friends for a pizza, just be mindful of the quantities. It would really suck if you skipped hanging out because you take care of your diet, so find the balance, and enjoy.
5. Stay Hydrated

Everybody has the passive knowledge of how important hydration is – but for some reason, it's still stopping the majority from drinking enough water. Drinking eight glasses a day, or more, helps to keep your energy levels high and hunger levels down. It also helps with weight loss, oral hygiene, and in keeping your skin glowing, so don't forget to carry a bottle with you at all times. If you're belonging to the generation that uses apps for everything, install one that will remind you to drink water at fixed intervals.
In the beginning, meal prepping, making breakfast and remembering to actually eat it might feel like a hassle. But if you stick to it, and view healthy choices as a lifestyle, it will become natural for you. Plus, by tossing regular burgers, pizzas, and fries, and opting for healthy foods your mom taught you you should be eating, you will soon feel amazing and look more amazing than you already do. What's there not to love? Stay dedicated, and enjoy your newly found routine.