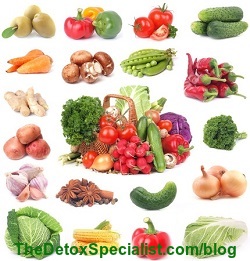 You've heard that a plant based diet is good for detoxing and can bring all sorts of health benefits so you'd like to give it a go but don't know where to begin. Read on for some easy swaps that will help to get you started.
Refined sugar, trans fats, refined oils, preservatives, high fructose corn syrup, artificial sweeteners, artificial colors, MSG and other harmful ingredients are found in most processed foods.
This leads to a much higher risk of developing diabetes, cancer, heart conditions, Alzheimer's, Parkinson's Disease and other neurological disorders, and other serious health problems.
On the other hand studies have shown that eating a plant-based diet has been linked to a longer, healthier life.
A plant food diet can lower your blood pressure and "bad" cholesterol, normalize blood sugar, reduce your risk of cancer and help you lose weight.
Your brain will be sharper than if you ate fast food and processed foods, and you drastically reduce the risk of developing all of the dangerous health conditions listed above.
Still, you wonder if you will be trading in flavorful, delicious foods for flavorless alternatives.
The good news is that eating a healthy, plant-based detox diet does not mean missing out on the foods, the flavors and textures that you love. By simply swapping a few of the following healthy, plant-based ingredients for their less healthy foods you currently eat you detox your body and your health gets a boost without your taste buds becoming upset.
1. Ditch Dairy For Non-Dairy Options
Swap dairy milk for unsweetened almond milk, rice milk or hemp milk. When you were growing up, you were probably told by food authorities that cow's milk was good for you.  Unfortunately you were given the wrong information.
We now know that dairy causes constipation and gas, bloating and diarrhea, and has been linked to higher rates of obesity and chronic conditions like diabetes and some cancers.
That is why it is a good idea to make a plant-based swap of for dairy milk. Just make sure your non-dairy milk is free from carrageenan. That substance has been linked to digestive problems, from mild to severe. Vegan cheeses and yogurts also effectively replace the traditional dairy-based products.
Avoid soy milk
You may wonder why I have not included soy milk as it comes from a plant.
Firstly,  soy produced in the U.S. is genetically modified and the crops are sprayed with the herbicide Roundup, which has been linked with adverse effects on health.
Secondly, there is a lot of controversy surrounding the use of soy. Soy contains large amounts of isoflavones, which function as phytoestrogens.  That means these compounds can activate or inhibit estrogen receptors in your body which can disrupt your body's normal function.
Until more research is done I think it's better to be safe than sorry so I do not recommend drinking soy milk.
2. Use Beans Instead Of Meat
The same applies to eating tofu as a meat replacement. Tofu is a bean curd and can be healthy when eaten in small amounts as the Chinese do but, when it's made from genetically modified soy beans, it is not a good food.
Legumes, beans, lentils and peas are great protein-rich substitutes for meats, and can be used in anything from veggie burgers and chili to soups.
Thanks to veggie-loving burger worshippers, you can still get that beefy burger taste with a plant based patty. Make the following veggie-for-beef swaps for some surprisingly great tasting plant burgers.
Black beans
Kidney beans
Mixed vegetables
Portobello mushrooms
Sweet Potatoes
Eggplant (aubergine)
There are also some great-tasting, healthy pre-made veggie burgers but check the label to make sure they are not made from soy beans, quorn (a man made myco-protein), tofu, or seitan, which is wheat.
Swap Greens for Flour Wraps
Most wraps are wheat flour-based. You place your meat, fish, vegetables, condiments and other toppings on this base, and then "wrap" the outer layer over the inner ingredients, tucking the ends over to make a spill-proof, cylindrical, handheld alternative to a sandwich.
The problem with many wraps is that they often contain animal and dairy by-products. Greens with large leaves, like cabbage, butter lettuce, kale and collard greens, make healthy plant-based alternatives to processed wraps.
You wrap your ingredients in a large leaf. The wonderful anticancer compounds and antioxidants found in leafy greens are so healthy.
3. In With Cauliflower
Believe it or not cauliflower can be used in place of wraps, pizza crust, rice, couscous or white potatoes.
You just discovered how large vegetable leaves make excellent wrapping material. Did you know you can use cauliflower the same way? Organic cauliflower can be processed into tiny granules using a food processor or food chopper.
It can then be used as a base for breads and wraps. It is also the perfect alternative to unhealthy, processed, preservative-filled and dairy-based pizza crusts. Just because detox diets exclude wheat it does not mean you have to give up your favorite dishes.
Cauliflower makes the perfect alternative to rice or couscous too. Use a food chopper, and stop when the cauliflower has been ground down to the size of rice grains. Sauté in a little coconut oil in a pan for a tasty and super-healthy rice alternative.
You can also use it in a multitude of dishes where potatoes are traditionally used. The first time you taste mashed cauliflower instead of mashed potatoes, you will probably be shocked by how similar it is in texture and taste.
4. Nut Flour Instead Of White Or Whole Meal Flour
White flour is not only devoid of almost all nutrition, it has also has had its nutrients replaced by unhealthy chemicals, preservatives and byproducts. White flour lasts longer on grocery store shelves when all is nutrients have been taken out.
Even when you see a sign that says "enriched" on a white flour product, that enrichment occurs only after all the natural goodness has been removed.
Replacing white flour nut flours like almond or coconut flour makes for a healthier, plant-based choice. You can also opt for a black bean purée instead of white flour.
5. Plant-Based Sugar Replacements
Sugar has been linked to diabetes, overweight, obesity, cancer and a long list of health problems. This can be avoided.
There are wonderful natural sweeteners. They can take the place of refined, processed sugar.
Related Reading: Sugar Detox – Supercharge Your Health In 5 Simple Steps
Unsweetened Apple sauce
Every cup of sugar that you replace with a cup of unsweetened apple sauce cuts more than 600 calories from your waistline. Just be sure you read your food labels, and avoid highly processed varieties. The home-made variety is best if you have the time.
Dates
Dates naturally taste very sweet so are a great way to sweeten desserts. They can be made into a puree and used in puddings, bars and balls with nuts and coconut.
Vanilla extract
Vanilla extract  is an often overlooked sugar replacement. You can replace up to half the sugar in any recipe with vanilla extract without dramatically changing the flavor or taste.
For every cup of sugar replaced you eliminate 400 calories. In baked goods and other recipes, you can replace 1 cup of sugar with 1 teaspoon of vanilla extract + 1/2 cup of coconut sugar.
Stevia
Stevia is a calorie-free sweetener that's about 100 times sweeter than sugar and has been grown for sweetness and medicinal purposes for centuries in South America.
For each cup of sugar in a recipe, replace with 1 teaspoon of liquid Stevia or 2 tablespoons of Stevia powder. Do not be confused by the product Truvia, which claims to have Stevia in it. There is very little Stevia contained in Truvia.
6. Swap Coconut Oil For Unhealthy Cooking Fats
Use coconut butter or coconut oil in place of unhealthy margarine or cooking fats. Though it may not seem possible, you can replace butter or cooking fat with plants.
You can also use a purée made from bananas or avocados which contains fewer grams of fat, as well as 400% fewer calories, than traditional butter.
Related reading: Are Coconuts The Latest Super Food?
This swap can be used in all types of recipes, from baked goods to casseroles and anywhere else your recipe requires butter or cooking fat. Make an even swap, 1 cup of banana or avocado purée  for 1 cup of butter. Be aware that this usually reduces cooking time up to 25%.
7. Go With Fresh Veggies Over Canned Or Frozen
Anytime you can eat fresh plants over frozen, canned, or processed alternatives, you are doing your body a favor. Some frozen meals make boastful health claims, but they are usually cram-packed full of extremely high levels of sodium, preservatives and man-made chemicals you do not need in your body.
It takes longer to prepare a meal using natural, fresh vegetables than it does heating up their frozen counterparts but this is the right move every time as far as detoxing and your health is concerned.
8. Choose Fresh Fruits Over Fruit Juice
Manufactured, processed fruit juices are always marketed as healthy. In most cases you are just looking at sugar in disguise. Fruit juice manufactureres often claim their product contains more added  fiber and more Omega 3s or other healthy nutrients. Unfortunately, more often than not that fiber is synthetic and extremely hard to digest.
This causes bloating and digestive problems, and sugar can lead to overweight, obesity, cancer and heart problems. Always choose to make your own juice at home, using natural, fresh, organic fruits.
Eating real fruits can help you lose weight and manage a healthy body weight, as natural fruit is full of fiber, vitamins and minerals which make you feel full quickly, and limit your calorie intake.
Related reading: The Extraordinary Detox & Healing Properties of Fruits and Vegetables
The best way to start to get more plant foods into your diet and start detoxing is to pick one swap from the above list and then gradually add in the others.  Which one will you pick to start with? Let me know in the comments below. 🙂
Save
Save
Save
Save
Save
Save