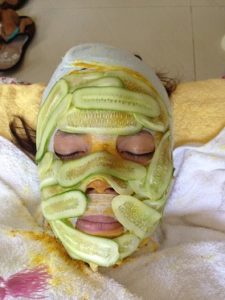 Naturopathic doctors say that your skin is a reflection of what is going on inside your body. If you suffer with spots, sores, rashes, eczema, psoriasis, boil, acne, itchy or scaly skin then you are likely to benefit from a skin detox.
The skin is the largest organ of detoxification and skin problems are often a sign that the body is overloaded. When the other detox organs cannot cope the skin tries to compensate and excretes the toxins resulting in skin problems.
The first thing to do is a basic detox.
1. Clean up your diet
Avoid sugar and foods containing it, fatty and fried foods, processed and junk food, margarine,    hydrogenated fats, wheat, and dairy products. alcohol and coffee. Saturated fats promote inflammation of the skin.
Eat plenty of fresh fruit, vegetables, salads,low mercury fish, lean grass fed meat, whole grains, beans and seeds.
Researchers have discovered that yellow pigments, or carotenoids in fruit and vegetables such as carrots, tomatoes, pumpkins, plums, oranges and dark leafy greens play a crucial role in producing a healthy skin with a golden glow. These pigments are antioxidants which help mop up free radicals that cause skin aging.
Eating a high fiber diet like this will help keep the colon clean which helps to keep the skin clean and looking good.
2. Drink water, juices and herbal teas
Avoid coffee and alcohol as they affect the circulation to the skin
Drink at least 6 glasses of pure water each day. Fresh vegetable juices can help with cleansing the skin. Here's a particularly good skin cleansing juice recipe.
Skin detox juice.
2oz beet juice
2oz celery juice
2oz tomato juice
Mix together and drink 2 or 3 times a day.
Drink herbal teas such as dandelion and Pau D'arco.
3. Avoid skin toxins
The skin is the largest organ of absorption as well as the largest organ of detox. It will absorb all the chemicals, artificial perfumes and scents from personal care products and cosmetics which will overload the liver detox pathways.
Use only natural and organic products on your skin.
4. Clean up your home
Remove as many toxic products from both inside and outside your home. A toxin free place to live is essential for detoxification and to stay healthy after detox.
Use natural products for cleaning and ecological paints. Look for companies who clean carpets with non toxic methods.
5. Dry skin brush
Skin brushing is important for a skin detox. Old, dying skin cells are sloughed off every and they are replaced with new cells. day. Brushing your skin with a dry natural bristle brush helps to remove the old top layer of skin.
Brushing your skin everyday helps with blood and lymph circulation which will aid detoxification. Follow with a shower fitted with a shower filter.
6. Organ cleansing
If the basic detox methods above do not improve your skin enough you will need to do some deeper organ cleansing. Start with a colon cleanse and then do a liver detox. If that does not solve your problem then try a kidney cleanse and lymph detox.
Stress, hormone imbalance, poor diet and nutrient deficiencies all affect the health of your skin. Fortunately  your skin can renew itself and a skin detox can work wonders to improve all sorts of skin problems.