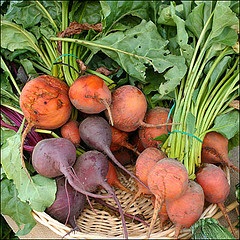 The latest research on beet juice (beetroot in the UK) confirms the findings of numerous other studies that a glass of vibrant beet juice a day can help to lower blood pressure. I am amazed that so many researchers are interested in this humble vegetable as medicine. Mind you it might all lead to the development of a drug!
In ancient times beets were only ever used used for their medicinal purposes. These days it is used as a vegetable but researchers are only just beginning to understand its powerful health benefits.
As well as lowering your blood pressure scientists have found that beet juice can boost your stamina and increase physical endurance by making muscles more fuel-efficient. It may also help memory
These health benefits of beets are thought to be due to their high nitrate content which gets converted to nitrites by bacteria in your mouth and then to nitric oxide which has the effect of widening the blood vessels.
Beets are not the only vegetable to contain nitrates. High concentrations are also found in celery, cabbage, fennel and leafy green vegetables such as spinach and some lettuce.
That's why people with high blood pressure who start vegetable juicing find their blood pressure usually normalizes.
Beet Detox
Beets and the green beet tops are good for the liver too. They contain the phytonutrients betaine, also known as trimethylglycine, and betalain which have a powerful effect on the Phase II liver detox pathways.
This is the reason why some people find that drinking a lot of neat beet juice makes them feel nauseous and headachey.
You can get all the health benefits of beets by simply including more if them in your diet them regularly. Eat them both raw and cooked.
Here are some beet recipes for you to try.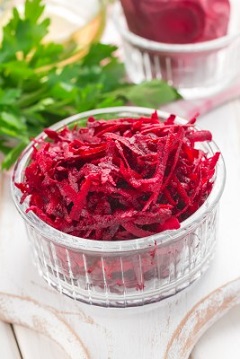 Tangy Beet Salad
Serves 2 -3
300g/10 oz cooked beets, peeled
1 onion, finey chopped
1 tbsp fresh horseradish
2 -3 Tbsp Virgin Olive oil
1 -2 tbsp apple cider vinegar
2 tbsp parsley, chopped
Celtic or Himalyan Salt to taste
Black pepper
Grate beets into a bowl and add horseradish and onion.
Mix the oil and vinegar, a little salt and pepper to make a dressing.
Pour over the beets, add parsley and mix well.
Oven Cooked Beets
I cringe when I see recipes for beets roasted in olive oil at very high oven temperatures. Although olive oil can be used for cooking heating it to temeratures above 180C (350F) can damage the fatty acids and make it unhealthy.
To cook without oil you simply put them a roasting tin or casserole dish with a splash of water, cover with foil or a lid and put in an oven preheated to about 190 C (375F)  for 45 min to 1 hr depending on the size.
Speedy Beet Soup
Serves 4 – 6
3 tbsp olive oil
3 medium beet, grated
1 large carrot, grated
1 large onion, finely chopped
1 leek, cut into fine strips
1 clove garlic, crushed
1 liter/1¾ pints vegetable stock
2 tsp fresh thyme
Celtic or Himalayan salt
Black pepper
2 tbsp natural yogurt ( optional)
Heat oil in pan and saute vegetables and garlic for 2 -3 minutes .
Add stock, bring to the boil and simmer for 15 minutes.
Add thyme and cook for a further 5 minutes or until vegetables are soft.
Season to taste with salt and freshly ground black pepper.
Stir in yogurt before serving if using.
Mrs Erdmann's Raw Beet Salad
Quite a few years ago when I went to some of the late Dr Robert Erdmann's talks Mrs Erdmann provided us with  wonderful healthy lunches.
Here's her recipe for Raw Beet Salad
3 – 4 medium raw beets
2 tbsp sesame oil
2 tbsp soy sauce (I prefer to use low sodium tamari)
1 tbsp apple cider vinegar
2 cloves galic put through garlic press
Grate beets using fine grater on food processor or grate by hand.
Mix other ingredients together and allow to stand for several hours before dressing beets with it.
Can be used immediately if necessary.
Try adding a little grated ginger root and sweeten with a little maple syrup if you like.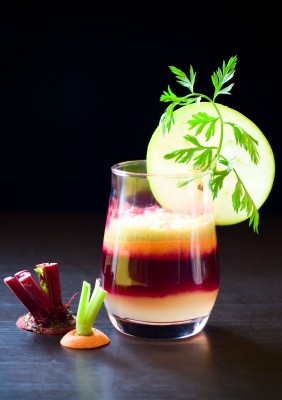 Blushing Beet Detox Juice
Makes approx 20 oz juice depending on the efficiency of your juicer and the produce.
Beet juice on it's own is very concentrated and some people don't like its earthy taste so it's best to mix it with other vegetable juices. Raw beets are low  on the glycemic index so do not usually increase blood glucose.
2 raw beets with green leaves
2 medium carrots
1/2 an apple
1/2 a small cucumber
1 celery stalks
1 thumb size piece of fresh ginger
Put all ingredients through a juicer.
Enjoy!
Do you drink beet juice to detox or to lower your blod pressure? Share your experiences with my readers in the comments.
If you enjoyed this post it would be fantastic if you would share this post by "Liking" it on Facebook, "Tweeting" it to your Twitter followers and "Pinning" it to your Pinterest boards. 🙂