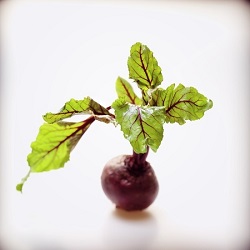 Beets (beetroot) have long been used by herbalists and naturopaths to boost liver detox, but this earthy tasting vegetable is making a comeback as the latest superfood.
As recent research continues to show that beets are as successful in reducing blood pressure as drugs and can boost performance in athletes, farmers are having to grow more of them to meet demand.
While sales of beets have increased by 20% over the past 4 years sales of the juice have shot up by 50% in just one year.
So what's so special about beets?
Beets contain a multitude of health giving nutrients. They contain the magic ingredient nitrate which increases the levels of gas nitric oxide in the blood which, in turn, relaxes and widens the blood vessels reducing blood pressure.
Researchers have recently discovered that nitrates can also increase exercise endurance.This has fueled the production and popularity of drinking beet juice.
Beets contain a variety of vitamins like folate, riboflavin, vitamin K (in the leaves), niacin, thiamin, vitamin C and the minerals iron, calcium, potassium, magnesium, phosphorus and zinc. They contain both soluble and insoluble fiber which may help prevent diabetes, heart disease, obesity and certain types of cancer when enough is eaten in the diet.
Betalain & Liver Detox
Beets are rich in antioxidants, especially betalain, the antioxidant that gives them their red color. It's betalains that we are particularly interested in here as they help support Phase 2 liver detox.
Researchers have tested white, orange, red and dark red varieties of beets. Only extracts from the red beets triggered higher levels of the detox enzymes.
Antioxidants are an important part of the liver detox system. They neutralize the free radicals that are created during the detox process before they can do any damage.
Although these amazing health giving betalain pigments can be found in other foods like Swiss chard, rhubarb, prickly pear, and amaranth, beets are the most concentrated source.
These antioxidants are water soluble and heat sensitive so eating beets raw is best way to get them into your body. If you are going to cook them then it's best to keep steaming times to 15 minutes or less, and roasting times to under an hour. Pressure cooking apparently completely destroys them.
Beeturia
I should mention here that if your urine or bowel movements are red or pink after eating beet then you are one of about 14% of the population who do not break down the red pigment. It's known as beeturia and may be linked with an abnormality in iron metabolism.
Here are some healthy, tasty beet recipes that can also help cleanse your liver.
Beet recipes
Fresh beet juice

Neat beet juice can be too sweet and earthy tasting for many people but it combines well with apples, celery and ginger. It's cleansing effect can cause nausea so if you have never had beet juice before just introduce it slowly and mix it with other juice.
If you are diabetic it's best to mix it with other juice and monitor your blood sugar carefully until you know how you react to it.
Morning Reviver                                                                                                                                                                                             

Ingredients
2 organic carrots, scrubbed clean
1 small organic beetroot
2 organic apples, cored
1 stick organic celery
2 organic oranges, peeled
1cm piece of ginger
Directions
Cut fruit and vegetables into suitable size pieces and put through your juicer. Pour into a serving glasses and drink immediately sipping slowly.
Beet Me Smooth
(based on a recipe from Urban Natural)
Here's a recipe for a beet smoothie that contains greens but it's not a true Green Smoothie. Green Smoothies should be made with fruit and green leaves only.
Ingredients
1 small organic beet, peeled and chopped
1 large organic apple, peeled and separated
1/2 cup organic red grapes
1 cup organic baby spinach, washed
1 cup raw organic almond milk
Blend and enjoy!
Spring Clean Raw Beet, Carrot, & Apple Salad
(from Angela at Oh She Glows)
Makes 2 servings
Ingredients
2 medium carrots, peeled
1 large red beet, peeled
1 large golden beet, peeled
1 apple (sweet variety), chopped
1 garlic clove, minced (less if you are not a garlic fan)
1 tbsp extra virgin olive oil
2 tsp fresh lemon juice
1 tbsp balsamic vinegar
Red pepper flakes, to taste (I used a couple shakes)
1/2 tbsp pure maple syrup, to taste
Kosher salt & freshly ground black pepper, to taste (I used about 1/4 tsp salt)
2-3 tbsp Sesame seeds
3-4 tbsp Chopped almonds
Directions
1. Trim, peel, and grate the carrots and beets. You can use a food processor with a grater attachment if preferred). Chop apple and place the grates beets, carrot, and chopped apple into a large bowl.
2. Assemble the dressing by whisking together the minced garlic, olive oil, lemon juice, vinegar, red pepper flakes, maple syrup, salt, and pepper. Adjust dressing to taste. Pour the dressing onto the vegetables and mix well. Allow to sit for at least a half hour so the flavours can develop.
3. Add in your desired seeds and nuts and serve chilled or at room temperature over a bed of greens.
Beet Pesto with Sun Flower Seeds
( from Angela Roberts at Spinach Tiger)
Ingredients
1 cup sunflower seeds
1 cup olive oil
2/4 cup basil
juice of half lemon
1 cup raw beets, peeled, chopped
½ teaspoon sea salt
1 cloves chopped garlic
½ teaspoon black pepper
1 tablespoon orange juice
½ to 1 teaspoon apple cider vinegar
Directions
Place everything in a strong blender and blend until you have a thick pesto-type consistency.
Beet Tzatziki
( from Martha Rose Shulman)
Ingredients
Makes about 2 1/3 cups, serving four as a salad, six as a condiment
1lb beets, roasted
2 garlic cloves
1/2 teaspoon salt
2 teaspoons fresh lemon juice
2 cups thick Greek style yogurt
Black pepper to taste
1 tablespoon finely chopped dill
Directions
Grate the roasted beets on the large holes of a grater.
Smash the garlic with the salt in a mortar and pestle.
Add the lemon juice, and let stand for 10 minutes.
Stir into the yogurt.
Add back pepper to taste, and adjust salt.
Stir in the beets and the dill.
If you want a thinner consistency add more yogurt to taste.
This dish will keep for three or four days in the refrigerator.
Golden Beet with Cress Salad
(From Susan Powers at Raw Amazing)
Ingredients
1 golden beet, peeled and finely sliced (use a mandolin slicer)
1/2 cup cress (you can substitute sprouts or micro greens)
3 scallions, sliced
1 lime, juice and zest from
1 tablespoon Dijon mustard
2 tablespoons olive oil
Himalayan salt and fresh ground pepper to taste
Directions
1. Toss beets, cress and scallions together in a bowl.
2. Add in lime juice, zest, dijon and olive oil. Toss until coated.
3. Add salt and pepper to taste and serve.
Although there is a lot of controversy over the effectiveness of detox and detox diets there is no doubt that superfood beets help support liver detox and make a healthy addition to your diet.
If you enjoyed this post it would be fantastic if you would share it using the share button below and by "Liking" it on Facebook, "Tweeting" it to your Twitter followers and "Pinning" the images to your Pinterest boards and please don't forget to leave a comment. Thanks!