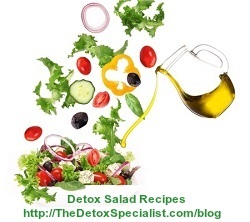 We know that detox salads are very healthy. They are made up of green leaves, vegetables and healthy fats that help our bodies detox toxic chemicals but scientists are now saying that olive oil and lettuce could save your life.
British scientists have discovered that a diet rich in healthy fats like olive oil and nitrate rich vegetables like lettuce can lower blood pressure. When the two types of food are eaten together a chemical reaction occurs forming nitro fatty acids which react with an enzyme to lower high blood pressure.
In a separate study American scientists found that olive oil can reduce the health impact of air pollution. Exposure to high levels of air pollution is linked to an increased risk of heart disease, stroke and asthma.
Microscopic particles from diesel engines, for example, increase inflammation and cause blood vessels to harden, increasing blood pressure and the risk of clots. The scientists found that the study participants who took olive oil showed an increase in a protein that breaks down blood clots after exposure to the air pollution.
The scientists say that these findings help to explain why the Mediterranean diet is so healthy.
Vegetables to use in your detox salads that are high in nitrates include lettuce, beets, carrots, green beans, spinach, watercress, parsley, cabbage, radishes, celery and collard greens, garlic, fennel, arugula (rocket), cabbage, kale and broccoli.
Healthy fats can also be found in nuts and avocados.
Lettuce forms the base of many vegetable salads but there are so many different types these days we are spoilt for choice and flavors. Ring the changes with bronzed, red, crinkled, curved, spiky, bitter, hot and sweet leaves.
Healthy Salad Dressings
Use lettuce or spinach as a base and add other vegetables. Your body can absorb far more of the nutrients from salads in the presence of oil and acid in the dressing.
When it comes to dressings, remember that less is more. The leaves should be coated lightly with dressing and not drowned in it. Always dress them at the last minute before serving or they will wilt.
Don't waste your money on ready made dressings. They are ridiculously expensive and usually full of sugar, unhealthy fats and other unhealthy additives. Making a good healthy dressing is child's play. Of course you will need to invest in a decent bottle of olive oil and a bottle of vinegar or just a fresh organic lemon. Made up dressings can be kept in the fridge in a screw top jar for several weeks.
Basic Olive Oil and Lemon Dressing
6 tablespoons organic extra virgin olive oil
1 pinch Celtic or Himalayan salt
1 pinch freshly ground black pepper
Juice of 1 organic lemon
Shake up in a jam jar with lid or whisk together until well mixed.
French Dressing
¼ clove garlic, crushed
1 teaspoon sugar & additive free Dijon mustard
2 tablespoons organic white or red wine vinegar
6 tablespoons extra virgin organic olive oil
1 pinch Celtic or Himalayan salt
1 pinch freshly ground black pepper
Put all ingredients in a glass jar with lid and shake up well.
Super Greens Dressing
Serves 1
1/4 bag watercress
1/4 bag baby leaf spinach
A good handful of basil leaves
A good handful of parsley leaves
1 tbsp organic extra virgin olive oil
squeeze of lemon juice to taste
Whiz all ingredients together in a mini blender of food processor.
The mixture should hold together like pesto.
Use on your vegetable salad.
Detox Salad Recipes
Chicory, Watercress & Orange Salad
Serves 6 – 8
2 bunches organic watercress
2 head young chicory sliced into rounds
2 organic oranges, peeled and cut into segments
40 g organic walnuts, broken in to bite sized pieces
Directions
Wash and pick over the watercress leaves. Tear into small sprigs.
Place in serving bowl and scatter chicory, orange & walnuts over the top.
Spinach, Avocado & Orange Salad                    
150g/5 oz baby spinach
1 small fennel bulb, finely sliced
2 large organic oranges, peeled and segmented
1 avocado, peeled and sliced
3 cm/1 inch piece fresh mild chili, very finely chopped
Directions
Mix the salad ingredients together carefully in a serving bowl.
Gently toss with olive oil dressing
Zingy Lebanese Salad
Serves 4
3 cups approx organic Romaine lettuce leaves
1 cup arugula ( rocket)
200g/7oz radishes
1/2 cucumber
200g/7oz cherry tomatoes, quartered
2 shallots
2 tbs chopped parsley
2 tbsp chopped thyme
2 tbsp chopped mint
100g/3.5oz pomegranate seeds
25g/1oz pistachios
Dressing
2 cloves garlic, crushed
Juice 1/2 organic lemon
3 tsp ground sumac
150 ml organic extra virgin olive oil
2 tbsp organic white wine vinegar
Note:  Sumac is a spice, used mostly in Middle Eastern cooking, that has a lovely tart mild lemon flavor. The deep red berries are most often used ground into a powder.
Directions
Thinly slice radishes and coarsely dice cucumber.
Finely chop shallots and shred lettuce.
Place all a bowl with arugula if using and herbs
Mix all dressing ingredients together
Pour over salad
Add pistachios and pomegranate seeds and toss gently to mix.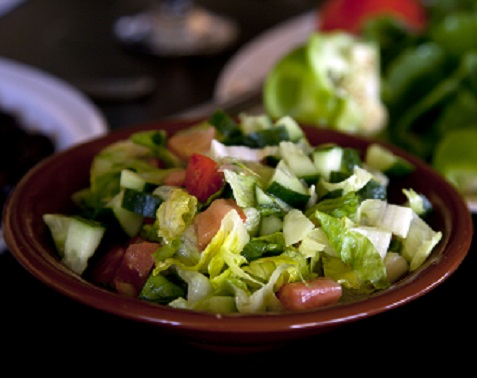 Grilled Asparagus Salad
Serves 8 as a side dish.
Add feta or goat's cheese to make it a main dish salad for the whole family
1 lb new season asparagus
1/2 cup extra-virgin olive oil, plus extra for brushing
4-6 cups mixed greens
1 seedless cucumber, cut into 1/2-inch dice
2 cups cherry tomatoes, halved
1 can drained and rinsed chickpeas
1/2 cup pitted Kalamata olives, coarsely chopped
3 tbsp fresh orange juice
1 tbsp fresh lemon juice
1 tbsp red wine vinegar
2 tsp Dijon mustard
1 tsp chopped basil
Celtic or Himalayan salt
Freshly ground black pepper
Directions:
1. Pre-heat grill to medium. Brush the asparagus with the oil and season with salt and pepper. Grill, turning until tender, about 5 minutes. Allow to cool before cutting into 1-inch pieces.
2. In a large bowl, toss the mixed greens with the grilled asparagus, cucumber, tomatoes, chickpeas and olives.
3. In a small bowl, whisk together the orange juice, lemon juice, vinegar, mustard, and a pinch of salt and pepper. Gradually whisk in 1/2 cup olive oil until emulsified. Pour the dressing over the salad and toss. Scatter the basil over the top just before serving.
Beets are good for liver detox so use them often in your vegetable salads.
Red Beet Detox Salad
Serves 6
2 cups raw organic beets, grated
2 medium raw organic carrots, grated
2 cups organic cabbage, grated
1/4 cup scallion/green onions, finely chopped
1/4 cup organic pumpkin seeds
1/3 cup extra virgin organic olive oil
2-3 tablespoons lime or lemon juice
1 tablespoon raw honey or maple syrup
2 teaspoons sesame seeds
Few drop dark sesame oil
2 tablespoons onion, finely chopped
Crisp green lettuce leaves for serving
Directions
Combine grated beets, carrots, cabbage, scallion and pumpkin seeds in a large bowl and set aside.
In a blender, combine, oil, lime or lemon juice, honey, onions, sesame oil and sesame seeds. Process until very smooth.
Carefully toss salad with enough dressing to just lightly coat, not drown it.
Serve on a bed of lettuce.
Like beets? Get more beet recipes here.
There's no end to the variety of detox salads you can make. Simply chop up a variety of your favorite vegetables and serve on a bed of mixed green leaves. Top with an olive oil dressing and a few herbs and you are good to go. What could be easier than that? Remember that they could help to save your life.
Please do me a favor and take a few moments to share this important information.
Picture credits:
Beet Detox Salad by Martine Chin 
Lebansese Salad by Scott Sherrill-Mix