One of the problems facing anyone trying to follow a detox diet or eat healthier, especially for someone trying to move towards eating more raw foods, is the convenience factor.
Raw and natural foods are so much healthier for you but there's no such thing as a raw foods snack machine.
If you get hungry during the day it can be quite a challenge to find suitable detox diet foods to eat if you haven't got any any raw fruits, nuts or vegetables handy.
When you're rushing around in the morning, sometimes it's next to impossible to find the time to put together a selection of healthy snacks to take with you or have ready in the fridge for when you get a snack attack.
One thing you can do, so that you have healthy snacks available quickly, is to dehydrate food.
Dehydrating food is becoming more and more popular these days epecially with the raw food community. It's a way of preserving food that retains 100% of it's vital nutrients.
Dehydrated foods have a longer shelf life than any other preservation methods if they are stored properly.
Dehydrator foods
Although you can dehydrate food in an ordinary oven it is not easy to get the temperature just right.
If the temperature is too low the remaining moisture can cause the food to spoil. If the temperature is too high then the enzymes are destroyed and vital nutrients lost.
Electric dehydrators take less time to dry foods and are more cost efficient than an oven. It's a lot cheaper to make your own snacks in a dehydrator than buying them.
There are many different types and sizes of electric dehydrators available but for best results it should have some sort of heat control and a fan to maintain air circulation during the drying process.
Best foods to dehydrate
Some of the best veg to dehydrate are carrots, beets, kale, zucchini, sweet potatoes, yams, broccoli and cauliflower.
You can dehydrate almost any fruit but some of the most popular are apples, grapes, plums, pineapple, pears, figs, apricots, berries, bananas, cherries and peaches.
You can also spread pureed fruits on trays and dehydrate the puree into fruit leather.
You can make savory snacks too such as crackers, raw bread which is not made with wheat and is nothing like bread as you know it, raw veggie burgers and falafel.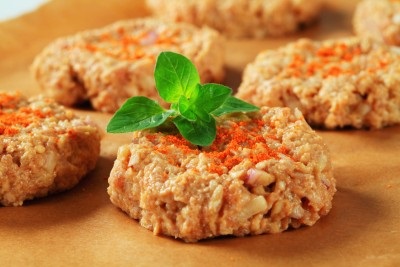 You can even make sweet breads, raw bars, and raw cake too! In fact there is no end to tasty, healthy snacks you can make in a dehydrator.
Here are a few dehydrator food recipes to get you started
Green Vitality Energy Crunch Bars
Yield: 9 bars
Ingredients
1/2 cup raw pumpkin seeds
1/2 cup raw sunflower seeds
1 banana, mashed
1/2 cup unsweetened shredded coconut
2 medjool dates, pitted
1/2 tsp Green Organics Five Alive Green Vitality
Directions
Pulse pumpkin and sunflower seeds in food processor with "S" blade.
Remove and place in a small bowl.
Using same food processor bowl, blend banana and dates until smooth.
Add pulsed seeds and all remaining ingredients to the bowl.
Mix quickly with food processor before shaping mixture into small bars.
Place bars on teflex sheets and dehydrate for 8-10 hrs at 105F.
The bars are done when they're crispy on the outside and firm on the inside.
Raw Falafel
2 cups sprouted chickpeas
1/2 cup cilantro ( fresh coriander)
1/4 cup parsley
1 TBS Extra Virgin Olive Oil
1 1/2 Tbs cumin
1 tsp Celtic or Himalayan salt
Directions
In a food processor, blend chickpeas until fine.
Add the remaining ingredients, and blend well.
Roll mixture into small balls and place on a mesh dehydrator screen.
Dehydrate at 105 degrees for 4-5 hours orlonger if you prefer a crispy falafel.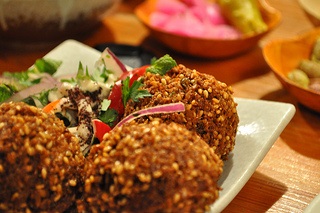 Raw Flax Crackers   From The Rawtarian
1 cup pecans or walnuts
1 cup sunflower seeds
1 cup almonds
1 medium tomato
1 cup onion (chopped)
3 tablespoons flaxseed
1-to-2 teaspoons sea salt
Directions
1. Add all ingredients to food processor.
Process well, until quite well blended but still chunky. 40 seconds or so.
2. Spread onto two dehydrator sheets. Use parchment paper or Teflex sheets.
3. Dehydrate for 1 hour at 115.
After one hour score the crackers with a knife so that they'll be easier to separate later.
Dehydrate for another 6 hours at 105.
After 6 hours flip crackers and remove parchment paper or Teflex sheets.
Dehydrate for one more hour at 105 until dry and cracker-like!
Do not use a high-speed blender for this recipe. A food processor will work much better. Dehydrating times can vary wildly depending on the season, the humidity and your dehydrator. The best thing to do is check on them every couple of hours until you get the hang of making crackers. Try not to nibble too much on these raw flax crackers before they're done!
So next time you are on a Detox Diet have plenty of dehdyrated snacks on hand to see you through. These healthy snacks can keep your energy levels up and and boost your nutritional intake even when you are not detoxing.
So now when you eat these healthy dehydrator foods you don't have to feel guilty every time you snack.
Not got a food dehydrator? Good choice here: Food Dehydrators
If you enjoyed this post it would be fantastic if you would share this post by "Liking" it on Facebook, "Tweeting" it to your Twitter followers and "Pinning" it to your Pinterest boards. 🙂
Falafel Image Credit:  Laura Cazes