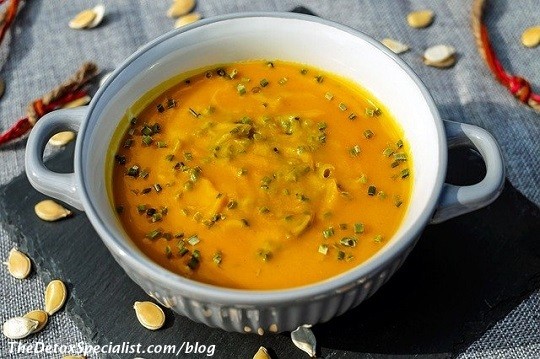 Cooling juices and salads are great for detox during the summer but if you are anything like me you will find them too cooling for cleansing during the colder months. I like to use warming detox soups during Autumn and Winter instead.
You can make delicious, warming, satisfying and nutritious soups with vegetables, gluten free grains, beans and lentils. Vegetables are choc full of vitamins, minerals, antioxidants and other phytochemicals that help rev up the detox pathways.
Sip these wonderful detox soups for a couple of days and you will hardly notice you are on a detox diet at all.
Home made soups are easy to make and are far more nutritious than those out of a carton or can. If you can make your own vegetable stock to use as a base it will be even more nutritious than using stock cubes.
Potassium broth is perhaps the best known detox soup. There are many slightly different recipes for this and I have already posted one on here:  3 Day Detox Diet
Here are some detox soup recipes to get you started. Some are cooked soups and some are raw. You can gently heat the raw ones so they are just warm but not beyond the temperature that destroys the enzymes. Use organic vegetables as much as possible.
Let's start with the stock recipe.
Vegetable stock
2 large carrots, peeled and roughly chopped
2 large onions, peeled and quartered
2 stalks celery, roughly chopped, leaves removed
½ bulb fennel, roughly chopped
1 garlic bulb
2 tomatoes
6 black peppercorns
small bunch parsley
Any leftover vegetable trimmings from other meals.
3 pints pure water
Put all in large sauce pan with the water. Bring to the boil and simmer gently for 1¼ – 1½ hours. Cool a little and strain off the liquid. It can be stored in the fridge for up to 4 days or frozen. Use as a base for the other detox soup recipes.
Spicy Lentil Detox Soup with Lemon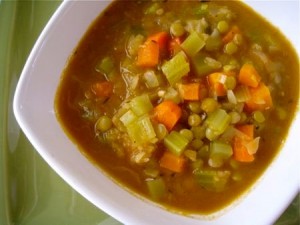 Makes 4 portions
4 oz brown or green lentils
2 pints vegetable stock
1 bay leaf
1 tbsp olive oil or ghee
1 large onion, peeled and chopped
1 clove garlic, crushed
1 tsp ground coriander
1 heaping tsp ground cumin
1 large carrot, scrapped and diced
2 sticks celery, chopped
2 sprigs of thyme
juice ½ organic lemon
1 tsp grated organic lemon peel
black pepper to taste
Celtic sea salt (optional)
Rinse lentils well and put in pan with the water. Bring to the boil and add bay leaf. Cover pan and simmer for 30 minutes. Drain, but keep the liquid for stock.
Heat oil or ghee gently in large pan. Add onion, garlic and spices. Fry gently for a few minutes. Add carrots and celery and fry for a few minutes more turning them so they all get coated in the spices.
Add lentils, thyme and 1½ pints stock. Bring to the boil, cover and simmer for 40 minutes. Add lemon juice and grated lemon peel. Season with pepper to taste. Let soup cool and then blend until smooth.  Heat gently before eating.
Red Pepper & Sweet Potato Detox Soup  
Makes 4 portions
2 large red peppers
8 oz sweet potato
squeeze lemon juice
1 red onion
2 cloves garlic
8 oz tomatoes, peeled and chopped
1 tbsp olive oil or Ghee
1½ pints vegetable stock
black pepper to taste
Celtic sea salt to taste (optional)
Finely shredded fresh basil leaves to garnish
Halve peppers, remove seeds and slice. Peel and finely chop onion and garlic.
Wash sweet potato and peel if necessary. Cut into small pieces and steam until tender.
Heat oil or ghee in large pan and gently fry onion and garlic until soft. Add peppers, tomatoes, sweet potatoes and two thirds of the stock. Season to taste with salt and pepper and cook for 10 – 15 minutes.
Cool long enough to transfer to a blender or food processor and blend until smooth. Return to clean pan and reheat adding more stock if required to get the right consistency. Add a squeeze of lemon juice to taste. Place in bowls and garnish with shredded fresh basil leaves.
Speedy Beet (Beetroot) Detox Soup
Makes 4 – 6 portions
3 tbsp olive oil or ghee
3 medium beets (beetroot), washed and grated
1 large carrot, scraped or peeled and grated
1 onion, finely chopped
1 leek, cut into thin strips
1 clove garlic, crushed
1¾ ( 1 liter)  pints vegetable stock
2 – 3 tsp fresh thyme
Celtic sea salt to taste ( optional)
black pepper to taste
2 tbsp natural yoghurt ( optional)
Heat oil in saucepan and gently fry the vegetables and garlic for 2 – 3 minutes.
Add stock, bring to boil, cover and simmer for about 20 minutes or until vegetables are soft. Add the thyme 5 minutes before end of cooking time with salt if using and pepper to taste.
Remove pan from heat and stir in natural yoghurt if using.
Vegetable, Bean and Brown Rice Detox Soup
45gm brown rice
4 carrots finely sliced
1 turnip chopped
2 leeks sliced
2 stalks celery sliced
1 onion chopped
1 tbs tomato puree
1 liter vegetable stock or water
400g can kidney beans drained and rinsed
Bring 1st 7 ingredients to boil in the stock or water.
Simmer 45 mins. until tender
Add beans and cook for 5 more minutes
Ladle into soup bowls and serve.
Creamy Raw Red Pepper Detox Soup
A Raw Recipe from Gabriel Cousens, M.D.
Serves: 1-2
Ingredients
1 Red pepper
1 Ripe avocado
1 Sprig oregano
1/4 cup fresh cilantro and parsley, mixed
2 cups water
Blend all of the ingredients together, warm gently making sure the temperature
stays below 100F, serve & enjoy!
Versatile Raw Carrot & Avocado Detox Soup
Carrot juice dressing (see recipe below)
Cucumber or celery
Zucchini ( courgettes)
Broccoli ( or other vegetable)
Herbs: arugula ( rocket), cilantro (coriander), basil, tarragon, thyme, rosemary
Spices: cumin, turmeric
Carrot Juice Dressing
2½ cups fresh carrot juice
1 medium ripe avocado, peeled, stone removed
3 -4 stalks celery
¼ cup lemon juice
Mix all ingredients in a blender until very smooth
Blend dressing with cucumber or celery. Add any of the herbs or spices and blend again.
Shred the zucchini and broccoli or any other vegetable into this base soup. Experiment with different vegetables. Warm gently making sure you keep the temperature below 100 F to keep it raw.
Using these detox soup recipes for a 2 day detox you can continue to gently cleanse during the colder weather. effective cleansing and detoxification are the keys to good health.