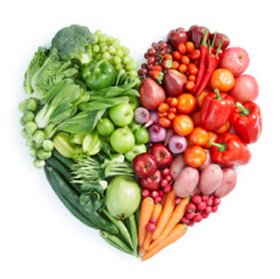 Although many people start a detox at the beginning of January, Springtime is the best time to detox your body. The weather is getting warmer (or should be) and the new season's vegetables start to appear.
In Chinese Medicine, Spring is associated with the liver energies. We know from both the Eastern and the Western Medicine that the liver performs many vital functions. One of its main roles is body detoxification.
After the long winter months with too much comfort eating, an excess of rich and heavy foods and alcohol that puts a strain on the digestive system, liver and kidneys you need to detox your body.
Toxin Overload
Our bodies were designed to be efficient at processing and extracting the goodness from food and eliminating what is not wanted but the stresses of modern day eating and living have so overloaded our systems that they can no longer cope.
It becomes harder for us to break down and eliminate foods properly and toxins start to accumulate robbing our bodies of vital nutrients and stimulate the formation of free radicals.  Stress, pollution, man made chemicals and other environmental toxins have a detrimental effect.
This internal pollution shows up as a range of symptoms and persistent illness such as tiredness, headaches, irritability, bowel problems, bad breath, allergies, psoriasis, arthritis, heart disease, Parkinson's disease and even cancer.
To get back into a better state of health you need to detox your body from time to time. By eating foods that are low in toxins and that stimulate the release of toxins you will improve your energy and strengthen your body against disease and illness.
Detox Diet Basics
A detox diet is typically low in gluten, fat, dairy and high protein foods. It has no caffeine, alcohol, junk or processed food, additives or fizzy drinks and is high in fiber and nutrients. This does not mean you have to starve yourself and be hungry all the time.
You can eat a good variety of fruits, vegetables, salads, pulses, fresh nuts and seeds and non gluten grains like brown rice, millet, quinoa and buckwheat. You can have a mixture of cooked and raw food.
Gradually cut down on caffeine, alcohol, processed foods, fatty foods and dairy products over a two week period before attempting to detox your body to avoid withdrawal symptoms.
Take 1 heaped tablespoon linseeds every day with a large glass of water or sprinkled on your breakfast to keep your bowels moving well during the detox.
Here is a sample 7 day detox diet you can follow:
Day 1
Breakfast
Mouli and apple juice ( see recipe below)
Fresh fruit salad
Organic puffed rice and soya milk
Lunch
Lentil and onion miso soup
New potato salad with chopped onion
Large salad of lettuce, watercress, spinach and slices of orange
Dinner
Stir fried fresh vegetables with brown rice and green side salad
Stewed prunes
Day 2
Breakfast
Mouli & apple juice
Stewed apple and raisins
Porridge made with oatflakes and water
Lunch
Butterbean, potato and leek soup
Tomato salad with olives
Dinner
Warm vegetable salad
Raw side salad
Fresh citrus fruit salad
Day 3
Breakfast
Mouli & apple juice
Fresh fruit salad with pears and grapes
Rice cakes spread with tahini and sugar free fruit spread
Lunch
Millet and walnut bake (see recipe below) with vegetable puree sauce and green salad
Baked apple with spices
Dinner
Thick vegetable stew
Kidney bean and celery salad
Fresh strawberries with kiwi fruit puree
Day 4
Breakfast
Mouli & apple juice
Avocado & banana smoothie made with soya milk
2 – 3 oatcakes
Lunch
Dahl soup made with lentils and spices
Walnut, celery and apple salad
Hummus with oatcakes
Dinner
Vegetable lasagne with millet ( see recipe below)
Large green salad
Soaked Hunza or unsulfured with cahew cream
( blend nuts with a little water)
Day 5
Breakfast
Mouli & apple juice
Stewed prunes
Rice cakes with tahini
Lunch
Apple and split pea soup
Avocado with a little olive oil and lemon juice dressing
Tuna and sweet corn salad ( canned tuna has lower levels of mercury)
Dinner
Baked potato and large mixed salad
Cup of miso soup
Fresh peaches or nectarines
Day 6
Mouli & apple juice
Muesli soaked overnight with soya milk
Lunch
Homemade scotch broth
Large mixed salad
Dinner
Vegetable risotto with chickpeas
Cucumber salad
Fresh pineapple chunks
Day 7
Breakfast
Mouli & apple juice
Fresh tropical fruit salad
Porridge made with oatflakes and water
Lunch
Brown rice salad with nuts
Bean salad
Homemade coleslaw with tofu dressing
Dinner
Grilled fish with vegetables and side salad
Fresh grapes
Drinks during the detox
Drink filtered or good bottled water.
Herb teas such as fennel, peppermint, chamomile
Dandelion coffee which helps detox the liver.
Mooli radish & apple juice. Mooli radishes are a rich source of sulfur which helps with liver detoxification.
You don't have to follow the suggestions rigidly. If you are short of time you can make soups and salads up in batches and eat them over several days. If you feel hungry eat leftovers from a previous meal, a bowl of vegetable soup, fresh fruit or a handful of almonds, brazil nuts or sunflower seeds.
Here are some recipes used in the detox diet plan.
Mooli and Apple juice
1 large mooli radish
3 apples
Juice the mooli and apples and leave to stand for 30 minutes before drinking.
Millet and Walnut Bake  Serves 2
1 x 500g ( 18oz) carton tomato, carrot or vegetable juice
1 pint water
100 g (4oz) millet grain
1 onion, finely chopped
1 carrot, finely diced
1 large stick celery, finely chopped
1 tbsp olive oil
1 large courgette (zucchini ),  finely diced
50g ( 2oz) mushrooms sliced
100g ( 4oz) walnuts, ground
½ tsp rosemany
½ tsp thyme
black pepper to taste
Mix vegetable juice and water and cook the millet for 30 minutes in 1 pint of the liquid.
Saute the onion, carrot and celery in the oil for 5 minutes until starting to soften.
Add courgettes (zucchini) and mushrooms and continue to stir-fry for a few minutes.
Add millet mixture, the remailing liquid, nuts, herbs and pepper.
Mix well and place mixture in large oven proof dish.
Bake uncovered in the center of the oven for 30 minutes at 200C/400F/Gas 6
No-Pasta Vegetable Lasagne Serves 2
1 tbsp virgin olive oil
1 onion , finely chopped
½ green pepper, ginely chopped
1 carrot, finely chopped
1 stick celery, finely chopped
1 clove garlic, finely chopped
50g ( 2oz) mushrooms, sliced
pinch of mixed herbs
1 large can additive free chopped tomatoes
100g (4oz) brown lentils washed & biled until soft
dash tamari sauce
1 large aubergine (eggplant) , thinly sliced
finely chopped walnuts to serve
Preheat oven to 200C/400F/Gas 6
In a large heavy based pan, stir-fry the chopped vegetables, garlic and mushrooms until soft.
Add herbs and chopped tomatoes with their juice.
Stir in the cooked lentils and tamari sauce.
Allow to simmer until most of the juice has been absorbed.
Put a third of the mixture in a shallow oven-prooof dish and cover with a layer of aubergine (eggplant) slices.
Cover with another third of vegetable mixture and then the rest of the aubergine (eggplant) slices.
Finish with the remaining vegetable mixture.
Cover dish with foil and bake for 1 hour.
Sprinkle lasagne with finely chopped walnuts and serve with boiled millet.
After your 7 day detox you should feel more energised and healthier. Take care not to get back into any bad eating habits. Continue to eat a wide variety of fresh fruit, vegetables, whole grains, seeds, nuts and pulses. Plan to detox your body 3 or 4 times a year for better health and energy.
This 7 Day Detox Diet was devised by nutritionist and author
Linda Lazarides.