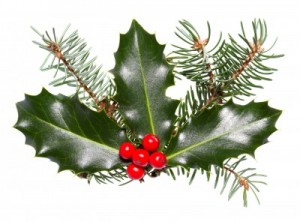 New here? Like us on Facebook to stay updated of new posts and the latest detox information. If you think your friends or followers will enjoy this post, please share on Facebook or Twitter using the buttons at the end of the post. You can also pin this page to your Pinterest boards.  🙂
Do you put your health on the back burner at Christmas time? If you want to avoid festive food ruining your detox here are some easy, tasty, healthy recipes for the holiday season to keep you on track.
The following recipe was printed in the Daily Telegraph a few weeks ago but would make a great breakfast on Christmas morning. Full of slow releasing whole grains it will keep you going all morning. The original recipe calls for sugar but you could use maple syrup or Xylitol to make it healthier.
Mixed Seed Porridge from Chef Stevie Parle
Serves 2
Ingredients
150g/ 5oz barley, soaked in filtered water overnight
150g/ 5 oz rolled oats, soaked in filtered water overnight
250ml 8.5 oz organic milk or substitute
1 cinnamon stick
5 cardamom pods
1 tbsp maple syrup, honey or xylitol or stevia to taste
2 tsp flax seeds to serve
2 tsp sunflower seeds to serve
2 tsp pumpkin seeds to serve
2 tsp sesame seeds to serve
Directions
Drain barley & oats and place in deep saucepan
Add milk with a splash of water, the cinnamon stick and cardamom pods
Bring to boil and simmer fro 5 – 10 minutes until barley is tender
Add a little more water if it starts to stick
Take off heat and stir in maple syrup, honey, stevia or xylitol
Put into 2 serving bowls and top with 1 tsp of each seed.
The following 2 recipes were adapted from recipes in Tesco's Supermarket Magazine
Indian Spiced Carrot Salad
Serves 4
Ingredients
4 carrots coarsely grated
30g/1½ oz raisins
2 tsp cumin seeds
1 tbsp sesame seeds
3 tbsp hazelnut oil or olive oil
1 tbsp Apple cider vinegar
Lemon juice to taste
50g/2oz almonds, roughly chopped
small handful parsley or fresh cilantro (coriander) chopped
Directions
Put raisins in a small bowl.
Cover with water that has just been boiled and allow to soak for 20 minutes until plumped
Dry fry seeds carefully in a frying pan for 1 – 2 minutes to release the aroma. Do not allow to brown.
Leave to cool slightly and then add to a large serving bowl with grated carrots.
Mix apple cider vinegar and oil together and add lemon juice to taste.
Add to carrots & raisins with remaining ingredients and toss well to combine.
Season to taste with a little Celtic or Himalayan salt and black pepper.
Cover and leave at room temperature for 30 minutes to allow flavors to mingle before serving.
Waldorf Salad
Serves 8
Salad ingredients
2 sticks celery sliced on the diagonal
2 apples, cored and sliced
200 g ( 7oz) red grapes halved
100g (1½ oz walnut halves
1 x 270g packs chicory leaves separated
2 x 70g arugula leaves (rocket)
Dressing
150g (5oz) natural yogurt
3 tbsp fresh lemon juice
1½ tbsp Dijon mustard
Celtic salt & fresh ground black pepper to taste
Directions
Mix dressing ingredients together and season to taste.
Toss all salad ingredients together in salad bowl and drizzle over a little dressing
Serve rest of dressing separately
Beets are good for the liver and liver detox. Here's an unusual recipe for them from Silver Fern Farms.
The original recipe called for sugar but I have substituted maple syrup to make it healthier.
Beetroot Confit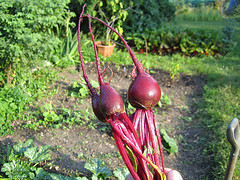 Serves 3 -4 with meat or turkey
Ingredients
2 medium (200g) beets (beetroot)
2 bay leaves
A sprig of mint
2 Tbsp olive oil
2 Tbsp red wine vinegar
1 Tbsp maple syrup or xylitol
½ tsp five-spice powder
Sea salt and freshly ground black pepper
125ml (½ cup) water
Directions
Peel and grate the beetroot and place in a saucepan with bay leaves, mint, olive oi,l red wine vinegar, maple syrup, five-spice powder, sea salt, pepper and water. Cover and simmer gently until the liquids have evaporated (about 10 minutes). Lift out bay leaves and mint. Beetroot Confit keeps for 2-3 days in the fridge and reheats well.
Here's an unusual recipe from  raw Brussels Sprout salad that I saw in the Daily Mail from Hugh Fearnley Whittingstall
Raw Brussels Sprout Salad

Serves 1 -2
Ingredients
Chose the freshest, smallest sprouts you can for this tasty winter salad.
50g hazelnuts, preferably skin on
150g Brussels sprouts, trimmed, discolored outer leaves removed
Zest of 1 lemon
Juice of ½ lemon
1 tsp fresh thyme leaves
Good pinch of chilli flakes
1-2 tbsp extra-virgin olive oil
80g young, fresh goat's cheese ( optional)
Sea salt and freshly ground black pepper
Directions
Heat the oven to 180C/350F/gas mark 4. Scatter the hazelnuts on a baking sheet and roast in the oven until fragrant and browned – about 9 – 11 minutes. Remove from the oven, wrap in a clean tea towel and leave for a minute. Rub vigorously in the tea towel – this will remove the browned skins.
Cut the prepared Brussels sprouts from top to root into slices about the thickness of a 50p piece.
Put  into a bowl and toss with the lemon zest and juice, thyme leaves, chilli flakes, and a tablespoon of oil.
Season with salt and pepper.
Taste and add more olive oil, lemon juice and/or chilli flakes as desired.
Arrange on a plate, scatter the hazelnuts over and around and crumble on the goat's cheese if wanted. Trickle over a little more olive oil and serve immediately.
If raw Brussels sprouts aren't up your street then try this cooked recipe. This was the only way my children would eat Brussels sprouts.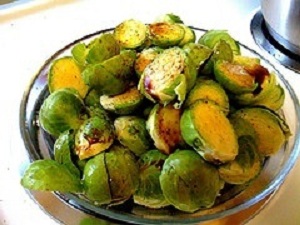 Stir Fried Brussels Sprouts with Ginger, Garlic  & Soy Sauce
Serves 6 – 8
Ingredients
2 lbs Brussels sprouts, washed, trimmed
1 tbsp olive oil
3cm piece fresh ginger, peeled and grated or cut into very fine strips
2 cloves garlic crushed or very finely chopped
1½ tbsp dark soy sauce
1 tbsp balsamic vinegar
1 red chilli, deseeded and cut into fine strips (optional)
3 large spring onions, trimmed and chopped (optional)
Directions
Cut sprouts in half and steam/cook until just tender (do not overcook)
Remove from heat.
While they are steaming heat the oil in frying pan and gently fry the ginger, garlic and chilli if using.
Next, tip in the Brussels sprouts and spring onions if using and fry gently for a few minutes until heated through.
Add the soy sauce and vinegar and stir fry for a few seconds until well mixed.
And now for something sweet
Healthy Spicy Christmas Cookies
This is a tasty raw food recipe that I had posted on my Facebook notes but I don't know where it originated.
According to reports it takes the average person 3 months to lose the pounds they pile on over the festive period.  If you don't want to be one of these then get my  tips for making your Christmas meal healthier.   Healthy Eating Tips for Christmas Dinner
If you enjoyed this post it would be fantastic if you would share this post by "Liking" it on Facebook, "Tweeting" it to your Twitter followers and "Pinning" it to your Pinterest boards. 🙂