Several weeks ago I wrote a blog post about using healthy seeds for your detox diet. Since then I've had some requests for recipes for using them so here are a few ideas to whet your appetite.
Pumpkin Seeds
Pumpkin Seed Pesto
1 tbsp mint leaves
1 ½ tbsp extra virgin olive oil
1/4 cup pumpkin seeds
Finely chop mint and pound with olive oil with pestle and mortar.
Grind pumpkin seeds in small coffee grinder taking care not to over grind.
Stir into mint and olive oil mixture.
Add to raw or cooked soup
Root Vegetable Salad with Pumpkin Seeds
Serves 4
2 carrots ( about 300gms) peeled & grated
300 gms celeriac ( celery root) peeled & grated
2 large raw beets ( beetroot) peeled & grated
50 gms pumpkin seeds
juice of 1 lemon
1 tsp raw honey or agave syrup (optional)
3 tbsp extra virgin olive oil
20 gms flat leaf parsley, chopped
Combine carrots, celeriac, amd beet in large bowl.
Scatter pumpkin seeds over salad.
Whisk together the lemon juice, honey and olive oil.
Toss through salad with parsley leaves.
Sunflower Seeds
Raw Sunflower Hummus
2 cups sprouted raw garbanzo beans
1/2 cup sunflower seeds
2 – 3 cloves garlic
1 tbsp fresh parsley
1/4 cup virgin olive oil
3 tbsp salt free, sugar free, gluten free, vegetable seasoning to taste
Blend all ingredients together until soft and smooth.
Makes approx 3 cups.
Red Cabbage, Kale and Carrot Slaw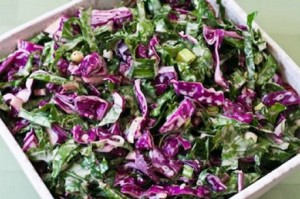 3 cups mixed shredded kale & red cabbage
1 carrot cut into very small matchstick size pieces
2 tbsp diced red onion
3 tbsp sunflower seeds
1/4 cup parsley leaves
1 tbsp extra virgin olive oil
1 tsp apple cider vinegar
1 tbsp Dijon mustard
Black pepper to taste
A little celtic salt to taste
Combine the kale, cabbage & carrot, onion, seeds & parsley in a bowl.
In another bowl whisk the oil, vinegar & mustard together .
Season with a little pepper & salt.
Pour over slaw and mix well.
Flax Seeds
Flax Seed Salad Sprinkle
1 tbsp ground flax seeds
1 tbsp fennel seeds
1 tbsp ground anise seeds.
Mix all ingredients together in small bowl and sprinkle over salads or steamed vegetables.
Flax Seed Dressing
2 tbsp flax seeds and soaking water. see directions
1 cup carrot juice
1 red pepper roughly chopped
Dash cayenne pepper
Herbs of choice
Soak flax seed overnight in ½ cup water in fridge.
Put all ingredients into blender and blend until smooth.
Use a salad dressing
Makes 1½ cups approx
Sesame Seeds
Creamy Sesame Milk
1 heaping cup of raw sesame seeds,
4 cups water,
6 dates pitted
Blend all ingredients together in a high powered blender
until very creamy.
Patrick Holford's Seed Mix
Half-fill a lidded glass jar with flax seeds and half with a mixture of sesame,
sunflower and pumpkin seeds.
Keep in the fridge to minimize damage from light, heat and oxygen.
Grind 1 – 2 tbsp as needed and add to smoothies or salads.
Hemp Seeds
Hemp Reviver
6 tbsp hemp seeds
1 cup blueberries
6 – 7 large lettuce or other green leaves
2 tsp cinnamon
2 cups water or more if needed
Place all ingredients in blender and blend until very smooth.
Add more water if too thick.
Spicy Lemon Hemp Seed Dressing
1 clove of garlic, finely chopped
Juice of 1 organic lemon
1 tbsp mustard powder
¼ cup ground hempseed
2 tbsp fresh basil
1 tbsp fresh parsley
1 cup extra virgin olive oil
Put all ingredients except oil in blender.
Blend while slowly adding oil.
Serve over salad or vegetable dish
Chia Seeds
Blushing Chia Seed Smoothie
1 cup red grapes
2 teaspoons chia seeds, soaked for about 10 minutes
2 bananas
1 head romaine lettuce or other green leaves
1 tablespoon sesame seeds
4 to 5 ounces of filtered water
Add everything except for the lettuce to your blender and pulse the ingredients until they are roughly blended. Now, add the lettuce and blend on high for 30 seconds or until smooth.
Raw Chia Energy Bar
2 bananas well mashed
2 cups of organic old fashioned oats
1 heaping tbsp of raw almond butter
1 tbsp of cinnamon
1 light drizzle of raw agave (or stevia)
2 tablespoons of raw chia seeds finely ground
Add a few raisins, shredded coconut or chopped apple if liked.
Place mashed bananas in bowl and add the rest of ingredients.  Mix well together.
Spoon mixture into lightly oiled square glass dish and make smooth.
Cover and place in freezer for 30 minutes.
Remove from the freezer, uncover the mixture and slice into bars with sharp knife.
Keep a few in fridge for the ocasional snack and  open freeze the rest until hard and store in freezer in suitable container until wanted. Allow to thaw out before eating.
These bars are really meant for a little snack or treat if you are about to give in to something wicked. They do not form part of the detox diet.
I hope you will enjoy these healthy seed recipes.