Have you ever given up on your detox diet because you pigged out on food that you craved and thought you ruined it? It happens. But what if you had a healthy alternative for those cravings? Here are some healthy snack recipe ideas that you can have up your sleeve when you next detox.
I came across this first recipe while a was thumbing through Men's Heath Magazine at a friends house. Although it was not specifically for a snack on a detox diet it is ideal if you get a yearning for some ice cream.
Super Berry Yogurt Ice
Ingredients
350 grams fresh or frozen berries of choice
1 banana, sliced
200 ml plain Greek or Greek style yogurt (preferably organic)
Directions
Place all ingredients into blender or food processor.
Blend or process until smooth and creamy
Pour mix into shallow freezer container and leave in freezer for 2 -3 hours until firm.
Remove 30 minutes before serving to allow to soften.
If using frozen berries you can eat it straight away, there is no need to freeze.
Note: Original Greek yogurt was made with goat's milk but it's is probably impossible to find now.
You can use live Greek style yogurt but look for organic.
If you miss your pudding try this recipe. It takes a bit of time to prepare.
Sweet Potato Pudding
Ingredients
2 large sweet potatoes, washed
1/2 tsp cinnamon
fresh apple juice to taste
Directions
Preheat oven to 200°C (400°F)
Pierce potatoes with fork before wrapping in foil.
Bake for 45 – 60 minutes until soft.
Allow to cool for 30 minutes or more until cook enough to handle.
Scrape out flesh, add cinnamon and blend until smooth.
Add a little apple juice to sweeten if really necessary.
Here's a raw pudding that you can whip up in no time.
Raw Apple Delight Pudding
Ingredients
2 ripe bananas, peeled
2 kiwis, peeled
2 fresh dates
2 organic apples, washed
a little ground cinnamon
Directions
Place bananas, kiwis and dates in a food processor and mix until smooth.
Core apple and chop flesh.
Pour blended fruit mixture over apples and sprinkle with a little cinnamon to taste.
Eat immediately
If you miss baked goods try these seed and nut cakes.
Two Seed and Nut Cake
Ingredients
6tbs pumpkin seeds
3tbs amaranth seeds
4tbs flaked almonds
4tbsp cashew nuts
2tbsp chestnut flour
2tbsp quinoa flour
1tsp natural vanilla essence
¾ tsp mixed spice
2tbs rice syrup
Directions
Preheat oven to 350°F (180°C) adjust for fan ovens
Grind seeds and nuts together or grind separately and mix together in bowl.
Add flours and spice.
Add a little water to rice syrup to thin and add with enough water (approx ¾ pint) to make a sloppy mixture.
Add vanilla essence and mix well.
Allow to soak for at least ½ hour. Mixture will thicken as it stands.Place in individual lightly oiled tart tins or a lightly oiled 8 inch shallow sponge cake tin and cook at Gas 4/ 350F/180C cook for 1½ hours or until dry in center when tested with the point of a sharp knife or skewer.
If you crave pancakes then try this healthier version.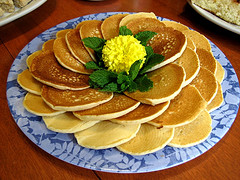 Gluten-Free Pancakes
Ingredients
6oz gluten free flour of choice or combination of flours (a combination of three or four flours can be used) see below
2 level tsp wheat free baking powder (optional)
5 – 10 oz  water or milk substitute
1 egg  (optional)  beaten
Directions
Put all ingredients except fluid into a bowl.
Add 5 fl.oz liquid and beat well. Add more liquid as necessary.
The amount needed varies with the flour used. The batter should be thick and smooth and will thicken as it stands so may need thinning as you proceed to cook the pancakes.
Prepare a healthy non-stick pan with a smear of butter or olive oil and heat on moderate heat.
Ladle in enough batter to make a 5in. diameter pancake.
Allow to cook until bubbles form on top and the pancake begins to look dry.
Turn and cook other side until lightly brown.
Serve with fresh fruit, pureed fruit, stewed fruit or nut butter.
FLOURS
Rice flour
Gram (chick-pea) flour
Maize meal
Rice flour
Soya flour
Millet flour
LIQUIDS
Sweetened soya milk –  look for one sweetened with apple juice or wheat syrup
Rice Dream (a rice milk)  from good health food shops.
Almond milk
The baking powder is not essential but makes the pancakes lighter.
If you need a healthy snack to take out with you try these energy bars.
Green Vitality Bars
Ingredients
½ cup pitted dates
½ cup soaked walnuts
¾ cup raw almonds
3 tablespoons raw honey or agave nectar
¾ cup shredded coconut unsweetened
¼ cup raisins
¼ cup dried cranberries unsweetened
2 tablespoons Go Five Alive Green Vitality Powder
Directions
Place almonds into food processor with S blade and grind into a meal texture.
Add the rest of the ingredients, and process into a dough type mixture.
For bars, press the dough into an 8×8 pan and sprinkle with extra coconut.
Refrigerate for 1-2 hours before cutting into bars.
To make energy balls, roll dough into 16 to 24 balls and roll each ball in coconut.
Refrigerate for 1-2 hours.
Anytime you are experiencing an energy crisis, have a ball or a bar!
20 Quick & Easy Healthy Raw Snacks
For more quick & easy raw snacks download 20 Healthy Raw Snacks pdf
Cravings
If you are are getting a lot of cravings on your detox diet plan you may not be getting the right balance of protein, fat and carbohydrates, but there could be a lot of other reasons. You can read about them here: What Do Your Crazy Food Cravings Tell You?
Picture by WayTru