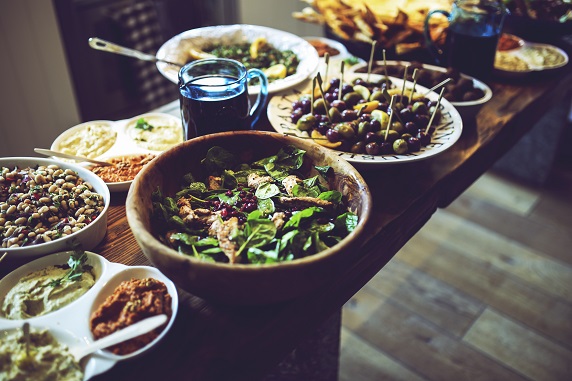 If you think your kids live a clean lifestyle because they don't drink or smoke, think again. Today, everyone, especially children, is at risk of life-threatening diseases. Carcinogens come from the processed food you buy at the supermarket. Toxic chemicals like BPA and flame retardants are found in your kids' favourite toys. More shockingly, recent reports suggest that chemicals are now present in breast-milk.
The good thing is that you can easily cleanse your kids' entire system with a change of lifestyle. Detoxification or cleansing naturally happens when your kids sweat or take a trip to the bathroom. Since kids are very active, it's very easy for them to get rid of the toxins that harm their bodies.
There are a lot of ways on how you can make your kids detox the fun and healthy way. Here are some tips on avoiding toxins for your kids:
Spend a couple of dollars more on naturally-raised meat instead of those coming from commercial companies. Their unsafe breeding conditions are home to diseases like salmonella and mad cow disease.
Check the ingredients of your household chemicals, especially laundry detergents and softeners. Make sure that they are made of natural materials that are non-toxic.
Scan the places your kids frequent, even their beds. Artificially-produced products will contain chemicals, no matter how mild.
Incorporate exercise in your kids' daily routine. Add some fun and games to make it more enjoyable.
Introduce your kids to probiotics. Yogurt is a good source of good bacteria that fight off the bad ones in the digestive system.
Avoid artificial drinks like sodas and powdered juices. You can even ditch the coffee machine that is loved by many.
Water will always be your kids' best buddy.
Prepare a menu of delicious, colorful and natural food for your kids to enjoy any time of the day. Check out our recipes below to help them ease into a healthy diet.
Green Detox Smoothie
Don't be fooled by the color of this drink. This smoothie is a power-punch of nutrients and antioxidants with a mellow taste of pineapples and bananas. Let your kids take a sip and enjoy the benefits of blended fruits.
INGREDIENTS:
3 cups frozen diced pineapple
3 cups fresh baby spinach
1 cup frozen diced banana
1 celery rib (optional)
1 Tbsp. grated fresh ginger (start with less and add more if desired)
1 Tbsp. chia seeds
juice from half a lime
DIRECTIONS:
Combine all ingredients in a blender and pulse until smooth.  Add a little water or juice if needed.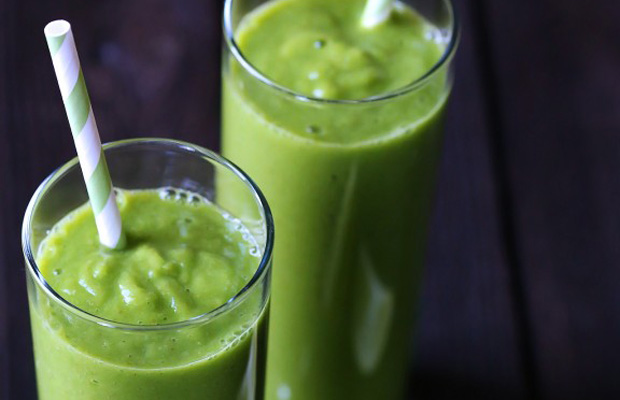 Photo and Recipe Credits: Ali Ebright of Gimme Some Oven
Green Monster Detox Salad
Who says salads are just for weight watchers? Fool your kids to eating vegetables with this loaded salad that fights the toxins away.
INGREDIENTS:
1/4 of a cabbage
1/4 head of broccoli
1/8 cup pistachios
1/4 cup chopped celery
2 large cucumbers
1/2 avocado
juice from 1 lemon
1 tbsp. extra virgin olive oil
salt and pepper to taste
DIRECTIONS:
Mash the avocado with the lemon juice and olive oil. Add salt and pepper to taste.
Make cucumber noodles with a veggie peeler or spiralizer.
Chop the rest of ingredients and toss them in a bowl with the avocado dressing.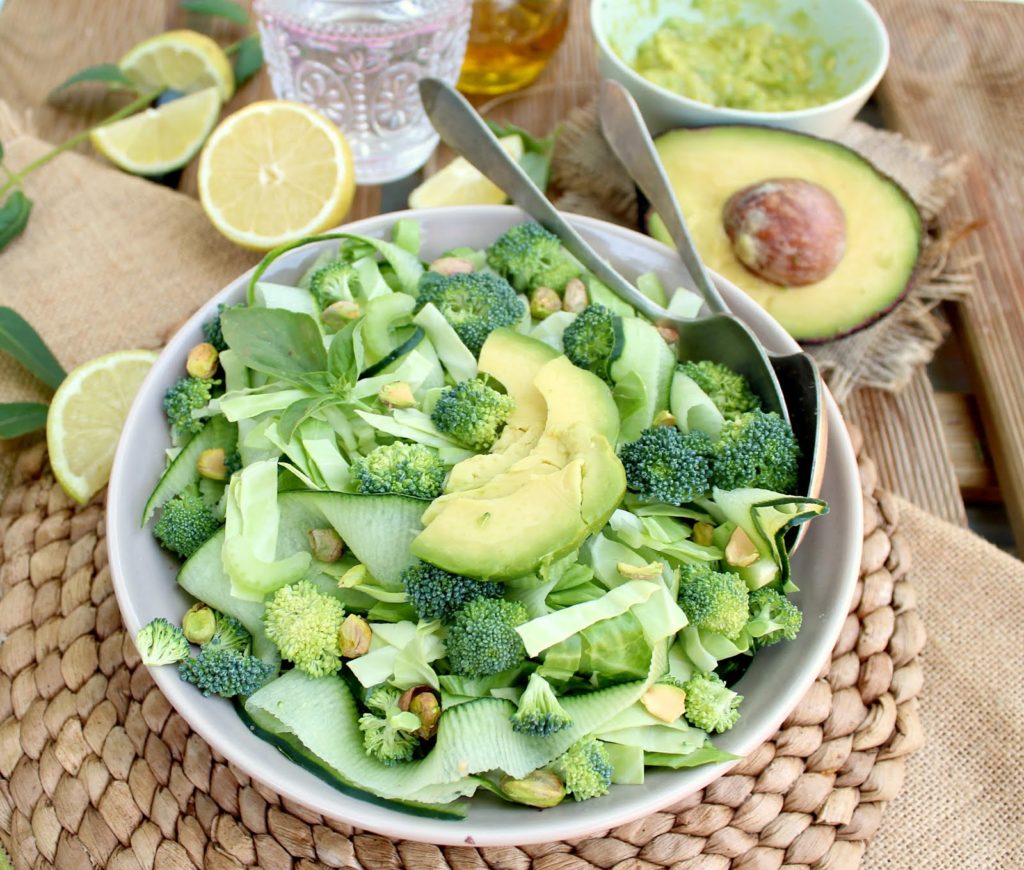 Photo and Recipe Credits: Consuelo of Honey and Figs Kitchen
Roasted Beet Noodles with Pesto and Baby Kale
Indulge your kids in a great contrast of red and green veggies that remind them of spaghetti. This savory surprise is a must-try in every kitchen.
INGREDIENTS:
2 medium beets, peeled, Blade C, noodles trimmed
olive oil cooking spray
2 cups baby kale
For the pesto:
3 cup basil leaves, packed
¼ cup of pine nuts
¼ cup of olive oil
½ tsp grinded sea salt
¼ tsp grinded pepper
1 large clove of garlic, minced
DIRECTIONS:

Set the oven to 425 degrees. On a baking sheet, spread out the beet noodles and coat with cooking spray and season with salt and pepper. Bake for 5-10 minutes or until beets is cooked to al dente or your preference in doneness.
While the noodles cook, combine all of the ingredients for the pesto into a food processor and pulse until creamy. Taste and adjust, if needed. Once beets are cooked, toss with pesto and the kale. Serve.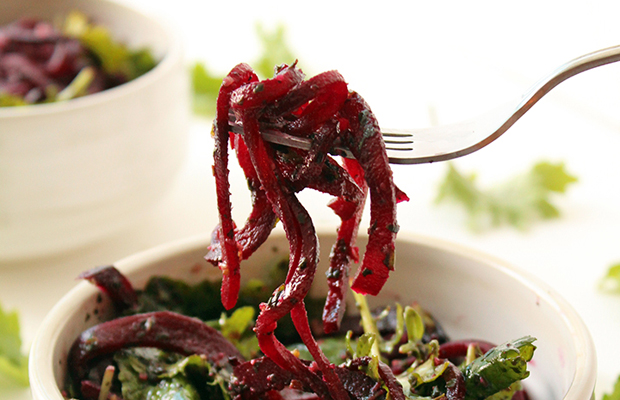 Photo and Recipe Credits: Ali Maffucci of Inspiralized
Raw Spicy Zoodle Bowl
Have fun playing with colors while digging into a rainbow of goodness. Spices act as natural antioxidants for your kids' tummy—adjust how you spicy you want this salad to be.
INGREDIENTS:
1 large zucchini, spiralized or peeled
2 large carrots, spiralized or peeled
1 red bell pepper, sliced thin (any color is good)
1 cup purple cabbage, chopped into small strips
1 cup fresh corn (optional)
1/2 cup celery, chopped small
1/4 cup fresh cilantro, chopped
2-3 tablespoons sesame seeds
SPICY DRESSING:
1-inch piece of fresh ginger, peel removed
1/4- 1/2 inch chunk of jalapeño, depending on your spiciness liking)
1/2 of an avocado
fresh juice from 1 lime
1/4 – 1/3 cup of water, depending on how thick/thin you prefer your dressing)
2 teaspoons maple syrup (or your favorite sweetener)
1/2 tablespoon raw, unrefined, organic coconut oil
1/4 teaspoon fine-grain sea salt
pepper, to taste
Optional add-ins: cashews, peanuts, edamame, green onions, hemp hearts
INSTRUCTIONS:
Spiralize or peel zucchini and carrots.
Add to a large bowl along with the red pepper, purple cabbage, corn, celery, cilantro and sesame seeds.
Mix well
FOR THE DRESSING:
In a blender, combine all of the dressing ingredients and blend until smooth.
Pour dressing over salad, mix well and serve!
NOTES
Makes 2 large servings. If you don't like spicy, you can use less jalapeño or omit altogether. If you think you will have leftovers, you can always keep the dressing separate and add as needed so the veggies don't become soggy in the refrigerator. Will keep in the refrigerator up to 2 days.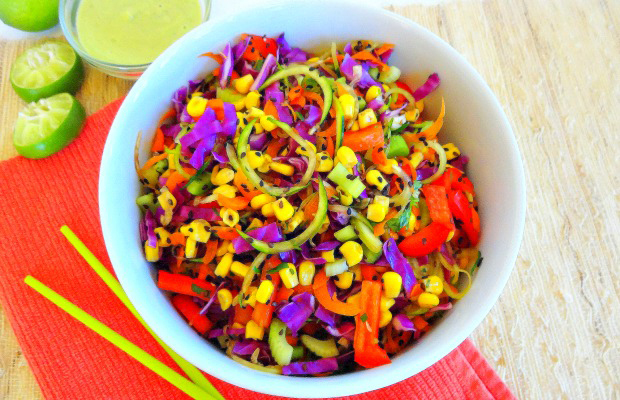 Photo and Recipe Credits: Shannon of The Glowing Fridge
Baked Blackberry Oatmeal
This oatmeal is good for breakfast and afternoon snacks. You can bake a batch for the kids to get whenever they feel the urge to munch on something.
INGREDIENTS:
butter, for greasing pan
2 1/2 c. fresh blackberries
1 1/3 cups rolled oats
1 tsp baking powder
1/2 tsp ground ginger or cinnamon
pinch of sea salt
2 large eggs
1 1/2 c. milk
3/4 tsp vanilla extract
1/4 c. maple syrup, plus more for serving
1/2 c. pumpkin seeds
1/2 c. pecans or hazelnuts, roughly chopped
1/4 c. sunflower seeds
Preheat the oven to 325°F. Grease a loaf pan with butter. Pour the blackberries into the bottom of the pan and spread so they are at an even height.
In a large bowl, mix together the oats, baking powder, ginger or cinnamon, and salt. Pour over the blackberries. Whisk the eggs, milk, and vanilla extract together in the same large bowl, then pour over the oats, evenly soaking the entire mixture.
In a small bowl, use your fingers to mix together the maple syrup, pumpkin seeds, nuts, and sunflower seeds until they are all evenly coated. Sprinkle the seed mixture over the top of the oatmeal. Bake for 50 minutes to 1 hour, until the oatmeal is set and the seeds are lightly browned and crunchy. Serve at any temperature with a drizzle of maple syrup. Keep leftovers in the fridge.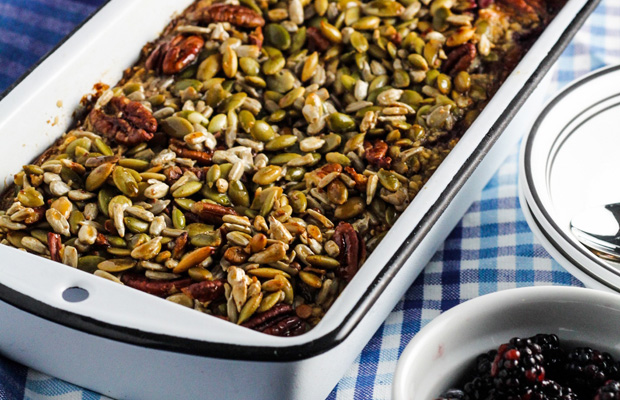 Photo and Recipe Credits: Katie at the Kitchen Door
When it comes to eating the right food, less is always more. Go for fresh produce that goes straight to the kitchen after harvest. Be informed of how your food is grown or made. Does the company use pesticides? Are their facilities accredited by health agencies? It would pay a lot to know these details about the food you eat.
Encourage your kids to adopt the same lifestyle, and being healthy will come naturally after. Involve them in preparing some of these healthy meals and you might be surprised at what they can do. They're going to thank you for it in the future.
Detoxification doesn't have to be as bad as you think. Contrary to what social media says, you don't need to starve your kids or put them on an all-juice diet for a week. A good balance of the right food and exercise are all you need to combat a toxic life.
Save
Save
Save
Save
Save
Save
Save
Save