Seeing a picture recently about the benefits of watermelon on Facebook reminded me of the Watermelon Cleanse. Although Summer is not one of the key times to detox it is the ideal time to do a one, two or three day Watermelon Cleanse.
It's is so easy to do, so refreshing and cooling when the weather is hot. It's a good way to kickstart a healthy eating plan or weight loss program for that beach body.
Health Benefits of Watermelon
According to medical news today the health benefits of watermelon are mounting. Although you might think it's nothing but sweet water it contains a number of essential vitamins, minerals and antioxidants and is low in calories.
Watermelon contains more lycopene than any other fruit or vegetable. Lycopene is the pigment that gives watermelon its pink color and helps to protect against many diseases.
Researchers have discovered that people with high levels of lycopene, an antioxidant, in their blood and tissues have a reduced risk of cancer, heart disease and macular degeneration.
For years Naturopaths have used watermelon as a kidney and bladder cleanser. According to Daniel Reid who wrote the Tao of Detox, the white part closest to the rind contains potent kidney cleansing factors.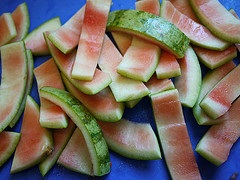 Watermelons are high in potassium and a watermelon juice fast is reputed to help dissolve kidney stones.
Watermelon contains some substances that can help dilate blood vessels and lower high blood pressure. This can be useful if you suffer with high blood pressure that could eventually lead to kidney damage,
Watermelon is high in potassium and people with advanced kidney disease usually have to restrict their fluid and potassium intake so should not use the watermelon cleanse.
Watermelon & Liver Detox
Watermelon is extremely alkaline-forming in the body which aids liver detox. An acidic body cannot release toxins from the cells.
Watermelons, especially the part close to the rind, contain the amino acid citrulline which helps the liver convert ammonia, a by product of protein digestion, to urea which is detoxed by the kidneys. Ammonia is highly toxic if allowed to build up and can cause brain fog.
Watermelon also contains valuable nutrients such as chlorophyll, betacarotene, vitamin C, potassium, silicon, lycopene and glutathione which is used by the liver for detox.
One naturopath, Dr Ariel, says that watermelon is ideal for detox and has positive effects on the kidney, bladder, heart, stomach, colon, liver and more.
Watermelon Cleanse
Look for ripe watermelons with smooth, firm skin and seeds. The seeds give you extra nutrients and help with the cleanse.
Organic ones are best if you can get them. Watermelon came 34 on the list of 48 foods tested by the Environmental Working Group for pesticide residue in their 2014 report.
To do the watermelon cleanse you eat nothing but watermelon for 1 to 3 days. You can chop it up and eat the flesh, juice it or blend it, make it into a "soup" or freeze it as popsicles. Whatever takes your fancy.
Eat it or drink it whenever you feel hungry.  Drink pure water if you feel thirsty but as watermelon is 92% water you will get quite a lot of water from just eating, juicing or blending it.
If you can get organic watermelons you can juice the rind as well. It is loaded with nutrients. Just be aware that it will alter the taste and make it less sweet. Just add a little to start with first too see if you like the taste.
If you are not using the rind make sure you use as much of the white flesh next to the rind as possible so you don't waste those precious nutrients.
Try spicing up a watermelon juice with some ginger, cardamon or cayenne pepper or add some lemon juice and mint or chopped cilantro to a watermelon smoothie.
Here's how to make the Watermelon Soup.
Recipe by Dr Ariel Policano.
This isn't really a "soup" but makes a change from drinking it as a juice or smoothie.
4 cups watermelon, seeded and cubed
Juice of 1 organic lime
2 tbsp fresh mint, finely chopped.
1 tbsp fresh ginger, finely chopped, minced or grated
1/8 tsp ground cardamom
Place 2 -3 cups watermelon in food processor and blend until smooth. Dice up the remaining 1 -2 cups of watermelon into very small pieces and add to the puree. In a separate bowl, combine the lime juice, mint, ginger, and cardamom. Add this to the "soup" mixture and stir well. Chill before serving.
Here's a raw watermelon detox soup you can have for a change if you are doing more than a one day on the cleanse. Beets help to boost liver detox so make an ideal addition to your diet.
Red Devil Watermelon Beet Soup
Serves 4
3 medium raw organic beets, (beetroot) peeled
1/2 organic watermelon
2 organic oranges, peeled
2 tbsp fresh dill, chopped
1 cup filtered water, optional
Celtic or Himalayan salt
Freshly ground black pepper
Blend beets, watermelon and oranges together until smooth.
Add the cup of water for a thinner consistency if desired.
Chill for at least 6 hours.
Season with a little Celtic or Himalayan salt and freshly ground black pepper to taste.
Garnish with fresh dill & serve
Watermelon seeds
The watermelon seeds both white and black can be blended or juiced right along with the flesh. In a watermelon smoothie they add fiber and are good for cleansing the colon.
Prepare for the Watermelon Cleanse
As with any detox plan it's best to prepare for it in advance. This helps to avoid withdrawal symptoms that can make you feel bad. Take a couple of weeks before doing the cleanse to gradually cut down on coffee and caffeinated drinks, sugar and foods and drinks containing it, foods with additives, fatty food,  fried food and alcohol. It helps to cut down on red meat too and eat more vegetables and salads.
After the cleanse
When you have finished the cleanse whether it be 1, 2 or 3 days it's best to introduce solid food gradually and in small amounts or it may upset your digestion. Have  green smoothies, eat some soft fruit, a leafy green salad or vegetable soup to begin with. Then gradually introduce protein like lentils and rice, bio-yogurt, organic eggs and goats cheese.
A watermelon cleanse can be a great way to get started with a healthier eating plan because it helps to eliminates cravings for unhealthy foods and resets your appetite.
Have you tried a Watermelon Cleanse before? Are you going to do it? Do let me know in the comments. I'd love to hear about your favorite cleanse too.
Watermelon rind image by Rebecca Siegal