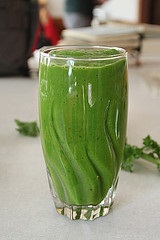 You can make yourself some detox green smoothies at any time of the year. They are so easy to make, so tasty to drink and incredibly nutritious. You just whizz up some fruit and a bunch of greens and you have your breakfast, lunch, dinner or healthy snack. Before we get to the recipes  let's take a quick look at why they are so very good for you.
Detox Green Smoothies provide healthy carbohydrates, all essential amino acids and an abundance of vitamins, minerals, phytochemicals, and chlorophyll so are an excellent choice whether you are following a detox diet or not.
Green smoothies make use of the whole food and includes the fiber which has numerous health benefits for the digestive system. I wrote a post here about whether blending fruit and vegetables is better than juicing for detox?
Greens contain more valuable nutrients than any other food group. Greens are high in carotenoids, and other antioxidants that guard against heart disease, cancer, and problems with blood sugar regulation.
Health Benefits of Green Leaves
Each type of green leaf has it's own health benefits. For example Kale contains Vitamin K , calcium and manganese all needed for bone health. It also contains sulforaphane,  the anti-cancer phytochemical.
Spinach contains iron and is a good source of folic acid, selenium and zinc.  Collard greens contain diindolymethane which improves good estrogen metabolism and immune system modulation.
If you use a very high powered blender like a Vita-Mix or Blendtec the cells of the plants are ruptured releasing more nutrients that are more easily absorbed than if you use a regular blender.
Who invented Green Smoothies?
Although Steve Kuhnau, dubbed The Smoothie King, has been credited with inventing nutritional smoothies Victoria Butenko started the present day trend for Green Smoothies in 2004.  While searching for a cure for her family's illnesses Victoria concluded that the missing element in their diet was leafy greens.
In order to get them to eat enough greens she hit on the idea of blending them and she added fruit to make them more palatable. Many people do not consume nearly enough greens in their normal diet so Detox Green Smoothies are a great way to get more greens into your diet.  And once you start drinking them, you'll be hooked on them.
As you drink more Detox Green Smoothies and get more of these nutrients into your body you will notice an increase in energy and fewer cravings for food which will help with weight loss.
To detox with Green Smoothies you can just eat green smoothies and fresh fruits and vegetables for 2 – 7 days or simply replace one or two meals per day with 1 quart of green smoothie.
Here are some easy and tasty recipes for Detox Green Smoothies.
The basic recipe is 60 % fruit and 40% green leaves. As you get used to them you can experiment with increasing the greens and reducing the fruit.
You can use fruit such as bananas, apples, pears, kiwi fruit, mangoes, pineapple, berries and every other juicy fruit. You greens could be any kind of lettuce, mixed baby greens, celery, spinach, kale, chard, arugula (rocket) and other green leaves. You can also try peppers, cucumbers and tomatoes.
It's best to keep Detox Green Smoothies simple. You don't need to add protein powders, superfoods, powdered supplements, nuts or seeds. You can add a scoop of your favorite green food powder if you want.
Allow at least 40 minutes for your Detox Green Smoothie to be absorbed before you eat anything else. If you want to drink a Green Smoothie as a snack mid-morning or afternoon wait several hours after your previous meal to allow it to digest first. Do not be tempted to add nuts, oils, or other supplements as these can make them harder to digest.
These recipes make varying amounts. They are best drunk fresh but you can keep any left over smoothie in the fridge or take it to work in a cooler.
The method is the same for all the recipes. Put all the ingredients in a blender fruit first. Start the blender at slow speed and then increase to high power when the greens are incorporated into the liquid. Blend until very smooth. Add more water if necessary to taste.
Wild Purple
1 cup fresh or frozen wild blueberries
1 banana, peeled
3 plums, pitted
1/2 head romaine lettuce
1/2 cucumber, chopped
8 ounces of filtered water
Blueberry Green
1 cup of coconut water, almond milk or rice milk
1 – 1 1/2 cups of blueberries or other berries
1 small banana
6 large lettuce or other green leaves
1/2 tsp organic cinnamon ( optional)
Mango Spice
2 medium mangoes, peeled and diced
1/2 – 1  cup arugula
2 cups spinach or other green leaves
1/2 to 1 cup filtered water
Berry Good
4 handfuls mixed berries (blueberries raspberries, strawberries)
1 or 2 dates
2 handfuls of greens
8  ounces of filtered water
Green Mist
4 ripe pears, cored
4-5 leaves of kale coarsely cut into ribbons
½ bunch of mint leaves
Water, enough to cover blades
Melon Refresher
3 cups honeydew melon
1 large handful mixed greens
1 small handful mint leaves
You don't have to be following a detox diet plan to benefit from the Detox Green Smoothies but it will help if you follow a healthy diet. If you have a favorite Green Smoothie recipe why not share it below?
Green Smoothie Picture by Stacy Spensley