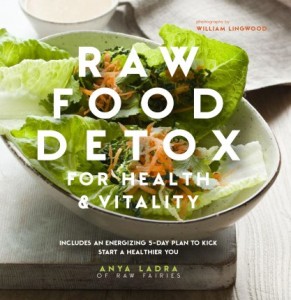 If you've ever been tempted to do a juice based raw food detox but have been put off with the thought of no food then this 5 day raw food detox may be just the compromise you've been looking for.
This raw food cleanse includes a large detox salad, a smoothie and a nut milk every day to help keep the hunger at bay.
You are continually regenerating the cells in your body so you can influence whether certain conditions develop in your body or not. Lifestyle factors such as diet and exercise play a key role in influencing how well you regenerate.
This 5 day raw food detox will help to remove the environmental toxins that have accumulated in your body and damage cells as well as interfere  with your weight control system.
The plan from chef Anya Ladra's new book Raw Food Detox
promises to improve your metabolism for limitless energy and a glowing skin.
The vitamins, minerals, antioxidants and phytonutrients and enzymes from the juices are absorbed straight into your blood stream increasing your energy and improving sleep patterns.
The nutrients you get from the green leaves and raw vegetables stimulate collagen production to keep your skin smooth, as well as improving hair and nails.
Here's the plan that you repeat over 5 days. If you can't manage 5 days why not try it for 3? It's a good start to get you into the swing of detoxing. You can do the 5 day cleanse another time.
5 Day Raw Food Detox Plan
First thing: 7.30am – 8am: 2 servings of Detox Lemonade
Breakfast: 9am – 9.30am: 2 servings of veggie juice
Mid Morning: 11am: 2 servings of smoothie
Lunch: 1 pm – 2 pm: Raw Salad
Mid Afternoon: 3pm – 4pm: 2 servings of juice
Dinner: 6pm – 7pm: 2 servings green nutmilk
Night Snack: 8pm – 9pm: 2 servings Detox Lemonade
Here are the detox recipes:
Detox Lemonade
This is based on the Master Cleanse recipe originally devised in the 1940s by Stanley Burroughs, an alternative medicine practitioner, who used it to treat digestive system ailments. Nowadays it's more often used by celebrities to lose weight quickly before red carpet events.
Serves 2
Juice of 2 – 3 large organic lemons
500 ml pure water
1 1/2 tbsp pure maple syrup
2 pinches cayenne pepper
Put all ingredients into a blender and whizz up until blended
Pout into serving glasses and sip slowly.
Green Veggie Juice
Serves 2 – 3
1 medium organic cucumber
5 organic celery stalks (ribs)
100g organic broccoli
1/4 fennel bulb
1/2 organic zucchini ( courgette)
1 organic green apple
1 organic lime, peeled
3 large handfuls organic parsley
3 large handfuls organic kale or spinach
Cut all ingredients into suitable sized pieces and run through your juicer according to the instructions.
Divide between 2 or 3 glasses and drink slowly.
Apple, Ginger and Cinnamon Juice
This juice is full of natural sugars but cinnamon has a long history as a medicine and helps to control blood sugar.
Serves 2 – 3
8 – 9 large organic apples
2 cm piece fresh ginger, peeled and chopped
1 tsp ground cinnamon
Cut apples into suitable size pieces for your juicer and juice.
Stir in cinnamon
Divide between 2 or 3 glasses
Drink slowly and enjoy
Banana, Berry and Cacao Smoothie                                                                     
There is a certain amount of controversy among raw foodists whether raw cacao is a good food or not. It is said to be an addictive stimulant but it is a poor source of caffeine and, according to Dr Gabriel Cousens, it it does not raise blood sugar in the same way as a caffeine does.
According to Dr. Charles Partito, creator of the Ejuva Cleanse, Cacao being a legume contains many more toxins than nutrients so is not a good food.
I include this recipe for your information as it forms part of Anya's raw food detox plan. Whether you want to drink it or not is up to you after you have done your own research. You will also find many references to it's numerous health benefits.
Serves 2 -3
3 organic bananas, peeled and chopped
1 passion fruit,
175g berries, thawed if frozen
2 tbsp raw cacao powder
1 tbsp flaxseeds, ground just prior to use
1 tbsp organic agave
400 ml water
Green Nut Milk
This is made with cashew "nuts" which are actually seeds. They contain healthy monounsaturated fat that promotes good cardiovascular health. Monounsaturated fats can reduce high triglyceride levels which are associated with increased risk for heart disease.
They are high in copper and are a good source of phosphorus, magnesium, manganese, and zinc.
Store nuts in the fridge to prevent deterioration of their fatty acid content.
Serves 2 -3
400 ml pure water
150g cashews
2 soft pitted dates
1 tsp organic coconut oil
1 large handful organic spinach
1/4 tsp celtic or Himalayan salt
Directions
Put all ingredients into your blender and whizz up until very smooth.
Divide between 2 or 3 glasses and sip slowly.
Raw Detox Salad
A raw detox salad might include various salad leaves, sprouts, cucumber, peppers, tomatoes, cabbage, carrot, broccoli, cauliflower florets, beets, onion, pea shoots, fresh peas, mangetout peas, and herbs.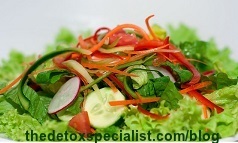 Simple Garden Salad
(not from the book)
Serves 2
1/2 small head organic red leaf lettuce, washed, dried and torn into mouthful sized pieces
1/2 head organic Romaine lettuce, washed, dried and sliced into mouthful sized pieces
1/2 small organic cucumber, sliced
2 Tbsp organic carrot, grated or spiralized
1 Tbsp organic zucchini (courgette), grated or spiralized
1 avocado, thinly sliced
4 organic cherry tomatoes, halved
8 slices red onion
Handful organic parsely, finely chopped
Combine all ingredients in serving bowl
Toss with a simple olive oil and lemon juice dressing or other healthy dressing of your choice and serve immediately.
Or for something different try this Rainbow Dagwood from David Klein
The Rainbow Dagwood
1 large organic red bell pepper, deseeded, sliced into two portions from top to bottom
1/2 cup organic celery, diced
1 sm. avocado, peeled and stoned
handful of whole dulse leaf, rinsed and hand squeeze-dried
1 yellow beet, spiralized into "spaghetti"
1 medium organic cucumber, sliced
1 large. tomato, sliced
handful of sunflower greens (sprouts)
Directions
1. Process the celery and avocado together to make a creamy slaw mixture.
2. Fill one half of the bell pepper sandwich with the slaw.
3. Add the remaining ingredients in layers.
4. Top with the remaining bell pepper half and enjoy!
Variations
Use other sprouts, grated vegetables, nut or seed cheese, or nut or seed butter instead of the avocado.
FREE Raw Food Mini Course
Want to know more about how to prepare easy raw food meals?  Get raw food chef Russell James FREE mini -course. Click on the banner below.

Banana, Berry & Cacao Image by Gogatsby