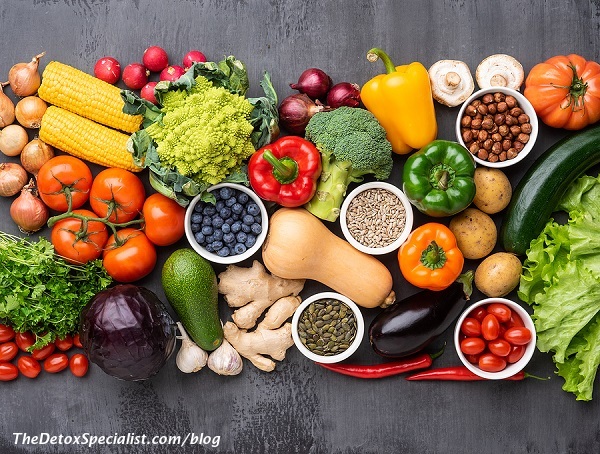 Do you struggle to get going in the mornings and reach for the coffee as soon as you are awake? If so you could benefit from getting some raw detox food or smoothies into your diet instead.
Many people think or hope a jolt in the morning and probably at intervals through the day will help to wake them up enough and keep them going throughout the day.
If this is you then it's bad news for your body. The adverse effects of caffeine on health are well documented.
Besides that coffee is heavily sprayed with highly toxic pesticides which remain on the beans and get into your coffee and body. If that isn't enough coffee beans carry toxic mold so unless you are drinking pesticide and mold free Bulletproof Coffee it's not doing you any good at all.
There are a number of raw detox foods and green smoothies that can make a difference in the mornings and help you to get going. Below are some of the best detox foods and juices that can give you that much needed boost in the mornings.
Energy Bars
There are numerous recipes online for making your own energy bars that you can eat quickly and easily when you are on the go in the mornings although it's best to sit down and take your time when you eat for better digestion.
Most are dairy free and gluten free and contain a mixture of raw nuts and seeds, and raw fruit or vegetables that provide a good variety of vitamins and minerals and antioxidants that help increase energy levels as well as providing the nutrients that are needed for efficient detox.
Avoid the recipes that include cacao as this is just a coffee substitute and won't do you any good. Adding a little raw organic maca powder would be better.
Here's a basic recipe for some morning detox power bars that you can play around with until you get the taste you really like.
Morning Raw Detox Power Bars                                     
Ingredients
1 cup pre-soaked organic almonds with skin (soaked over night in pure water)
1 cup organic dates, roughly chopped
1/2 cup dried unsweetened tart cherries, goji, or dried organic blueberries
1 cup dried, unsweetened coconut flakes
1 tsp. natural vanilla extract
zest of 1 organic orange
2 tbsp. fresh organic orange juice
1 tbsp. chia seeds
Directions
Line a 9″ x 9″ pan with parchment paper.
In the bowl of a food processor, finely grind the almonds
Add the dates, cherries and ginger and process a few times just to break everything down. Add the remaining ingredients and process until everything is in small bits.
If the mixture is not coming together, add a tablespoon or two of pure water.
Spoon the mixture into the prepared pan and gently spread and pat it out evenly to fill the pan.
Refrigerator for a few hours before slicing.
Wrap individual slices in non toxic parchment paper and keep in the refrigerator.
For variations, add carob powder, mesquite powder, cinnamon, orange zest, acai powder, spirulina, etc. The skies the limit! Play around and find your favorite blend!
Chia Seed Breakfast Pudding
Chia seeds are a great source of healthy omega 3 fats and gluten free fiber which makes them ideal for detoxing.
The gelatinous coating chia seeds develops when exposed to liquids can prevent blood sugar spikes and dips preventing a drop in energy.
They also contain a good balance of essential amino acids which your liver's Phase 11 detox system uses to detox toxins
The protein helps to keep you feeling full and energetic. Legend has it that the Aztecs and Mayans used chia seeds to fuel their performance and there is one recent study suggesting that this may be true.
Unlike flax seeds they don't need to be ground to get the benefits from them which makes them much easier to incorporate into your diet.
Coconut & Chia Seed Detox Breakfast
Yield: Serves 2
Ingredients
1/4 cup shredded unsweetened organic coconut
1/4 cup organic chia seeds
3/4 cup organic coconut milk
1/2 cup organic coconut water
1 tsp pure natural vanilla extract
1/4 tsp Celtic ir Himalayan salt
1/2 cup fresh organic blueberries or raspberries
Directions
Place coconut, chia seeds, coconut milk, coconut water, vanilla and salt in a small bowl or glass jar and mix until all the ingredients are well combined.
Place in the refrigerator or cool place overnight.
Remove from fridge in the morning and allow to warm up to rood temperature if possible.
Serve with fresh berries.
There are endless varieties that you can go for if you want to mix it up a bit when it comes to chia pudding. Options such as celery, cucumber, and apples naturally contain a lot of water so help to make it more of a juice than a smoothie. Again, this could be made the night before to save time in the mornings.
Raw Beet Smoothie
Beets are full of nutrients and antioxidants and are probably the sweetest vegetable there is. They are high in good carbs but surprisingly low in calories and give you the right kind of energy boost.
They contain betaine a substance that stimulates the liver to produce bile, the liver's vehicle for getting rid of toxins that it has processed. Learn more about the detox benefits of beets in this post.
Beets rank medium on the Glycemic Index but the chia seeds in the recipe below slows down the absorption of the beets which results in a low glycemic load which is what really counts.
Despite their strong earthy taste they blend well with fruits like apples, strawberries, pears, pineapples and bananas and mild greens like butter and romaine lettuce, escarole and spinach.
Raw Beet & Greens Energy Boost Smoothie                  
Ingredients
Serves: 1-2
large handful of fresh baby spinach
1/4 – 1/2 cup raw beet, peeled and cut into small cubes
2 small organic apples, quartered
1 small organic banana, peeled
1 orgaic orange, peeled (make sure it has no pits)
1 cm piece of ginger
juice of 1/2 medium organic lemon
1/2 tsp cinnamon
1 Tbsp chia seeds
1.5 to 2 cups water
Directions
Put all ingredients into a high powered blender and whiz up until very smooth.
If you don't have a very high powered blender you may have to use beets that have been softened a little by steaming them.
Raw Buckwheat Smoothie Bowl
Buckwheat is a gluten-free superfood seed. It's packed with protein, low GI carbs and  fibre. I wrote about it recently here.
Sprouting buckwheat is very easy and quick as you only want tiny sprouts that aren't longer than the seed itself.  I included a video about how to sprout them as well as another raw buckwheat smoothie bowl in this post.
Chia seeds contain omega 3 fatty acids that are needed for the production of energy as well as liver detox. They provide fiber that helps keep your bowels moving to get those toxins out.
Sprouted Buckwheat Smoothie Bowl
Ingedients
1 cup raw organic nut milk
1 organic banana, fresh or frozen
1/2 cup approx sprouted organic buckwheat groats
1/2 teaspoon cinnamon, plus a little extra to sprinkle on top
2 tsp organic chia seeds or ground organic flaxseeds
A handful of fresh organic blueberries
Directions
If you can it's best to rinse the sprouted buckwheat and leave to soak with the chia seeds overnight in half the raw nut milk. In the morning stir, place in a high-speed blender with the remaining nut milk and other ingredients.
Blend on high until very smooth. Pour into a serving bowl and top with blueberries. Enjoy!
Once a tolerance to coffee is built up, it doesn't even help you be more alert during the  day. These raw detox food recipes may not give you the instant energy that you feel you get from coffee but given a little time they will give you much more lasting and steady energy. You will be much healthier too.

Energy Bars image by Tracy Benjamin