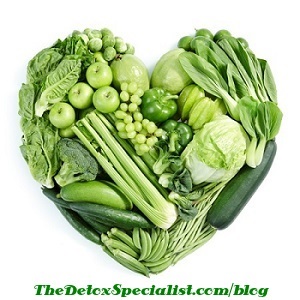 Whether you love them or hate them green foods are a vital part of your detox diet. Greens are a rich source of vital vitamins, minerals, trace minerals, amino acids, antioxidants and chlorophyll. So, your mother was right when she said to eat your greens.
Green foods are very alkalizing and the body functions best when it is slightly alkaline. Your cells can only detox themselves when they are alkaline.
Chlorophyll acts as an antioxidant and can detox heavy metals such as mercury from your body.  Tony Stark in Iron Man 2 drank 80 cups of chlorophyll a day to detox his blood toxicty.
Greens mean different things to different people so what exactly are greens? According to the dictionary greens are leafy plants or plant parts eaten as vegetables.
As summer is nearly here there is a huge variety of greens around right now.
Greens include:
chard
kale                                                                                            

green cabbage
celery
collard greens
spinach
Mustard greens
Beet greens
All types of lettuce
arugula
bok choy,
turnip greens
Broccoli
Endive
Mizuna
Cress
Cilantro,
basically, any vegetable that's green.
So you see there is plenty of choice.                                             Picture by Malias
So how do you get more green foods into your detox diet?
1. Green smoothies
Green smoothies are one of the easiest, quickest and tastiest ways to green up any diet. If you don't already know a green smoothie is made from fresh juicy fruit, green leaves and pure water.
If you have never had one before then it's best to start with about 60% fruit and 40% green leaves but you can gradually increase the greens and reduce the fruit so you end up with 60% greens and 40% fruit.
A green smoothie is a great way to start the day. You can have one as a snack during the day too. In fact, you can do a detox diet with nothing but green smoothies for several days.
Here's a good starter recipe if you have not tried Green smoothies before:
Mango Kick
Ingredients
1 medium mango flesh, diced
1/2 cup arugula ( rocket)
1 cup spinach
1/2 to 1 cup water
Directions
Put fruit in first and add the rest of the vegetables
Add enough water to make the blades turn and according to if you like a thin or thicker texture smoothie.
Blend in a high powered blended until very smooth.
2. Salads
This might seem obvious but there are salads and salads. If your salad consists of lettuce, tomato and cucumber try making a salad with a variety of other green leaves and vegetables for a change.  There are so many different green leaves available these days we are really spoilt for choice.
Add some color to your detox salad with other raw vegetables like carrot, pepper, beet, scallions (spring onion) and radish. Top it with some alfalfa or sunflower sprouts.
Add some herbs and a dressing to spice it up a bit. Simply adding some chopped cilantro, parsley and mint can perk up a salad quite a lot. In this case all you need as a dressing is a little virgin olive oil and some fresh lemon juice.
Try this tasty dressing:
Creamy Herb Dressing
Ingredients
1 large tomato
½ avocado flesh
½ -1 stalk celery
Fresh finely chopped herbs to taste (parsley, cilantro, basil, thyme)
Directions
Place tomato, avocado and celery in blender and
blend until very smooth.
Stir in herbs of your choice or briefly blend again.
Use immediately
3. Cooked greens
Many people are put off eating cooked greens because their first experience of them was as overcooked, grey, soggy and tasteless. They can be absolutely delicious when properly prepared.
Greens can be steamed, boiled, braised or stir fried.  Bitter greens like bok choy, kale, dandelion greens, and collards are best steam cooked in a little salted water rather than steaming over water as steaming intensifies their bitter flavour. Adding a little salt to the water can help keep them green.
A good way to make them tasty is to steam fry them in a little oil and stock that has been flavored with some fresh root ginger, garlic and then finished with a little reduced sodium tamari or soy sauce.
Stir-Fried Bok Choy with Ginger and Garlic
Ingredients
1 tablespoon olive oil
2 cloves garlic, minced
1 tablespoon minced fresh ginger
8 cups chopped fresh bok choy
2 tablespoons reduced-sodium soy sauce
Salt and ground black pepper
Directions
Heat oil in a large skillet over medium heat.
Add garlic and ginger and cook 1 minute.
Add bok choy and soy sauce cook 3 to 5 minutes, until greens are wilted and stalks are crisp-tender.
Season, to taste, with a little celtic salt and black pepper.
Here's another way to cook greens healthily.

4. Green Juices
Another way of getting the goodness of greens into your diet is to juice them. Juicing separates the vital nutrients and enzymes from the fiber so they need little digesting  All those vital nutrients get straight into your body. It's best to drink your juice on an empty stomach.
When you juice green vegetables you can eat a variety of greens that you may not normally eat. You can disguise their strong flavor by adding some apple, beet or carrot to the juice to sweeten it. Alter the flavor with a little ginger and/or lemon juice.
Green juices are powerful detoxifiers. All those nutrients that flood your body push out the toxicity from your cells and help to repair diseased and damaged tissue.
The Gerson Therapy for cancer and other degerative disease consists of 13 fresh juices a day as well as fresh fruit and vegetables both raw and cooked. The cooked vegetables are prepared in way that makes them easily digested and preserves their precious enzymes.
I did a similar detox with 6 juices a day and recovered from chronic fatigue. There are numerous ways of adding green juices to your detox diet. You can try a one, two or three day juice detox from time to time using nothing but fresh juices.
5. Herbs
Herbs have been used for thousands of years for their medicinal effects. They are good for adding flavor and special health benefits to your detox diet.
Try adding basil, mint, parsley, chives, chervil, dill, oregano, rosemary, sage, thyme, arugula (rocket) or watercress to your salads, juices and smoothies. Some herbs can taste quite strong at first when you add them to juices and smoothies so only add a little to begin with.
Buy organic ones if you can or grow your own in a garden or on a sunny windowsill.