Every day, thousands of people hear about juicing.
They hear about the magic power juicing has to melt fat and supercharge the immune system. They watch movies like Fat, Sick and Nearly Dead and they read books by friendly guys like Jason Vale. They frantically search on Google for information on how to lose weight with juicing and juicing for detox.
But at the end of the day, most people never get the results they imagined.
They don't lose weight. They don't feel any better. They don't experience the "magic" of juicing.
How about you?
Did you get into juicing thinking that it would solve all of your weight loss problems, but then get frustrated because it didn't work like you expected?
You're not alone.
Every day, I get emails from people around the world about juicing.
How can I lose weight with juicing? What's the best juicing recipe for weight loss? How can I get past this frustrating plateau?
It's not just you. It's almost everyone.
Oh, sure. There are a handful of people that seem to succeed. But that's true of everything in life. While the majority fail to get any tangible results, a handful succeed beyond the expectations of everyone else.
But that doesn't help you.
So what can YOU do to lose weight with juicing?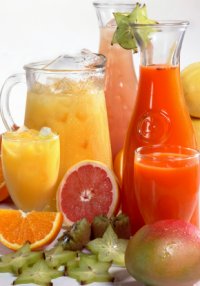 Do you need better juicing recipes?
Do you need to use different ingredients?
Do you need to exercise? *gasp*
Fortunately, the answer to all of these questions is NO.
It's not about the recipes or the ingredients.
And you don't need to exercise. Exercise will help, but it's not an essential part of losing weight with juicing.
What's the main problem?
The plan.
99% of the time, when people try to lose weight with juicing, they just try and make it work. They make a few juices. They try a few different recipes. They subscribe to a few newsletters.
But nothing happens.
They might lose a pound or two, but this is a far cry from the mind-boggling weight loss stories from movies like Fat, Sick and Nearly Dead.
Rather than just "figuring it out", wouldn't it be better to have a simple, step-by-step juicing plan?
Imagine it.
A plan that comes with EVERYTHING you need to lose weight with juicing. Great-tasting juicing recipes. Shopping lists. A juicing program that tells you when to juice, what to juice and how to juice.
It would be so darn simple that even a 4 year old kid could follow it.
You open it up, you follow the instructions and in two weeks, you can lose 10 pounds or more.
Pretty simple, right?
That's all you need. A plan.
The best bit is that you don't need anyone for this. With a few hours work, you can put together you're own juicing plan that will guarantee a weight loss of up to 14 pounds in two weeks.
Here's what you need to do.
You're going to do a juice fast. This is where you fast for a period of time, but you're allowed to drink juice. While some use fasting when juicing for detox, I've found that it's a powerful way to lose weight with juicing.
You can fast for a lot longer than you probably think. Some people fast for 30 days or 60 days. Some fast for 90 days.
But if this is your first time juice fasting, start with 5 to 10 days. This is an easy way to begin, and it will whet your appetite for more.
Let's say you decide to fast for a week. In 7 days, you can lose at least 5 pounds, especially if you're currently overweight.
Take a piece of paper and separate it into 7 different sections, one for each day of the week.
For each day, I want you to write down FOUR juicing recipes that you can use each day. You'll drink one after waking up and one before bed. You'll drink the other two during the day.
Try to vary the recipes to get a wide range of vitamins and minerals.
Once you have done that, decide on a time to do your juice fast.
Then do it.
You know, it really is that simple.
As Nike says – just do it.
If you get hungry, drink more juice.
If you're not hungry, skip the juice.
There is only ONE rule – drink nothing but fresh juice for 7 days.
Also, minimize your fruit intake as it contains a lot of natural sugar. It will upset your empty stomach and may make it harder to lose weight.
Other than that, you have free reign. Drink lots of green juice. Use an apple to sweeten it up. Repeat. Repeat. Repeat.
If you actually DO THIS, you'll be astounded by the results.
And it's a lot easier than you think.
You can find juicing recipes everywhere these days. They are in books and they're online.
But I bet you might be thinking
"Do I really have to do all of that? Why can't you make it for me?"
Well, that's what I did.
Note: This program is no longer available.
And at the bottom, you'll find out how you can get FREE access ($37 value).
I've created a program that makes it dead simple to lose weight with juicing. You get 26 juicing recipes, 12 food recipes, shopping lists, the quick start guide AND… the most important part…
The Lose 10 Pounds In 2 Weeks PROGRAM.
It tells you what to juice and when to juice it.
This program is so simple that ANYONE can use it to melt fat with juicing.
Wait – There's More!
Note: This program is no longer availiable.
I've partnered up with Sandy and we're giving away ONE FREE copy of the Lose 10 Pounds In 2 Weeks program.
How do you enter?
SHARE this page on Twitter or Facebook. Then post in the comments below that you've completed this task. We will choose a winner from the people that follow the instructions!
John
P.S. With a 60 day money back guarantee, there is NO RISK on you. If you fail to lose 10 pounds in 2 weeks, I'll give you a full refund. If you decide it wasn't for you, I'll give you a full refund. Heck, you could even try the program and have it work for you, and if you ask for a refund, I'll still give you one.
Why am I doing this?
I want people to do this. I believe in the radical power of juicing so I'm willing to shoulder all of the risk in this deal. I know that I'll be getting an email from you once you've started saying something like "John… I feel amazing… and I've lost 5 pounds already…".
To prove my point further, if this program fails to make you sexier, taller, and all your dreams come true, ask me for a refund and I'll give you one.
Save