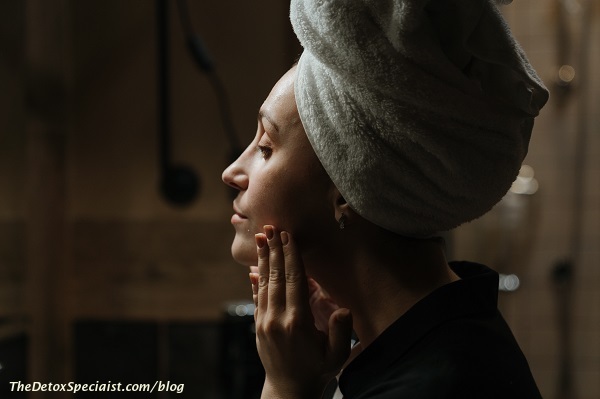 As your body's largest organ, the skin plays a pivotal role in keeping your health in check, which is why it's important to care for it correctly. Beyond the basics— performing a daily skin care routine, using the right products, etc— it's also crucial to be considerate of all the different ways your skin health can be affected. Everything from the lifestyle habits you follow to the steps you take to care for your general well-being can take part in your ability to maintain a clean, clear complexion.
Try assessing the state of your skin. Are you experiencing acne, signs of aging, or another type of skin care concern? If so, you may want to take a closer look at these five things you may not have known were harming your skin health:
1. USING PRODUCTS THAT CONTAIN HARMFUL INGREDIENTS
Although your skin care products may smell good or help you to maintain a healthy complexion, that doesn't mean they're good for your skin or your body. Some treatments contain chemicals and toxins that, when absorbed into your body, can have a negative hormonal and health impact.
Research shows that your skin absorbs about 60% of the chemicals found in beauty products, so it's critical to beware of the effects they can have on your wellbeing. Take parabens, for instance. Parabens are a common chemical found in many of our skin care products that is typically used to persevere the shelf life of our cosmetics as they prevent the growth of bacteria, yeast, and mold. Parabens work similarly to estrogen hormones by binding to estrogen receptor cells, which may explain why the use of this chemical is associated with an increased risk of breast cancer.
Related reading: How to Detox Environmental Estrogen 
Although the connection between the two still remains unclear, it's evident that because parabens are able to live within the tissues of the body once they're absorbed supports the theory that it's a potentially dangerous chemical to use. For this reason, be sure to do your due diligence in reading your skin care product label before application to avoid parabens and other harmful chemicals and skin care ingredients.
2. SMOKING TOBACCO
It's no secret that smoking is bad for your body. But, apart from the evident damage it can do to your heart, lungs, and brain, have you ever thought about the effects it can have on your skin? The chemicals in tobacco smoke can contribute to the destruction of collagen and elastin fibers.
Even if you don't smoke, but you're constantly around people who do, the secondhand smoke can "degrade the building blocks of your skin," according to Jonette Keri, MD, dermatologist of the University of Miami Miller School of Medicine. In turn, this makes it easier to develop saggy skin and deeper wrinkles earlier on in life. Thus, speeding up the natural aging process.
It should go without saying, but the best thing you can do to protect your skin from these consequential effects is to simply live a smoke free life. Easier said than done of course, as this habit can be truly addicting once it's picked up. That being said, if you are an avid smoker, you may want to start using an anti-aging cream, regardless of whether or not you've noticed signs of aging. This will work to not only prevent the development of fine lines and wrinkles, but also help to treat any existing signs of aging you may already have such as dark spots, dullness, or saggy skin.
Related reading:  Simple Lung Detox Tips After Smoking Cessation
3. SKIPPING THE MOISTURIZER
No matter how oily your complexion may or may not be, incorporating a moisturizer into your daily routine is a must as it helps to keep your complexion smooth and supple in the short-term and the long-term. As you get older, your body produces less and less collagen, which makes it harder for you to keep your skin hydrated over time.
A lack of collagen can lead to a number of skin care problems, including irritation, inflammation, dryness, breakouts, and the development of fine lines and wrinkles. This is why it's crucial to get into the habit of moisturizing your skin at least twice a day so that you can protect the healthy cells of your skin while you still can and preserve your natural glow in the long run.
Keep in mind that the type of moisturizing product you use will be dependent on your skin type. Be sure to evaluate your skin's current condition and be mindful of any existing concerns you may have. For those of you who already struggle with a condition like acne vulgaris, for example, you'll want to refrain from using a facial cream that has a thick formula as this can cause excess shine and clog pores. In this instance, using a moisturizer containing an ingredient like aloe vera as this natural plant is water dense, meaning it's perfect for replenishing the moisture barrier without overpowering the skin.
4. NOT GETTING ENOUGH SLEEP
Not getting enough sleep can be torturous for more reasons than one. Aside from causing brain fog, drowsiness, and irritability, it can also wreak havoc on your skin. Starting with the ways it deprives your skin of nourishment, sleep deprivation makes it difficult for your skin to function the way it typically does while you rest as this time is normally when your skin works to remove dead skin cells from and recover from the damage it's endured throughout the day. This can cause imbalances in your skin, causing a decrease in both its moisture levels and pH levels— both of which are essential for a youthful complexion. As a result, your skin is more susceptible to experiencing dehydration, redness, and breakouts.
Needless to say, be sure that you're getting enough sleep at night. Achieving a minimum of seven to eight hours per night is one of the most practical ways to ensure your body and skin can reset and restore themselves for the days to come.
To help get your sleep schedule on track, download a health or sleeping app. This will help you correct your circadian rhythm by monitoring your sleeping patterns and create a specific wake up time and bedtime that works right for you.
5. OVER STRIPPING YOUR SKIN
A common misconception about acne or oily skin is that it's not getting cleansed enough, causing many people to over treat their skin and consequently, strip it of its natural oils. When this happens, the moisture barrier of your skin is more likely to become impaired, which can lead to worsened skin concerns and even the development of other skin conditions such as redness, irritation, and inflammation.
While it may be tempting to tackle your acne, blemishes or excess oil with combative skin care measures like over-exfoliation, microbead cleansers, and/or other harsh skin care treatments, it's to remember to give your skin a break. If you've noticed that your skin feels tight or dehydrated, it may be a good idea to reevaluate the products you're using and how often you're using them.
Generally speaking, spot treatments and exfoliation should be limited to only a few times a week— again, depending on your skin type and unique skin concerns. For assistance, consider consulting a dermatologist or esthetician about your skin and the recommended ways to treat it. They'll provide you with some direction on finding products that actually give back to your skin health.
PROTECT, DON'T NEGLECT YOUR SKIN
Preserving the health of your skin doesn't haven't to be so intimidating. With the right routine, products, and use of mindfulness tactics, maintaining your complexion can be effortless! Just remember that the state of your skin is dependent on many things, so it's vital that you pay attention to how it changes as you perform certain lifestyle habits.
Use this information to your advantage and take the proper steps necessary to correct and perfect your gorgeous glow so that you can continue to radiate now and in the future.