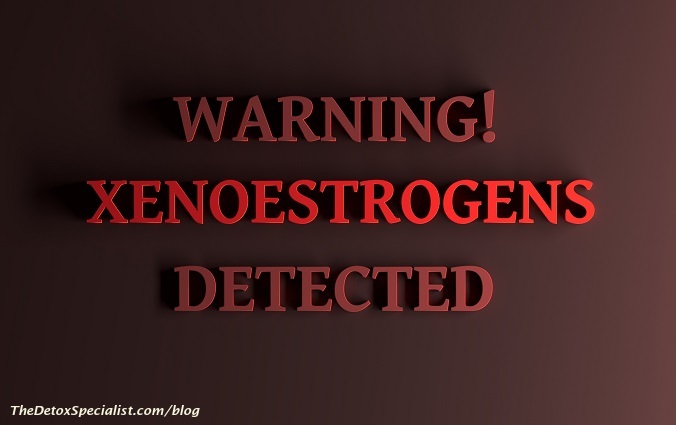 Environmental estrogen (oestrogen) or xenoestrogens as they are sometimes called, are chemicals that when absorbed into your body can function in a similar way to your own estrogen. They disrupt the way your natural hormones function and create a condition known as estrogen dominance. In this article we will look at what they are, where they come from , how to avoid them and ways to detox environmental estrogen.
Estrogen Dominance
Estrogen dominance, as the term suggests, is when there is too much estrogen in your system either from the way that your body metabolizes your own hormones or from environmental sources.  It can affect men as well as women. Although men and women have the same hormones, estrogen, testosterone and progesterone, they have them in a very different ratio and they must be in correct balance for good health.
Good Estrogen and Bad Estrogen
Estrogen, actually a general term for three different forms of estrogen that are produced in your body, must eventually be broken down by the liver and excreted. They can go through one of two pathways.
The substance (metabolite) that is produced by one pathway is often called "bad" estrogen as it stimulates estrogen sensitive tissue and is linked with increased risk of cancer, lupus and symptoms of estrogen dominance. The second pathway produces a much weaker metabolite known as "good" estrogen. Too much of this however is linked to an increased risk of  developing conditions associated with estrogen deficiency, such as heart disease, depression, and osteoporosis.
A proper balance of the the two is the key to optimum health.  It's known that the metabolism of estrogen depends on lifestyle, diet, your environment and genetic make up. However, genes can be switched on and off so you are not governed by your genes.
In men estrogen dominance can contribute to prostate cancer and  breast cancer. Yes, men suffer with breast cancer too! In women it can contribute to endometriosis, fibroids, polycystic ovaries, breast and cancer of the womb (endometrial cancer). So you can see how important it is to detox environmental estrogen.
Symptoms of Estrogen Dominance

There are many symptoms and conditions associated with estrogen dominance including:
Acceleration of the aging process
Autoimmune disorders such as lupus erythematosis. thyroiditis, and possibly Sjoegren's disease
Early onset of menstruation
Endometrial (uterine) cancer
Fibromyalgia (thought by some to be related to estrogen dominance)
Irregular menstrual periods
Low sperm count
Man Boobs (Gynecomastia)
Thyroid dysfunction mimicking hypothyroidism
Where does environmental estrogen come from?
More than 60 substances, including dioxin, DDT, PCB and solvents have been identified as environmental estrogens or endocrine disruptors as they are also known.  They have been produced by industrial, agricultural, and chemical companies and introduced into the environment in the last 70 years. They are everywhere.
Shockingly, these hormone mimics can come from the food you eat and the personal care products that you use on your body.  Common sources of these xenoestrogens are commercially raised beef, chicken and pork due to the hormones often given to the animals to produce rapid growth. They are also used to increase milk production in dairy cows.
Related reading: Which Organic Skin Care Products Should You Chose When You Detox 
They are in the pesticides sprayed on your non organic fruit and vegetables, in the plastic containers that are used for food and drinks including styrofoam, in household detergents and cleaners,  artificial scents such as air fresheners, garden herbicides and pesticides, and paints and solvents.
Related reading: Should You Go Organic When Detoxing? 
Earlier this year researchers in warned that 2 food additives they studied are estrogenic and could alter hormones. Propyl gallate, is a preservative used to prevent fats and oils from spoiling is used in a range of foods including baked goods, shortening, dried meats, candy, fresh pork sausage, mayonnaise and dried milk.  A second additive, 4-hexyl resorcinol, is used to prevent shrimp, lobsters, and other shellfish from discoloring.
They are commonly found in cosmetics, nail polish and remover, glues, paints, varnishes, and other types of finishes, carpets, fiberboard, and other processed woods.
Researchers in Germany found traces of an unknown estrogenic substance leaching into mineral water stored in PET (polyethylene terephthalate) bottles, a commonly used plastic for storing foods and beverages.
There may be only minute amounts in each of these sources but they add up over time as they accumulate  in your body as they are stored in the fat layers or the fatty acid membranes of your cells.
How you can reduce your exposure to environmental estrogen:

Avoid buying food and drink in plastic or styrofoam containers
Never heat food in plastic containers either in a conventional oven or microwave
Avoid wrapping food in plastic wrap
Use glass or ceramic containers to store food
Replace your chemical based household cleaning products with natural products
Buy hormone free or organic meat
Do not eat the fat on meat or poultry where the chemicals accumulate.
Buy organic fruit and vegetables where possible or avoid the most heavily contaminated produce.
Avoid food and drink with artificial additives
Use natural, chemical free cosmetics.
Avoid birth control pills and conventional estrogen replacement therapy (ERT, HRT). Use bio-identical hormones based on saliva, urine or blood tests done by a functional medicine doctor.
How to detox environmental estrogen:
Increase cruciferous vegetables
Eat more cabbage, broccoli, Brussels sprouts, cauliflower, kale, mustard, turnip, bok choy, kohlrabi and rutabaga (swede). They contain the phytochemical indole-3-carbinol, that improves detox of environmental estrogen and improves the balance of all hormones.
Increase fiber intake
Once the has liver has changed the environmental estrogens into a form that that body can more readily excrete it goes into the bile and then the digestive tract to be finally removed in the stools. You need to make sure that your bowels are moving  well at least twice a day.
Eat more whole grains, fruit, vegetables, seeds and beans.  Try taking 1 – 2 tablespoons freshly ground flax seeds a day with breakfast if your bowels need a push . Do a bowel cleanse if necessary.
Related reading: How To Do A Flaxseed Cleanse 
Increase natural plant estrogens
Phytoestrogens are compounds that occur naturally in plants and are thought to help protect against the effects of estrogen dominance. The two that have been studies the most are isoflavones, such as soy and lignans which occur in flaxseed (linseed), grains and vegetables.
There are over 300 foods are known to contain phytoestrogens. The main sources are soy beans, tofu, tempeh, soy beverages, flaxseed (linseed), sesame seeds, millet, barley, rye, dried beans, lentils and fennel.
Increase Calcium D-glucarate

D-glucarate is a natural subtance is found in apples, oranges, broccoli, spinach, and Brussels sprouts. To detox the toxic estrogens your liver joins it to glucoronic acid.  D-glucarate can inhibit an enzyme produced by gut bacteria called beta-glucuronidase that can break this bond and allow the estrogen to be recirculated from the bowel.
Take it in supplement form as well. One 500 mg tablet or capsule of Calcium D-Glucarate is equivalent to the phytonutrient activity found in 82 pounds of fresh fruit and vegetables.
Improve your liver function
See my previous post on Liver Detox
Increase exercise & sweating
The improved circulation of lymph and blood helps carry the chemicals to the liver to be detoxified. The toxic estrogens can be eliminated in the sweat. Try FIR saunas too.
Take Milk Thistle
The herb Milk Thistle (Silymarin) enhances the detox of toxic estrogens from the liver.
Take Liquid Zeolite
Liquid zeolite can help remove environmental estrogens. Find out more about Liquid Zeolite in another recent post.
Consider a supplement of DIM
Scientific research shows DIM (diindolylmethane), a phytonutrient found in cruciferous vegetables, increases the level of "good" estrogens  while reducing the level of "bad" estrogens.
I am sure now that you will understand that detoxing environmental estrogen and improving the metabolism of your own estrogen will vastly improve your health.