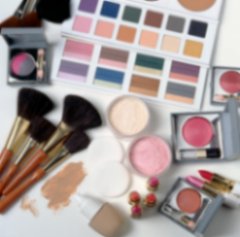 A recent story about a lady called Zita caught my eye recently. When she discovered she had fibroids in her late twenties she began to do some research into the problem. She found a study done by some researchers from Reading University in the UK which linked some chemicals in everyday cosmetics to an increase in estrogen, a well known cause of fibroids.
More and more evidence is pointing to the fact that killer toxins are lurking in the beauty creams and make-up that you put on your face or body. New studies show that teenagers are highly polluted with chemicals from cosmetics. Kids are experimenting with make-up earlier and earlier but they contain chemicals that can cause early puberty and maybe cancer later in life.
Hormones out of balance
A study by the Environmental Working Group in the USA showed that young teenagers from 18 cities had 16 toxic chemicals in their blood which are known as hormone or endocrine disrupters. These chemicals sometimes called xenoestrogens such as phthalates, triclosan, musk and parabens act like hormones in your body and cause hormonal imbalances that have been linked to infertility, endometriosis, polycystic ovaries, fibroids, miscarriage and breast cancer.
The problem with Parabens
Scientists have become alarmed by the high levels of parabens that is used in cosmetics as a preservative. I have been amazed at how many so called "natural" products contain this preservative. When I was searching for a parabens free body butter a few years ago an assistant in one well known natural cosmetic shop told me that I had nothing to fear from parabens because it was a substance that was made in my body. I am still waiting for them to provide me with the evidence of this!
It's really alarming that all forms of parabens such as methylparaben and propylparaben contribute to such a large proportion of the toxic chemicals stored in women's bodies according to scientists. This preservative is present in 90% of all cosmetics so it is hardly surprising.
Men are at risk too
Don't think you are immune if you don't use cosmetics or are male because these toxic substances are used in other personal care products such as toiletries, shampoos, sunscreens, and even nail polish. Studies have shown that phthalates can cause testicular damage in rats and that male babies whose mothers were exposed to them while pregnant could have  problems with normal sexual development.
Who would have thought that musk, that fragrance that is added to so many products from soap to lipstick could be so toxic when added to products as a synthetic chemical. Nearly all cosmetics contain ingredients that have not been tested for safety.
Isn't it incredible that the chemical industry is not required to test their products for effects on human health before they release them onto the market other than certain pesticides and food additives. More than 85% of of 80,000 synthetic chemicals have never been tested for safety.
Some countries such as Sweden, Japan and Canada already ban some of these chemicals.
Check the ingredients
Although there are many companies producing cosmetics and personal care products that are "natural" or "organic" they may still use parabens. So if you want to avoid these toxins you have to really scrutinize the ingredients.
Fortunately there are now many companies offering natural toxin free and organic cosmetics and personal care products. Some of the companies I can recommend include:
Buy Green who stock Miessence the world's first internationally certified organic products.
buygreen.com Your Trusted Source for Green Products!
Dr Hauschka
UK www.drhauschka.co.uk  USA  www.drhauschka.com
Love Lula Organic Skincare
Love Lula stocks the wonderful Dr Alkaitis range plus so many others.
If you don't live in the UK  go here http://alkaitis.com/index.html
Green People  www.greenpeople.co.uk
Another alternative is to make your own.
Zita, whom I mentioned at the beginning of this post began to make her own with ingredients she had in her store cupboard.
Here are some of her recipes:
Green Tea Wash
1 green tea bag
Boiled pure water
Steep teabag in water for 15 minutes
Allow to cool and squeeze bag and remove
Use the liquid to cleanse your skin.
Apple Cider Vinegar Toner
1 cup apple cider vinegar
1 cup distilled or boiled pure water
Few drops fresh lemon juice or lemon essential oil
Pour all ingredients into a glass bottle and shake well.
Use on your face as a toner to help tighten pores and clear
blemishes.
If your skin tingles too much use less vinegar.
Avocado moisturiser
Avodado oil
Essential oil according to suit your skin type
General and acne prone – lavender
Dry skin – jasmine, neroli, vetiver
Combination – geranium, rose, ylang ylang
Open pores – lemon grass
Pour a little oil into the palm of your hand
and add a drop of your chosen essential oil.
Massage into your skin with gentle circular movements.
Rinse with water and pat dry with a clean towel.
You might have already recognized the fact that most of the ingredients are foods that are used on a detox diet. Try using them on your face as well next time you detox!