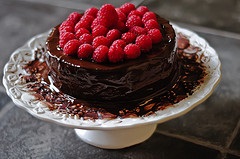 A cake cleanse diet?  "Forget detox, now there's a cake cleanse"! Yes, you've read that right! That was the headline in a popular UK newspaper that I saw this week.
I've heard of some pretty wacky detox mixtures over the past 30 years but a cake cleanse diet? Surely that can't be?
I guess the idea of cleansing with cake would have more appeal to a lot of people than a regular detox or cleanse but is it possible?
The article went on to say that this new diet lets you eat dessert for breakfast, lunch and dinner and still lose weight!
Cake Cleanse is the brainchild of Deborah Schipper, a 40 year old Australian,  who struggled to give up sweets and desserts when she knew they were not good for her health.
She suffered with severe eczema, dermatitis, muscular pain, frequent colds and exhausting insomnia and had tried conventional treatments as well as multiple cleanses which she found left her hungry and with no energy.
When she discovered that she was gluten intolerant she knew she could never give up cakes and dessert for good so experimented with making gluten free cakes full of protein, fibre, good fats, smart carbs and even hidden vegetables.
After changing her diet from processed foods and eating healthier cakes for a while her skin problems, insomnia and energy were, she says, 90 % improved.
What's the difference between a detox and a cleanse?
So you are probably still wondering how this works and what the difference is between a detox and a cleanse.
Well, there is no accepted definition for a detox or a cleanse and often the words are used interchangeably.
Most detox plans exclude foods that are considered to be detrimental to your health while replacing them with healthier foods which also supply the nutrients needed by the detox system.
A cleanse on the other hand does all that but usually gives more support to the detox organs with herbs. Think colon cleanse, liver cleanse and kidney cleanse.
So, by that definition the Cake Cleanse is not really a cleanse at all!
What is a cake cleanse?
The healthy cakes are part of a 4 week diet that includes 3 main meals, 2 snacks, including sweet treats, savoury dips, coffee, tea, water and unlimited salad. And, you can apparently have your cake and eat it for breakfast!
According to the article Ms Schipper's favourite recipes are the mug cakes, made with almond and coconut flour. I'm all for making healthy sweets and cakes with healthy gluten free flours and natural sweeteners but if you know anything about mug cakes you will know that they are cooked in a microwave. Not healthy at all!
While there are many "experts" who still say that microwaving does not harm food there are others who say it does. Several studies on broccoli, for example, showed that microwaving destroyed 97% of flavonoid antioxidants in the vegetable.
While there is no broccoli in the mug cakes there are eggs and I remember reading a study that showed microwaving altered fatty acids in pumpkin seeds. As there are essential fatty acids in the yolk of an egg microwaving could damage them. I don't know about you but I'd rather play it safe.
Since I wrote this article I've had some requests for a healthy cake recipe. Here is a Beet Cake recipe for you to try. Beets (beetroot) are cleansing so you could, with a stretch of the imagination, call it a cleansing cake I guess.
Beet Cake                                                                                                                                                                 
Ingredients
3 cups of grated, cooked beets (beetroot)
4 large organic eggs
1/2 cup avocado oil
1/2 cup raw organic honey
1 tablespoon natural vanilla extract
1 teaspoon baking soda
1/2 teaspoon Celtic or Himalayan salt
1/2 teaspoon ground cinnamon
1/2 cup raw cacao powder
1/2 cup coconut flour
Directions
Preheat oven to 170C (350F).
Beat together the beets, eggs and avocado oil in a food processor or blender.
Mix in the honey, vanilla extract, baking soda, sea salt and spices until well blended.
Add the cacao powder and coconut flour and mix well.
Pour into a greased 9-inch diameter tart pan or cake tin.
Bake for 35-45 minutes, or until a toothpick inserted comes out clean.
Serve with a little live organic yogurt or kefir.
Adventurous eating
I don't know if you would call this adventurous eating or not but adventurous eating is a weight-loss secret according to some recent research from Cornell University's Food and Brand Lab.
Professor Brian Wansink and his colleagues found that adventurous eaters are slimmer and healthier than people who stick with the same old, same old for breakfast, lunch, dinner and snacks.
So even though this Cake Cleanse is not a detox diet or a cleanse in the true sense you could perhaps become healthier and slimmer.
If you want to know more about losing weight with a detox diet that does not leave you starving then download my Free report here.