Reading recently that Americans are expected to spend $6.9 billion on Halloween this year with $2.6 billion being spent on unhealthy candy and sweets prompted me to scour the internet for some recipes for healthy Halloween treats.
With all the talk about the dangers of sugar and the proposals for a tax on sugary drinks and snacks I was staggered.  If you still need to detox sugar from your diet then follow this plan here.
I was even more surprised to learn that Brits will spend around £466 million on Halloween but there has been a drop in the amount spent on confectionary. Maybe due to the fact that half say they won't even open their doors to trick or treaters.
All the kids in our neighbourhood have grown up now and we don't get callers these days but when we did I used to hand out healthy sugar free bars or apples. Perhaps that's why we never got many kids ringing our doorbell!
It's Halloween apparently when, people who have been following a healthy diet or have just been detoxing, are most likely to be tempted to binge on candy and chocolate. 72 % of both young and old say chocolate is their favorite Halloween treat.
It's not that hard to find or make healthy Halloween treats. There are many easy recipes for healthy treats on the internet if you look for them.
And if you are a bit of a chocoholic you can still indulge in a healthy chocolate treat from time to time. Dark chocolate with a high cocoa content is quite nutritious and has many health benefits. This does not mean though that more is better!
Here are a few recipes healthy recipes for Halloween treats to start you off. Of course there is nothing to stop you making these at other times too.
Chocolate Almond Butter Bites
by Chocolate Covered Katie.
Makes 8-12 balls
Ingredients
1/4 cup gluten free quick oats
1/4 cup almond butter
1 tbsp raw cacao powder
1/2 tsp pure vanilla extract
1/4 cup dates, well packed
Pinch Celtic or Himalayan salt
1 tbsp pure water
Handful mini dark chocolate chips, 70 % cocoa,(optional)
Directions
Place the first 5 ingredients in a food processor and process until mixture becomes crumbly.
Add the water and process again.
Stir in some mini chocolate chips if using.
Place mixture to a small bag or bowl and push together to form a big ball.
Remove from the bag and break off pieces and roll into small balls.
Place in some small individual non toxic paper cases.
Wrap in some non toxic parchment paper to hand out.
Note. This is best made with a food processor and not a blender.
Here's a recipe from Donna Gates for Chocolate Chip Cookies. They are easy to make and even more delicous to eat. The recipe calls for Lakanto, an ideal sugar substitute for baked goods. It's safe for diabetics and has zero calories!
Oatmeal Chocolate Chip Cookies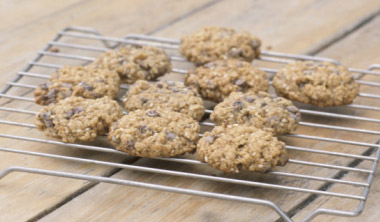 These delicious chocolate chip oatmeal cookies are naturally sweetened with Lakanto, an ideal sugar substitute for baked goods.
It's safe for diabetics and has zero calories!
Ingredients
1 stick (4 oz/110g) unsalted butter, softened
¾ cup Lakanto
1 tsp natural vanilla flavoring
1 1/2 cup Rice Flour (or gluten free flour of choice)
2 cups gluten free oats
1 tsp baking soda
1/2 tsp Celtic or Himalayan salt
¼ cup boiling water
6 oz raw cacao nibs
Directions
Preheat oven 350 F.( 175 C)
In a medium bowl, beat butter, lakanto, and vanilla flavoring with a wire whisk until light and fluffy.
Add flour & salt; mix well.
Dissolve baking soda in boiling water. Add to the mixture.
Stir in remaining ingredients.
Cool down for 15 min. in a refrigerator.
Scoop the dough, form cookies to a desired size and shape.
Place on a cookie sheet and bake on a middle rack for 10-15 minutes.
Remove from the oven and cool until hardened. Enjoy!
Dreena's Almond Butter Chocolate Cups
By Dreena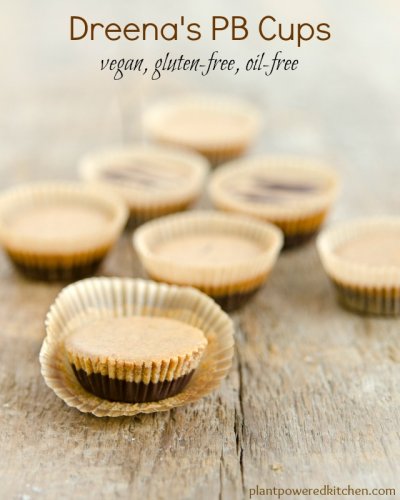 Makes 15–18 cups
Chocolate Base:
1/2 cup non-dairy chocolate chips
2 1/2 tbsp coconut butter
Almond Butter Topping:
2 tbsp coconut butter ( not coconut oil)
1/3 cup natural unsalted almond butter
3 1/2 tbsp coconut sugar
1/4 rounded tsp Celtic or Himalayan salt
1/2 tsp pure vanilla extract or 1/4 tsp vanilla bean powder
Line a mini-muffin pan with 15–18 small muffin liners.
To make the chocolate base:
Place a heat-proof bowl over a small pan or double boiler with a few inches of water in it.
Turn heat to medium. Add chocolate chips and coconut butter to the bowl.
Stir until melted and well combined.
Remove from heat, and spoon roughly one tablespoon of chocolate mixture into each liner.
When all done, place muffin pan in the fridge to cool completely.
Reserve saucepan with hot water or double boiler (still with just a small amount of water in it).
To make the almond butter topping:
Add the coconut butter to another small bowl, place over the saucepan/double boiler, and allow it to melt.
If needed, turn on low heat to help melt.
Meanwhile, prepare the almond butter mixture.
In a mini food processor, puree the almond butter, coconut sugar, salt, and vanilla.
Add the melted coconut butter to the almond butter mixture and puree until competely mixed.
To assemble:
Once chocolate cups are chilled and firm, spoon about 11/2 tbsp almond butter mixture on top of each of the chocolate cups.
Gently smooth out the mixture to cover the chocolate.
Place the cups back in the fridge for about an hour until completely chilled.
Well,  all these recipes have chocolate in them so here's one without.
Coconut Quinoa Date Snowballs
by Wendy Polisi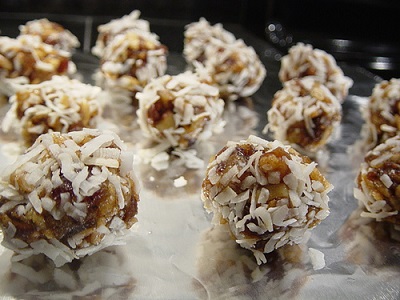 Ingredients
3 tablespoons unsweetened shredded coconut
5 ounces pitted dried dates
½ cup cooked quinoa
¼ cup raw almonds
1 tablespoon coconut palm sugar (optional)
½ teaspoon cinnamon
½ teaspoon natural vanilla
⅛ teaspoon Celtic or Himalayan salt
Directions
Place coconut in a shallow dish.
In a food processor combine dates, quinoa, almonds, sugar, cinnamon, vanilla and sea salt. Process until smooth. Form into very small balls, about a ½ teaspoon in size.
Roll the balls in the coconut pressing to coat as needed.
And if you are having a party why not treat your guests to a Halloween Green Smoothie! Or simply drink this as part of your detox diet plan.
Pumpkin & Avocado Green Smoothie ( by Trent Golden).
Trent Golden is a former personal trainer who specializes in self-healing and empowerment through natural health and metaphysics. He is the author of "Enlightened Eating," which chronicles his personal journey from being on eight prescription medications to healing naturally and living pill free.
Ingredients
1 tablespoon raw hemp seeds
1/2 cup organic pumpkin puree
1 teaspoon ground cinnamon
1/4 avocado, peeled and pitted
2 cups fresh baby organic spinach
1 organic banana, peeled
1-2 cups of almond milk or coconut milk (to desired thickness)
Optional: 1/3 cup of full fat organic coconut cream
Directions
Place all ingredients into a high powdered blender and whizz up until very smooth.
Add a pinch or nutmeg if you like and more banana for additional sweetness.
After Halloween 80% of the problem that will blow your willpower and your healthy eating plan is visual. Get unhealthy treats out of sight. Best way to do this? Throw them out!
Fortunately there's a whole world of healthy treats out there that will satisfy your and your kids' sweet tooth. It may still be candy, but it's not made of junk.  Will you be handing out healthy Halloween treats this year?
Coconut snowballs image credit