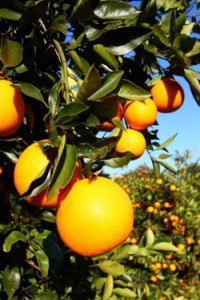 Seeing the oranges still on the trees here on the Costa Blanca, Spain reminded me of the citrus cleanse.  This is a type of detox that aims to cleanse the body of toxins through the power of citrus fruits alone.
Citrus fruit are perfect for cleansing the gastrointestinal tract since they contain adequate amounts of fiber both in soluble and insoluble forms. The high citric acid content is effective in cleansing and eliminating wastes and toxins such as heavy metals from the cells.
You can use any citrus fruit or juice like oranges, lemons, tangerines, grapefruits and limes for a citrus cleanse.
Citrus Cleanse benefits
1.Vitamins & Minerals
Citrus fruits contain impressive amounts of vitamins and minerals including Vitamins C, B complex, E, beta-carotene, bioflavonoids, pectin, potassium, magnesium, phosphorous and zinc which can help with the body cleansing process.
As the body is being cleansed it needs ample amounts of vitamins and minerals to boost the detox system.
When you peel citrus fruit to eat them or juice them it's important to leave on some of the pith as this is where most of the nutrients are found.
Citrus fruits are particularly rich in vitamin C which is needed in many metabolic functions of the body. Vitamin C is an antioxidant which helps to mop up free radicals which are created during the detox process.
Oranges are one of the richest sources of Vitamin C. In studies by the National Cancer Institute in America the people who ate the most oranges compared to those who ate the fewest had the lowest incidence of cancer.
One of the best ways to get the overall benefits of vitamin C in citrus fruits is to juice them.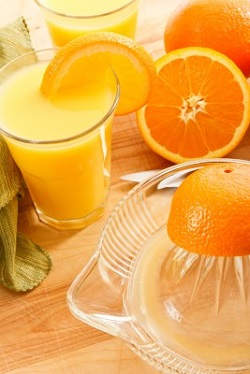 2. High water content
Citrus fruits have high water content; water is needed to help dilute toxins as they are released from the cells. Water in fruits will also help improve stool quality so that stools may be eliminated regularly to clear out toxins.
When you eat or drink juices made from citrus fruits not only do you increase your water intake for the day but you also experience a refreshing way to cleanse or detox.
3. Stimulates liver detox
The rinds of citrus fruits contain limonene which not only gives them their characteristic smell but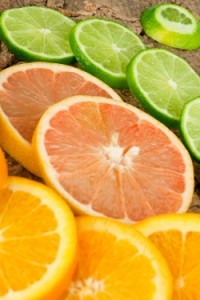 stimulates the detox enzymes in the liver.
So, when you juice citrus fruit for a citrus cleanse it's a good idea to include some of the peel. Just make sure your fruit is organic.
The morning Lemon Detox Drink is particularly effective at stimulating the production of bile which the liver uses to eliminate toxins.
Precautions
Citrus fruit are very aggressive cleansers and a citrus cleanse diet may not be the best detox to use for everyone. People who dislike the taste of fruits as well as people who are allergic or intolerant to citrus fruits or those who cannot tolerate too much citric acid should never try this cleansing plan.
If you are diabetic orange juice is low on the glycemic index having a value of 50 which means that it should not have any dramatic effect on your blood sugar levels. Best to be cautious though and measure your blood sugar levels if you do any orange juice cleansing.
One of the best known citrus cleanses is of course the Master Cleanse or the Lemon Detox Diet as it if often known but you don't have to go that far to do a citrus cleanse.
A citrus cleanse involves only eating fresh citrus fruit or drinking only fresh citrus juice for a certain length of time which can be two days, ten days or even a month.
Best to stick to a couple of days unless you are very experienced in detox or are being supervised.
Always use the freshest fruit and buy organic of possible. Never use commercially prepared juice as it is lacking in vitality and nutrients of the fresh juice.
Although I have seen many articles on the internet about weight loss with a citrus cleanse remember that any weight lost when on a short mono diet or juice fast will not be fat loss and the weight will go back on again once you start eating again.
If you enjoyed this post it would be fantastic if you would share this post by "Liking" it on Facebook, "Tweeting" it to your Twitter followers and "Pinning" it to your Pinterest boards. 🙂