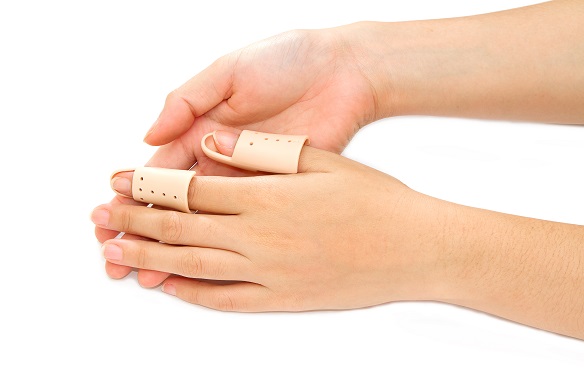 While certain foods have myriad powerful components that can help correct many different issues, there are some items that should be incorporated explicitly into a detox plan. A detox plan geared toward increasing energy may differ from one done to deal with the lessening of inflammation. One that is done directly for the clearing of the gut and gastrointestinal issues won't necessarily have the same ingredients as one that promotes bone health and repair. There is some overlap, but generally, not all detoxes do the same thing or work the same way.
The human body is incredible about re-growing and repairing broken bones. In combination with a thoughtful detox, orthotic aids which help stabilize an injured area and prevent excessive movement can also help speed recovery.
These may include finger splints, casts, and braces. If you have a history of broken bones, whether in your foot, leg, arm, finger or wrist, or even struggle with the loss of bone strength and are worried about conditions such as osteoporosis, the following are great detox items to incorporate into your diet:
Calcium-rich foods
Leafy greens are an absolute must if you want to do a detox that focuses on the health and strength of your bones. Bone density is lost over the course of a lifetime, though individual health conditions can exacerbate this issue. Kale, spinach, and arugula are all high in calcium which is essential for the strengthening of your bones. An excellent detox recipe is a green smoothie with those leafy greens, add some yogurt (plain or with the least amount of sugar!) and a few strawberries to add some sweetness and flavor naturally. Drink one of these per day. Also include foods rich in magnesium, which is needed for calcium to be absorbed properly. Foods like almonds, avocados and chia seeds.
Vitamin D
Vitamin D deficiency is one of the most common deficiencies suffered from in our society. Ironically, this is the vitamin most linked to important bone health properties. Studies have suggested that this deficiency can be directly related to a decrease in bone health and bone breaks. The easiest, most natural way to increase your exposure to vitamin D is by getting more natural sunshine. The sun is also a natural detoxifier to the body. Go without a hat or sunglasses for at least ten minutes if you are attempting to get your vitamin D through sunlight as your face should be unobstructed. Otherwise, there are plenty of vitamin D tinctures and capsules that you can take daily to increase bone health and speed up the healing process of your broken bone.
Bone broth
It may sound a bit too coincidental that the bones taken from soup have necessary minerals and components required to strengthen your weakened bone, but it's the truth. The collagen that naturally exists in bone helps the calcium do its job to fill in the empty and damaged spaces within your bone that may have made it susceptible to breaking in the first place. You can make your own bone broth, or you can purchase powdered supplements made from the bones of poultry or beef. Collagen regeneration is not only essential for your bones, enabling them to heal faster and stronger, but it also helps the appearance of your hair, skin, and nails; a win-win for many. Bone broth also has remnants of protein from the meat in it which is crucial to how well the bones regenerate. If you're going to add more protein to your detox, keep them lean or from clean sources other than meat.
Author bio: Jessica Hegg is the content manager at ViveHealth.com. Interested in all things related to living a healthy lifestyle she works to share valuable information aimed at overcoming obstacles and improving the quality of life for others.