Usually considered to be a weed, dandelion (Taraxacum Officinale) is grown commercially for its many medicinal benefits. One of the things you can use it for is a dandelion detox.
The common dandelion is recognized by herbalists and healers all over the world as an excellent liver remedy. They prescribe dandelion root for liver and digestive problems and the leaf for water retention. In Traditional Chinese Medicine it is used as a detoxifying herb especially for liver detox.
If you have dandelions in your backyard think twice about getting rid of them. They offer plenty of benefits when you know how to put them to good use and they won't break the bank. You will discover in this article how to use the plant for a dandelion detox.
Get the bile flowing
Studies have shown that the oils and bitter resins in dandelions can encourage the production and flow of bile from the liver, getting rid of toxins from your system helping to treat skin conditions, hepatitis, jaundice, high cholesterol, and rheumatism.
One study showed that dandelion increased the activity of the Phase II detox system. Modern research points to it's use for anti-cancer activity especially for breast cancer. This may be due to the fact that it can lower estrogen in the body. Doctors recognize the fact that there is a connection between cancer and excess estrogen in the body.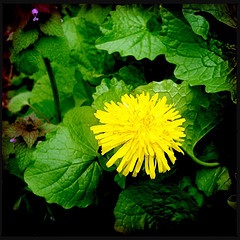 Both the roots and leaves are rich in vitamins and minerals and can be used for the dandelion detox.  The leaves are rich in antioxidants and gram for gram they contain more beta-carotene, which the body converts to Vitamin A, than carrots.
Dandelion Root acts as a mild laxative and dandelion tea can be used as a remedy for constipation. Dandelion is often found in preparations for slimming but this is not a good way to lose weight as it simply acts as a diuretic to get rid of excess body fluid.
Dandelion root
Dandelion root comes as fresh dried or roasted. The root is best used for dandelion tea. When the root is dried, roasted and ground you can make dandelion coffee. You can find directions for harvesting and roasting your own on the internet but it is a bit of a laborious process so you might prefer to buy it.
Organic Dandelion Root Roasted
Jars of dandelion coffee are not usually pure dandelion. They often have other ingredients as well as dandelion root such as barley, rye, chicory roots and beetroot.
Dandelion Tea
To make the dandelion detox tea simmer (with a lid on the pan) 1 part of dried dandelion root with 10 parts of filtered water for 20 minutes then take off heat and leave to steep for another 10 minutes. Strain and drink 1 cup 2 – 5 times a day. You can add herbs such as cinnamon, licorice or ginger to sweeten it.
Dandelion Coffee
The roots can be dried and roasted to make dandelion coffee. It is a good substitute if you are trying to cut down on naturally caffeine-free but it does have the bitter flavor that stimulates the liver, bile flow and digestion. A great substitute for normal coffee.
DANDY BLEND INSTANT GRAIN COFFEE BEVERAGE 7 OZ
Dandelion leaves
Dandelion leaves can be added to any salad. green smoothie or juice. Be warned that the juice is very bitter and potent so you only need to add a small amount of leaves for your juice or smoothie.
If you pick your own be sure to use leaves that have not been sprayed with pesticides. Smaller leaves are best unless you like bitter herbs as they are milder tasting than the large ones. They are best mixed with milder tasting green salad leaves.  Cook the larger leaves as you would spinach.
Here is a salad recipe from Naturally Savvy
Dandelion Salad:
1 Bunch Dandelion leaves, washed and torn
1 Bunch Arugula, washed and torn
1 Head Radicchio, washed and torn
Some Kale and/or Italian Flat Leaf Parsley
1 Avocado, peeled, pitted and sliced or cubed
1 Red Onion, thinly sliced
Hemp seeds to taste
Raw Garlic, sliced paper thin
A few black olives
Toss altogether and add dressing to taste
Dressing:
Olive Oil
Lemon Juice
Celtic Sea Salt
Dulse Flakes (high in minerals with a salty flavor)
Dandelion Tea from leaves
Put 1 or 2 teaspoons of well washed crushed leaves in a bowl and pour one cup of boiling water over them. Steep for ten minutes. Strain and drink. If you find the tea too bitter, you can add some orange or apple slices, agave nectar or a little raw organic honey to sweeten it.
You can use dried leaves too but the fresh leaves are reputed to be more potent.
Nest time you detox try adding some fresh dandelions to your salads, smoothies and juices and
drink dandelion tea three times a day.
Use the dandelion detox to cleanse your body from toxins and impurities that can lead to poor health. It's good to do if your diet has not been unhealthy or you have been drinking a lot of alcohol.
Dandelion has no serious side effects but it large doses it may cause an upset stomach or diarrhea. You should not do a Dandelion detox if you are pregnant, have gallstones or any problems with your bile ducts. Avoid it also if you are taking diuretic drugs, drugs for high blood pressure or to thin your blood or if you take lithium.