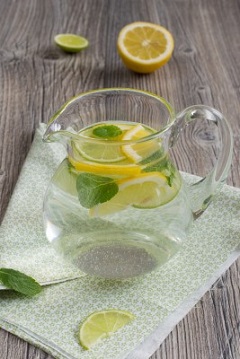 Have you noticed the craze for detox water recently? Pinterest is simply loaded with pictures of mason jars and pitchers full of delicious looking detox water or infused water as they are also known.
I don't know about you but I have never really liked drinking plain water when I am on a detox diet or any other time for that matter. But who says it has to be plain? Even adding a couple of slices of lemon or lime can make all the difference.
Detox water can be flavored with many other fruits, vegetables and herbs like watermelon, strawberries, cucumber, grapefruit. tangerine, ginger, mint and basil.
You have probably heard of Jillian Michael's detox water but it is really a juice mixture of cranberry juice, lemon juice and Dandelion Tea and not the sort of detox water we are talking about here.
One of the first detox waters around was the morning lemon water detox drink but these new detox water recipes are more infusions than juices and have taken drinking water to an entirely new level.
75% Americans are dehydrated
Recent research has shown that up to 75% of Americans may be in a state of chronic  dehydration. According to doctors dehydration is one of the easiest conditions to reverse but it is also one of the most commonly overlooked.
Dehydration can contribute to a long list of medical conditions from respiratory and circulation problems to headaches, ulcers, high blood pressure and kidney disease.
Mary Grace Webb, Assistant Director for Clinical Nutrition at New York Hospital says "We have a tendency in the U.S. to drink a lot of beverages that are mildly dehydrating," Webb said one indicator of dehydration may be constant hunger.
"Because the human body is so unique that it will say 'I want water' in food, in any way, shape or form. People just think that when they start to get a little weak or they have a headache, they need to eat something, but most often they need to drink."
According to research by US expert mild dehydration of even just 1% or 2% can significantly affect your thinking ability and people start to become confused. At 2% dehydration focus and short term memory start to go. Researchers in the UK found that once thirst is relieved it frees up the brain to focus on the task at hand.
You can find out more about how much water you really need to drink in this comprehensive article.
Dehydration will increase toxicity problems 10-fold!
Dehydration will increase the concentration of toxins in the body interfering with cell function, lower metabolism, inhibit thyroid, increase weight gain while at the same time lower the body's capacity to lose weight.
Many people know that the body is mainly comprised of water and that they should drink a certain amount of water a day but what most don't realize is that the bloodstream carries nutrients, hormones, immune factors and all vital substances to the cells, while transporting away from the cells toxins, metabolic waste, petrochemicals heavy metals, etc.
So, any dehydration inhibits blood transport of vital substances to the cells and toxins away from the cells for elimination, contributing to the concentration of toxins in circulation. No wonder you get symptoms.
According to Bill Woolcott, who wrote the The Metabolic Typing Diet:
, simply drinking large quantities of water a couple times a day will not cut it, especially when other beverages are consumed at other times (e.g., coffee, tea, cola), many of which are anabolic and that will therefore increase urination and decrease  retention.
He recommends drinking a minimum of 3-4 quarts ( 6 – 8 pints) of clean/purified water per day but, it should not be drunk in large quantities. Rather, small amounts should be consumed frequently throughout the day. In other words, a constant stream of water intake should be maintained. Of course, if you are thirsty at any time, it is fine to quench your thirst.
So, to avoid dehydration and problems of toxicity in your body get drinking that water.  Remember tap water will not do. You don't want to drink water full of aluminum, nitrates, lead, pesticides, detergents, dead bacteria, trihalomethanes or minerals that aren't bioavailable.
You can read more about the many health benefits of water in this article.
Here are some recipes to get you started.
Refresh Me Lemon Detox Water
Ingredients
1 gallon of pure water (mineral, or filtered)
1 whole organic lemon, sliced, seeds removed
½ cucumber, sliced
10 mint leaves, organic if possible
2 inch piece fresh ginger root, peeled (optional)
Directions
Wash and dry the lemon.
Slice and remove seeds
Fill pitcher with the water
Add lemons, cucumber & mint & ginger if using
Refrigerate for 12 hours before drinking.
Apple Cinnamon Infused Water       

This detox water was created by Audrey Johns as part of her weight loss diet. It comes from her book Fruit Infusion: A Collection of Day Spa Inspired, Fruit Infused Waters
Makes 2 liters, re-fill water 3-4 times before replacing apples and cinnamon.
Ingredients
1 Apple, thinly sliced,
1 Cinnamon Stick
Directions
Drop apple slices in the bottom of the pitcher saving a few to drop in your glass later  and then the add cinnamon stick,
Cover with pure water
Place in the fridge for at least 1 hour before serving.
Lasts for 24 hours in fridge.
Day Spa Pineapple, Grapefruit and Apple Water

Makes 1 big pitcher, you can re-fill 3-5 times
Ingredients
1/2 Grapefruit
1/2 Apple
1/2 a fresh Pineapple- fresh
Ice and pure water
Directions
Cut the grapefruit & apple into medium sized slices
Add to a glass juice pitcher.
Cut the pineapple into medium to thin slices about the same size as grapefruit & apple
Add the pineapple squeezing a little if you want it sweeter
Top with 2 cups ice
Top that with water and place in the fridge for 4 hours.
Once you have enjoyed 1/2 of your pitcher of water re-fill it and you can repeat this as long as the flavor stays.
Strawberry & Watermelon Mint Detox Water
Ingredients
10 large strawberries, sliced
½ cup watermelon, cubed
¼ cup of mint leaves
6 cups of water
Ice made with purified water
Directions
Fill the bottom of a pitcher with the ice cubes.
Top with strawberries, watermelon and mint leaves.
Fill with filtered water and place in fridge for several hours to allow flavor develop.
Strawberry Basil & Lime Detox Water
Ingredients
1 lime, organic preferably, thinly sliced
12 large organic strawberries, sliced
12 basil leaves
Directions
Divide ingredients between 3 x 16 oz mason jars.
Fill with pure water
Seal and place in fridge overnight.
This recipe is from Chaud's Juice Therapy
These recipes would not be complete if I didn't mention the Kim Lyons' Fat Flush Water  which she presented  on The Biggest Loser, combined with other weight loss tips.  There are various recipes for it on the internet but here is a video about it that I found.
Fat Flush Water
Ingredients
1/2 gallon pure water
1 grapefruit, sliced (can substitute with one lemon)
1 tangerine, sliced (can substitute with orange)
1 large cucumber, sliced
10-20 peppermint leaves
Ice
Directions
Rinse grapefruit, tangerine, cucumber and peppermint leaves.
Slice cucumber, grapefruit, and tangerine (or peel).
Combine all ingredients in a half gallon pitcher.
Allow ingredients to sit as long as possible for maximum benefits.
Drink throughout the day and made a new pitcher everyday.
Stir & Enjoy!
So, whether you are on a detox diet or not, if you hate plain water, try drinking these detox waters instead.
If you have any tips for perking up your water share them with my readers in the comment box below.
And, if you enjoyed this post please share it with others using the share buttons. Thanks! 🙂