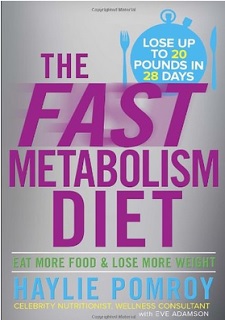 I was reading an article about Fast Metabolism Diet by Haylie Pomroy and it struck me how very similar to a detox diet plan it is.
According to US celebrity nutritionist, Haylie Pomroy, slim people have fast metabolisms but the good news is that you can speed it up to turn it into a fat burning machine. The Fast Metabolism Diet
is designed to train your metabolism to burn fat instead of storing it.
On this easy to follow 28 day plan you can expect to lose 20 pounds of fat, get rid of cellulite and build muscle with no calorie counting whatsoever.
In fact, you get to eat a lot – 3 satisfying meals a day with snacks in between. What makes it like a detox diet is that the foods that are not allowed for 28 days are wheat, dairy products, sugar, caffeine, artificial sweeteners, diet foods and alcohol.  Just the same as many detox diets.
Like a detox diet plan this diet includes lots of fruit and vegetables and foods that support liver function which help the cells release fat. By eating foods that support liver detox function you also detox chemicals that interfere with the weight control mechanisms.
People who have trouble losing weight and keeping it off after losing it are often surprised that they can keep it off once they get rid of some of the stored chemicals on a good detox.
On the  Haylie Pomroy Diet  you also have to avoid corn, soy, dried fruit and fruit juices.
Each week for the 28 days is broken down into 3 phases.
Days 1 & 2
You eat 3 satisfying carb rich, moderate protein, low fat meals with 2 snacks.  The carbs are supplied by brown rice, quinoa, and oats.
You get to eat foods that are high in natural sugars such as apples, pineapples and strawberries to help your blood sugar to remain stable.
Foods rich in Vitamin B and C like lean beef, turkey and lentils stimulate yur metabolism and convert glucose to energy.
This phase is designed to lower stress and calm down your adrenal glands.
Days 3 & 4
You eat 3 high protein, low carb, low fat meals plus 2 protein snacks.  This phase includes foods that help rev up your liver detox pathways like broccoli, leafy greens, garlic and onions.
Foods high in lean protein such as lean beef, chicken, and low fat fish help to build muscle.
You don't eat any grains or fruit for these 2 days. If you are a carbohydrate type you may notice that you are not so good on these days.
This phase is designed to make your metabolism burn fat and lay down muscle.
Days 5, 6 & 7
You eat 3 moderate carbohydrate and protein meals with 2 healthy fat snacks.
This phase includes healthy fats such as avocadoes and nuts, lower glycemic foods such a berries, asparagus, spinach and sweet potatoes. Haylie includes thyroid stimulating food like prawns (for iodine) and coconut oil in this phase.
Personally I would not advise eating prawns or shrimps (which are ofen used interchangeably in restaurants) as they can contain high levels of toxins.
Pomroy says "Ironically eating fat after not eating it for a few days makes you start burning fat like crazy.
The article I read said once you have finished the 28 days you can go back to enjoying the "not allowed" foods in moderation.
Keep sugar off the menu
I would not recommend anyone to go back to eating sugar or using artificial sweeteners again. The whole idea of a detox diet is to stay on a healthy diet afterwards as well. A detox diet plan is often used to kickstart healthy eating and sugar does no one any good.
On The Fast Metabolism website it says "The Fast Metabolism lifestyle is the way we SHOULD be eating all the time, not just for the 28-day course of the diet.!" which is more like it. In her book Haylie does outline a maintenance plan.
You can continue with the diet for another 28 days or as long as you need to to lose the weight or you can choose to do it every other mouth, or every 2 -3 months.
One of the questions asked on the FAQ page is about headaches when starting the diet. These are usually withdrawal headaches and often come from the rapid withdrawal of caffeine and sugar. That's why I always recommend cutting down on these gradually if you normally have a lot of them before embarking on any diet that restricts them.
I also noticed this question: "I don't have time to cook. What now?" Haylie has a range of phase-specific Fast Metabolism Diet breakfast shakes and bars that you can use for breakfast and snacks each day.
Much better to make time and get into the habit of making a breakfast with "real" food like this fruit smoothie: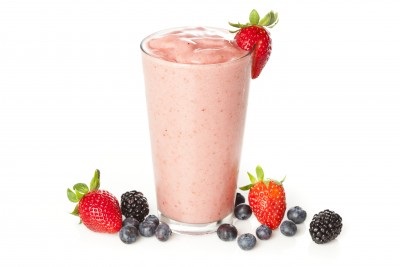 Oatmeal Fruit Smoothie (from Haylie's site)
Suitable for Phase One of the Fast Metabolism Diet
Serves 1
Ingredients
1/2 cup steel-cut oats
1/2 cup frozen fruit, such as pineapple or strawberries
1/2 cup ice cubes
1 packet stevia
Ground cinnamon, to taste
Directions
Put the oats in the blender and pulse until they reach a powdery consistency.
Turn off the blender and add 1 cup water.
Incorporate the remaining ingredients into the mix and blend until smooth.
Serve.
Ground oatmeal thickens this light fruit smoothie and gives it staying power—you won't feel hungry too soon after this one!
You can get many of Haylie's recipes in her The Fast Metabolism Diet Cookbook
Exercise is a must
Like a detox diet The Fast Metbolism Diet is not all about diet. You need to get some exercise too. Exercise helps to boost the metabolism and circulation to get rid of those toxins.
On this diet you should aim for 3 days of exercise a week- one in each phase.
For days 1 & 2 you should do some cardio exercise such as running, cross training or an aerobic exercise class. For days 3 & 4 you should do strength training like weight lifting or take a Body Pump class. On days 5 – 7 you should do some stress reducing exercise like yoga, deep breathing exercises or walking. Massage is good too to help reduce the production of the stress hormone cortisol.
The Fast Metabolism Diet has worked for many people from celebrities and athletes to people with chronic illness who desperately needed to lose weight. It could work for you too!
Buy the book here. The Fast Metabolism Diet: Eat More Food and Lose More Weight