In this article I am going to explain how the incredible new Go Cell Vitality can help detoxify your system and detox cells.
Your cells contain the blueprint for perfect health. Unfortunately they cannot function efficiently when they become clogged with chemical toxins and toxic waste from lack of nutrients due to poor food choices and the stress of modern life.
Healthy cells = healthy body
For you body to truly remain healthy, it is vital to keep your cells healthy. Each cell in your body is surrounded by a membrane or envelope made up of a precise ratio of essential fatty acids that acts as a gatekeeper. It is responsible for letting the nutrients that you get from your food into the cell and the waste products of everyday metabolism out.
To function efficiently and detoxify your system all you have to do is supply them with the correct balance of essential fatty acids, vitamins, minerals, antioxidants and phytonutrients. Sound simple enough doesn't it? But in today's fast paced modern world the majority of people do not get the right materials for this to happen.
Toxic chemicals which get absorbed into your body interfere with cellular function. Food processing and modern farming methods mean that your body does not get anywhere near the amount and balance of vital nutrients that it needs to detoxify your system and function optimally.
Importance of pH
For your cells to function efficiently it is also vital that they are surrounded by clean and pH balanced plasma, the liquid part of the blood.
Once the pH begins to become imbalanced, the cells start to stagnate and lose their vitality, strength and nutrients. Toxic waste builds up and symptoms of poor health appear.
Go Cell Vitality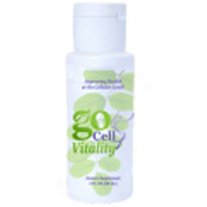 This is where Green Organics Cell Vitality plays an important role. Not only does it provide the right nutrients, it gently balances the pH of the cell. It helps the body repair itself and increases energy.
Cell Vitality contains trace minerals and elements, enzymes, and amino acids in ionic form which are easily absorbed by the body and into the cells. It provides biologically available nutrients directly to the cells.
Most nutritional supplements do not address the cellular condition of the body, and many supplements simply do not get absorbed at all.
Nascent oxygen destroys toxins
Cell Vitality is also able to generate nascent (newly born) oxygen which helps to destroy harmful toxins and micro-organisms and neutralizes harmful free radicals. It continues to work for hours after taking it.
Having enough oxygen is vital for cells to eliminate toxins and to clean up the inner environment as well as raise the energy levels of the whole body. The increased minerals, oxygen and minerals contribute to the detoxification of the lymph and surrounding tissues.
Cell Vitality acts in a time released way, increasing slowly and reaching its peak 6-12 hours after taking it. When it is taken 3 times a day an incredible cascading effect time releases the oxygen continuously. It creates a continuous and self perpetuating cleansing and rejuvenating effect.
No detox reactions
It ensures a slower destruction of the terrible toxins that have acumulated in the cell so your  body can eliminate them without severe detox reactions.
Cell Vitality also has the extremely important benefit of delivering vital and necessary nascent hydrogen. The hydrogen is needed by the body for use in building and repairing the immune system aa well as the body's cells and organs.
Over time, you can see a marked difference in energy levels, as the cells heal, cellular and lymph detox becomes more effective and pH balances. Long term benefits generally show around 8 weeks of taking it 3 times a day, depending on individual makeup.
Taking this extraordinary supplement, Cell Vitality is a powerful way to detoxify your system and and maintain your whole body health. Get it here: Go Cell Vitality