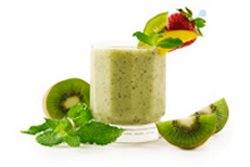 The 2nd International Green Smoothie Day is 15th August 2009 . Why not join in the fun? If you are looking to turn your health around with a detox diet then there's no better way to start than with the 2nd Annual Green Smoothie Day. I can hardly believe that a year has flown by since the first one. If you missed it last year then here's your chance to join thousands or other health seekers around the world for this years event.
The Raw Divas have dreamed up all sorts of prizes and fun to make this the greatest Green Smoothie Celebration ever. (One of the prizes is a superb Blentec Blender).  Everyone likes green smoothies. They are great for detox and soooo easy to make. All you need is some fresh fruit and some green leaves and a half decent blender and you're away.
Green means clean
I'm sure you already know that green foods are really powerful cleansers and detoxifiers and blending them with fruit is a real yummy way of eating them. After all there is a limit to how many lettuce leaves you can eat in a day!
If you don't like the taste of green leafy vegetables then making them into green smoothies is the ideal because they just don't taste the same. And the fantastic results people are getting with green smoothies speak for themselves. In some cases they seem miraculous.
No experience needed
Why not see for yourself? If you are new to all this and have no previous experience this is the ideal place to start. The Raw Divas have designed a very affordable 3 day challenge that can be done by anyone. They will take you by the hand and guide you through it.  They will be providing recipes, kitchen tips and the complete knowhow.
The program is simple. It's designed for people who have NO PREVIOUS EXPERIENCE or knowledge about the Raw Food Diet It's a gentle, practical introduction to raw foods for ANYBODY that brings results!  And you don't have to eat raw foods the whole time either. It's designed so you can still eat cooked foods if you want to although raw gets the best results.
More energy, better health and weight loss
If you want to detox but are finding it hard to start then this 3 day event is just the thing for you. Find out for yourself why thousands of people are turning to green smoothies for more energy, better health, detox and weight loss! This program is all about making health and vitality accessible to EVERYONE!
To find out more about the International Green Smoothie Day and the 3 day challenge CLICK HERE.