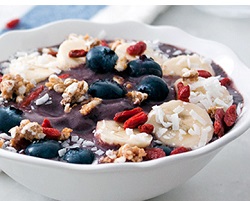 Seeing the recipes for party bowls all over the internet for America's Super Bowl last Sunday reminded me of Smoothie Bowls. If you're not a fan of regular green smoothies then give these detox smoothie bowls a try. I'll be surprised if you don't become hooked.
By making them thick enough to eat with a spoon you serve them in a bowl with all sorts of healthy, tasty toppings. The latest trend among the health concious, these superfood smoothies will keep you going all morning.
Detox Smoothie Bowls are an easy and tasty way to add detoxifying greens, fresh fruits and superfoods to your diet and when balanced properly can be the perfect meal.
The consistency of your smoothie is affected by the ingredients you add so experiment with different combinations and ratios until you come up with your ideal smoothie bowl.
How do they help you detox?
A high powered blender has the unique ability to break down the the cell walls of green smoothie ingredients releasing more of the valuable vitamins, minerals, amino acids, and antioxidants that your body's detox system needs to function efficiently.
The chlorophyll in the greens binds with heavy metals so they can be eliminated. The fiber in the fruit and veg help to keep the toxins moving through your digestive system. The quicker they get out the better!
Essential fatty acids found in the seeds and nuts are needed for liver detoxification. The efficient function of the membranes that encase each cell in your body relies on the right balance of fatty acids so that nutrients can flow in and toxins can flow out of them.
Walnuts, macadamia nuts, flax seeds and chia seeds contain Omega 3 fatty acids which are needed for glucoronidation, one of the Phase 2 Liver Detox pathways. This pathway detoxes some commonly prescribed drugs, some environmental toxins, food additives and some hormones.
They will only help you detox if you use them as part of a healthy wholefood detox diet.
Here's a guide to a balanced detox smoothie bowls.
1- 2 parts greens
1 part fruit
1 part protein
1 part healthy fat
1 part superfood
Liquid of choice
Ice (optional)
There is no end of healthy ingredients you can use.
Organic is best if you can get it.

Greens and Veg: kale, spinach, collards, chard, romaine, celery, cucumber, beet leaves, microgreens, broccoli or other sprouts
Fruits: bananas, apples, peaches, pears, plums, kiwis, pineapple, mango, raspberries, strawberries, blueberries, papaya, lemons, limes, grapefruit, oranges, figs, dates, acai, etc.
Proteins: plant-based protein powders such as hemp, pea, rice or whey, nut butters.
Healthy Fats: chia seeds, hemp seeds, avocados, coconut oil, and any other nuts and seeds you have on hand
Superfoods: bee pollen, maca powder, lucuma, cocoa nibs, spirulina, chlorella, young coconut meat, unsweetened shredded coconut, coconut water, avocados, chia seeds, hemp seeds, flax seeds, matcha tea powder, nut milks, sprouted buckwheat groats, raw gluten-free oats.
Liquid: almond or other nut milks, coconut water, filtered water, etc.
Sweetener (optional): If you really need a little more sweetness then a few drops of stevia is a good way to add it. Dates can be used to sweeten too.
You will see many recipes for smoothie bowls all over the internet but some are so crammed full of ingredients they become a digestive nightmare, so be warned. They are not the sort of smoothies you want for detoxing.
Here are some healthy recipes to get you started.
Berry Banana Detox Smoothie Bowl
(from the Kichn)
Serves 2
2 cups almond milk
1/4 cup coconut milk
1 cup frozen blueberries
1 cup frozen peaches, mango, or pineapple
1 ripe banana
1 cup fresh spinach
2 tablespoons chia seeds
1 tablespoons flax seeds
1 teaspoon vanilla extract (optional)
1/4 cup sugar free granola, plus more if desired
Additional toppings: fresh fruit, nuts, coconut flakes, cacao nibs, or chocolate chips
Put the almond milk, coconut milk, frozen blueberries, frozen peaches, banana, spinach, chia seeds, flax seeds and a dash of vanilla extract if desired into a high powered blender. Whizz up until smooth, about 1 minute. The smoothie should be thick enough to eat with a spoon, so if needed, add more frozen fruit until desired consistency is reached. Pour into a bowl and top with a healthy, no added sugar granola and fresh fruit. Eat immediately.
Green Breakfast Detox Smoothie Bowl
(From Green Kitchen Stories)

1/2 avocado
1/4 fennel
1 handful spinach or kale
1/2 inch fresh ginger,  chopped
1 apple (or banana if you prefer it sweeter)
2 inch slice pineapple
1 tbsp hemp, flax or chia seeds
1 cup almond milk or pure water
Nuts, seeds, extra fruit and granola for topping
Add all ingredients to a blender and blend until very smooth. Pour in bowls and top with seeds, nuts or a no added sugar granola. Enjoy!
Detox smoothie bowls are great to have for breakfast, as a snack to keep you going during the day, a post-workout meal, or even a quick detox lunch.
So, what do you think? Have you ever tried smoothie bowls? If not will you give them a try?