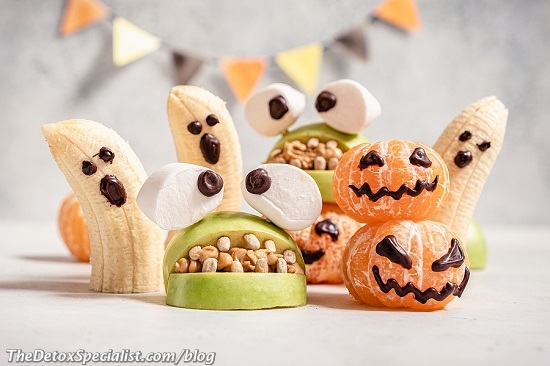 One of the hardest things about this time of the year if you have been on a detox diet and are now following a healthy eating plan is all the temptations the holiday season brings.
Looming up at the end of this month is, of course, Halloween. Although primarily for children it can be a tough time for adults especially if you have a sweet tooth.

How to avoid temptation
There is plenty of advice on how to avoid the temptation of unhealthy treats and other party food on various internet sites but not all of it is good.
For example, one nutritionist (not my sort of nutritionist!) says "Keep cravings at bay by purchasing treats that won't interest you. Select trick-or-treat candy that you don't personally enjoy, then you won't be tempted to eat it."
A much better idea is to buy or make healthy treats that you can eat without feeling guilty. (See recipes below) There are plenty of websites with recipes for healthy Halloween treats and savory snacks.
Ever since I trained as a nutritionist I have bought healthy Halloween treats to give to the children who come tricking or treating at my door. I have often wondered what they thought of them when they got home but I hope they got eaten even if they weren't appreciated!
Avoid sugar and processed vegetable oils
Not all health bars or candy found in health food stores is healthy so read the labels carefully and avoid those with sugar in any form and processed vegetable oils. Look out for snacks sweetened with fruit juice or fruit puree and made with coconut butter or cold pressed oils and contain no artificial additives.
A dietician says "You can still enjoy the season's treats by taking time to savor them. By slowly eating your treats, you'll have a better handle on how much you're eating, plus you'll really appreciate the goodie"
Why should you appreciate a "goodie" that is not one bit good for you?
Much better to train yourself to like healthy treats. When you have been on a healthy diet for some time and understand what refined sugar and processed fats and oils do to you, you will not even want to eat treats like that.
How to resist unhealthy Halloween food
Better advice from the nutritionist to help you resist the sights & smells of unhealthy food of Halloween in the grocery aisle, or at a friend's party is this: "Three nutritious meals with no more than four hours between them will keep you sated."
When you are hungry the temptation to eat sugary snacks and other unhealthy food is much more intense. Cravings are much less when your body is well nourished too. If you still get cravings you can find out what they might mean here: What Do Your Crazy Food Cravings Tell You?
Another good tip is to "Stay hydrated, because thirst often masquerades as hunger. You may be tempted to eat a Halloween treat when you're really just thirsty."
And, of course this does not mean drinking sugar laden drinks or diet sodas! Try pure water (not tap water) and if you don't like plain water try some of these detox waters:
Another useful tip that will come in handy for Halloween parties comes from Researchers at Cornell University.
They discovered something about how people serve themselves from buffets.Some people browse buffets before serving themselves while others begin loading up at once and don't stop until they reach the end. You probably won't be surprised to learn that browsers end up eating less than loaders.
Halloween parties are going to be full of tempting treats so make your own healthy ones and take your own healthy dish that you know you will enjoy. Attend Halloween parties for the fun and friends, not the food.
Healthy Halloween Treats
Have these energy bars ready for a little snack or treat instead of giving in to something wicked. Take them to work if your workplace has a communal treat dish or your co-workers are in the habit of taking their extra treats to share in the office.
Gogi Energy Bars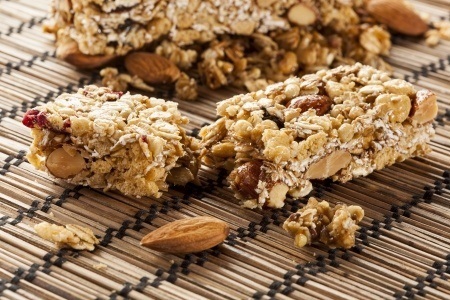 Or keep these for home snacking:
Raw Chia Energy Bar
Ingredients
2 bananas well mashed
2 cups of organic old fashioned oats
1 heaping tbsp of raw almond butter
1 tbsp of cinnamon
1 light drizzle of raw agave (or stevia)
2 tablespoons of raw chia seeds finely ground
Add a few raisins, shredded coconut or chopped apple if liked.
Directions
Place mashed bananas in bowl and add the rest of ingredients.  Mix well together.Spoon mixture into lightly oiled square glass dish and make smooth.
Cover and place in freezer for 30 minutes.
Remove from the freezer, uncover the mixture and slice into bars with sharp knife.
Keep a few in fridge for the ocasional snack and  open freeze the rest until hard and store in freezer in suitable container until wanted. Allow to thaw out before eating.
How about these

No Sugar Oatmeal Cookies:
Raw Blueberry Cream Pie
This goes down well at any party:
Healthy Chocolate Truffles
Is there such a thing? Well, yes there is.
Click here for some awesome recipes.
Or how about an easy to make healthy soup?
Spicy Sweet Potato and Butternut Squash Soup
( from AllRecipes.co.uk)
Ingredients

Serves: 6
25g butter approx
1 large onion, peeled & chopped
1 clove garlic, peeled & crushed
1 medium butternut squash, peeled and cut into 2.5cm cubes
1 large sweet potato, peeled and cut into 2.5cm cubes
750ml vegetable stock
2 teaspoon chilli powder
1 teaspoon ground cumin
1 teaspoon ground coriander
Himalyan or Celtic salt and black pepper
Directions
Melt the butter over a low to medium heat in a large saucepan.
Add onion to the pan. Cook, stirring occasionally.
Add the garlic to the pan and stir.
When the onion is soft, add the chilli powder, cumin and the coriander and salt and pepper.
Fry for a few minutes, then add the butternut squash to the pan and stir.
Add sweet potato to the pan.
Pour in the stock and make sure everything is covered adding hot water if necessary and give it a good stir ensuring you get all the bits off the bottom.
Bring to the boil and simmer until the vegetables are soft.
Add extra hot water, if things start looking too dry.
Allow to cool a little and then blend to the desired texture.
Serve and enjoy!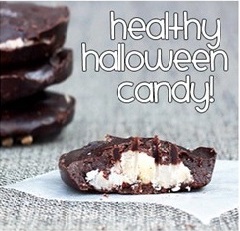 Want even more Healthy Copycat Halloween Candy Recipes? Chocoloate Covered Katie has it covered here.
So, if you don't want to ruin the detox you did or your healthy eating habits I hope you will find these Healthy Halloween Treats and tips useful.   Do you go out of your way to avoid the unhealthy halloween treats?  Do you have any favorite healthy recipes for Halloween? If so why not share them with my readers in the comments below.
And don't forget, if you like this post,  please share it using the share buttons below.