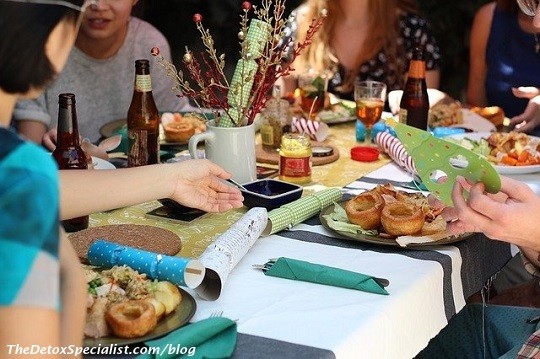 With Thanksgiving just  around the corner for Americans and the holiday season fast approaching it's easy to get caught up in all the festive eating and ruin the results of your latest detox diet.
It's said that the average American consumes around 3,000 calories during their Thanksgiving Day meal. And according to the Food Standards Agency in the UK the average person's food intake on Christmas day stacks up to whopping 7000 calories.
With many people consuming an extra 500 calories a day during the season it's not surprising that the average adult gains around 5lbs ( 2.3 kg) by the time January arrives.  Neither is it surprising that the main complaints are bloating and indigestion, the after effects of alcohol, stress, and feeling tired. No wonder everyone want to go on a detox diet in the New Year.
Let's look at how to avoid all this with a few Healthy Living Tips
How to beat the bloat
The obvious answer is not to eat too much but that's not always easy especially when you are surrounded by all sorts of tempting goodies.  Thanksgiving and Christmas are not days to be dieting but making a plan for holiday eating it is possible to enjoy your meal and not feel stuffed and bloated.
Chewing your food slowly and well can help prevent overeating. It allows your brain to register that you are full. Chewing your food well helps to stimulate the digestive juices so your food will be digested better. Undigested food leads to bacterial fermentation which can result in bloating.
Avoid eating too many vegetables like broccoli, cauliflower, and cabbage and beans if you are not used to it. They contain sugars that some people find hard to digest.
Try to avoid talking while you are eating or drinking from a straw as you could gulp down a lot of air which can cause you to bloat. Gassy drinks are also out.
While drinking more water can help prevent constipation avoid drinking a lot with meals. It's nice to have a glass of wine with a meal but drinking too much fluid while eating can dilute the digestive juices.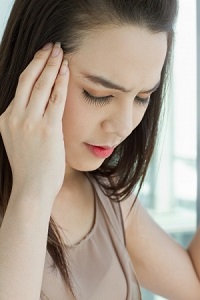 Avoid a hangover
With the best will in the world avoiding alcohol at this time of the year is easier said than done for a lot of people. It's easy to make yourself a promise that you will never drink too much again and wake up in the morning feeling like death but so much harder to do when everyone else is downing it.
A little advance planning is called for here so you do not drink on an empty stomach. Make sure you eat a snack before you go out if you know you will be drinking before a meal. A good way to slow down your drinking and avoid dehydration is to alternate alcoholic drinks with water or natural fruit juices with no added sugar.
If you are drinking more than you usually do it can help to choose some liver cleansing foods like carrots, beetroot, garlic, onions, leeks and watercress.
Try taking a supplement of artichoke. It helps to stimulate bile which helps with digestion and may help eliminate alcohol from your body too.
Should you overdo it and wake up with a hangover the best advice is to drink plenty of pure water or fruit and vegetable juices and avoid fried and fatty foods that will overload the liver. Having another alcoholic drink may make you feel better for a while but will eventually make you feel worse.
Supercharge your Energy
De-stress
There is no doubt that getting stressed zaps your energy. Try to grab some quiet time for yourself and do some deep breathing exercises. It might sound silly but you will be surprised at how calming it can be.
Have a relaxing bath with some soothing essential oils before bed. Buy a ready made blend or make your own with Lavender, Neroli, and Chamomile. Getting enough sleep is one way of avoiding a drain on your energy reserves.
Eat your way to energy
Eating and drinking late at night can disturb your sleep. Lack of sleep can lower the levels of the hormone leptin which makes you crave fast releasing carbohydrates like sugary cereals, cookies ( biscuits), and cakes. If you give in to these you will be on an exhausting roller coaster of blood sugar highs and lows all day.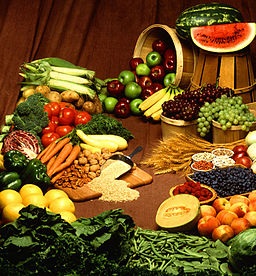 It's important to think about what you are eating and drinking. For sustained energy focus on slow releasing carbohydrates. Instead of refined or sugary foods have whole grains, fresh vegetables and fruit. Avoid stimulants like coffee, tea and cola which may give you an instant lift but will cause an energy crash later.
Eating regular wholefood meals with a small snack in between will help prevent an energy drain. Energy bars make a great snack to carry with you if you are always on the go. Choose those containing whole grains like oats with some protein ( nuts and seeds) and fruit. Avoid those with added sugar and high fat.
More tips here on How to Beat the Party Season Weight Gain
Get active
Getting active is crucial to this energy boosting plan. Exercise lowers the energy zapping stress hormones. Brisk walking, rebounding on a mini trampoline, swimming or a quick workout in the gym will help to get the blood flowing faster and is a sure way to boost your energy.
Fun and feasting can take their toll on your health but with these simple Healthy Living Tips you can make the most of the holiday season and limit the damage so you won't ruin the results of your latest detox diet.