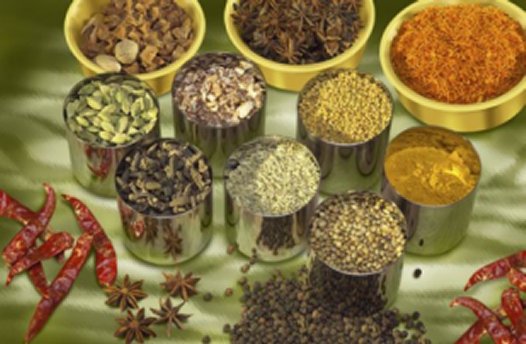 Spices can perk up any meal and are fantastic for your health. Winter is not the time for following a very restrictive detox diet but you can still eat healthily and add spices that will not only warm you up but will help you gently detox too. Spices have been used traditionally in Natural medicine for years but science is showing that they are powerful weapons against many diseases.
Turmeric
Ground turmeric is the spice that makes rice and curry dishes yellow. It has long been used in China and India to treat many conditions including including diarrhea, fever, jaundice, bronchitis, colds, worms, and bladder and kidney inflammations. It is commonly used in Ayurveda to purify the blood and treat skin conditions.
Turmeric treats the entire digestive system. Traditionally it is used for weak stomachs and poor digestion. It can calm an upset digestive system by getting rid of gas and distention and increase bile production helping with detoxification of toxins that the liver has processed. Recent research has shown that it can help with healing peptic ulcers and may be useful for Colitis and Crohn's disease.
Turmeric has antioxidant properties and increases the levels of the enzymes glucuronyl transferase and glutathione S-transferase (GST), which are essential for liver detox. Curcumin is the compound in turmeric that makes it yellow and it has an inhibiting effect on Phase 1 Liver Detoxification while stimulating Phase 2.
In doing this it helps to lessen the activation of cancer causing chemicals while speeding up the detoxification of the ones that have been activated. Cucumin can directly inhibit cancer cells too.
Turmeric loses it's potency after about 6 months so buy it fresh and store in a cool dark place. Just make sure it is from a reputable source and is guaranteed to be free from contaminants. A few years ago Consumer Labs found that some curcumin supplements were contaminated with lead which is, of course, very toxic.
Turmeric blends well with cumin, cinnamon, paprika, and ginger. You can add it to rice, lentil dishes, casseroles and stews, potato dishes.
Ginger
Ginger  belongs to the same plant family as Turmeric and is an excellent spice for the digestive system. It has long been used as a folk remedy for nausea of pregnancy. Studies have shown that ginger has good antibacterial properties and the active constituents of ginger can prevent the multiplication of colon bacteria which ferment undigested carbohydrates causing gas.
Studies have shown that ginger also stimulates GST in the liver,  lungs, intestines and kidneys so can help protect against xenobiotics (foreign toxic chemicals).  The GST enzymes play a major role in detox and help in the conversion of toxic substances to safer forms that can be excreted form the body.
The spice can also increase motility in the gut and stimulate bile production.  Bile is one way the liver gets rid of toxins that have been through the detox system.  So you can see that ginger is good for detox and cleansing.
Buy fresh ginger root (actually an underground stem), peel off the skin and slice into matchsticks, chop, grate or  purée, and add to vegetables dishes, stir fries,  rice, soups and of course green smoothies and juices.
Cumin
Cumin is a seed that has a very distinctive taste and is used in the cuisines of many countries. It s apparently the second most popular spice in the world after black pepper.  Cumin seeds have traditionally been used for digestive disorders. Scientists have shown that cumin may stimulate the secretion of pancreatic enzymes which are needed for digestion of food and may also help to stimulate liver detox enzymes.
Best known as an important ingredient of Indian curry powder these little seeds have over one hundred different chemical constituents, including all the essential fatty acids. It is also used in Mexican and Middle eastern dishes. Use it as a tasty addition to any lentil, bean dish or rice dish.
Cayenne Pepper
The heat of peppers comes from their high concentration of capsaicin which is known for its ability to stimulate the circulation and digestion.  Researchers showed that people consuming meals with ground cayenne pepper had reduced hunger and higher calorie burning effects after the meal compared with those who didn't.
Cayenne stimulates intestinal motility so helps with elimination. By improving the circulation it can help with liver detoxification. The better the blood circulates through the liver the better it can process chemical toxins so they can be removed from the body.
Cayenne is a vital ingredient of the Master Cleanse drink also known as the Lemonade detox drink. Instead of doing the full Master Cleanse you can take a lemon cayenne pepper detox drink every morning for 3 to 10 days to cleanse the liver.
Here is the recipe for the Lemon Cayenne Pepper Detox Drink
Blend together the juice of 1 medium lemon with 8 oz water, 1 tablespoon virgin olive oil, 1 clove of garlic, a small amount of grated root ginger to taste and ¼ – ½ tsp cayenne pepper until well mixed. Sweeten with a little orange or apple juice or add a few drops of Stevia if you have to. Drink slowly and follow with a small glass of water or juice to cleanse the mouth of the oily taste.
It's better to start with a very small amount of cayenne to begin with and gradually build up the dose as it can take a bit of getting used to.
Add a pinch of cayenne to salad dressings, soups or meats.
By using these wonderful spices in your food you get all their health benefits and help encourage detox during the cold weather without going on a strict detox diet.