If you use hair dye to look younger or improve the way you look you could actually be shortening your life.  In England a 17 year old girl recently died in hospital after she reacted badly to Para- Phenylendiamine (PPD) an ingredient in the hair dye she used to darken her hair.
Although it has not been proven that PPD killed her it is present in many hair dyes and is known to be toxic to the liver, kidneys, immune system, nervous system and respiratory system. Campaigners are calling for a ban on it.
PPD is also used in black henna skin paint used for temporary tattoos. Strangely enough the US FDA has banned it for direct application to the skin but allows it in hair dye although studies have shown that the chemicals are absorbed into the body through the scalp.
Hair Dyes & Liver Disease
Scientists have been warning women and men for years that hair dyes may cause cancer but some latest research revealed that millions of people who regularly dye their hair could develop a fatal liver disease.
Researchers suspect that octynoic acid, a chemical found in hair dye, nail polish and other cosmetics could cause a progressive liver condition called primary biliary cirrhosis (PBC). It can  block bile ducts which interferes with the liver's ability to detox toxins properly. Other chemicals in hair dye are suspected of causing liver damage too.
Hair Dyes & Cancer Risk
Incredible as it may seem over 5,000 different chemicals are used in hair dye products. Early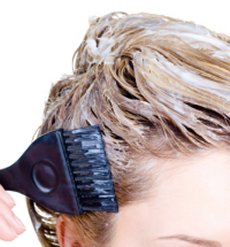 hair dye products contained chemicals that were found to cause cancer in animals and some of these were removed in the 1970s.
The main concern is over semi-permanent dyes and the permanent dyes. Dark hair dyes are considered to be worse than lighter ones because they contain a higher concentration of chemicals.
Some studies have shown show that hairdressers and barbers have a higher risk of cancer of the bladder, lung, larynx, and multiple myeloma than the rest of the population. Most studies on people people who have their hair dyed have not found a the same increase in bladder cancer risk.  it seems that hairdressers are more likely to be breathing in the toxic fumes as they mix the dye and apply to their customer's hair.
Dr Yu, professor of preventive medicine at the University of Southern California's Keck School of Medicine found that the more hair dye a person uses, the higher that person's risk of bladder cancer.
Hair Dye and Liver Detox
Studies on the dangers of hair dye are conflicting but evidence of the dangers is increasing as more studies are done. Dr. Manuela Gago-Dominguez, a California researcher, stated that women who detoxed the carcinogenic chemicals more slowly had a higher risk of cancer.
Due to their genetic make up some people are not able to detox certain compounds and others have detox enzymes that work more slowly. Researchers know that is is possible to rev up the liver detox enzymes with certain substances found in food and herbs.
I have heard of several people who had used hair dye and were following the Gerson Therapy for cancer say that they leaked black liquid from their scalps during the therapy. The detox effect of the juices and foods and juices were enabling the cells to push out the toxic chemicals that were still being stored in the tissues.
If you have regularly used hair dye in the past it is a good idea to follow a detox program to help detox the chemicals that may still be stored in your body.
Natural Hair Color
Fortunately there are some natural hair coloring products on the market. Unfortunately some so called natural hair color products still contain the same chemicals as conventional products. Read labels and avoid PPD, octynoic acid, formaldehyde and ammonia.
Doctor Marchese says the most toxic chemicals in hair dye include: coal tar, sodium laurel sulfate, parabens, pthalates, acetate and ammonia.
You can find companies who have pledged not to use chemicals known or suspected to cause cancer in their products here: http://www.safecosmetics.org/ Or look up products on the Environmental Working Group's cosmetic database: http://www.ewg.org/skindeep/
Have you found any good really natural hair color products? If so please share them with my readers in the comment box.