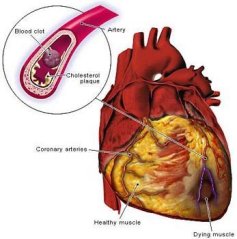 It's a fact that half the people who have heart attacks have normal cholesterol levels and that simply treating people with heart disease for high cholesterol does not have much impact on their condition. Let's take a look at how a good detox diet can help prevent heart disease.
Doctors tell us that heart disease is caused by family history of heart disease, high blood pressure, overweight, smoking, diabetes and especially high cholesterol. Modern drugs and surgery can slow down heart disease but there seems little that doctors can do to prevent fatal heart attacks. So it seems that there is more to the puzzle.
Inflammation is the real cause of heart disease
Researchers have recently recognised that inflammation is involved in the formation of plaque in your arteries. Inflammation is the root cause of heart attacks and strokes, not cholesterol. A detox diet can help drive inflammation from your body but let's look at cholesterol for a moment.
Cholesterol is the repair man of the body
Cholesterol is not the bad guy that it is reputed to be.  Cholesterol is one of the most essential substances in your body. Every single cell in your body is made up of a number of different fats including cholesterol. Many of your hormones are made from cholesterol.
Cholesterol is the repair man in your body. Let me explain. Your blood vessels are lined by a thin layer of cells called the endothelium. Toxins that end up in your body end up in the blood stream where they damage the endothelium. This signals your liver to send cholesterol to repair the damage. It is sent out as LDL (low densitiy lipoprotein). Too much LDL, as you know, is considered to be bad.
Then, when the damaged blood vessel lining is repaired the cholesterol is taken back to the liver in the form of HDL, ( high densitiy lipoprotein) often referred to as "good" cholesterol. It's good that the repair has been done but the LDL was really doing good too.
Toxins damage arteries
At the same time, when the arteries become full of toxins, bacteria from infections and free radicals, your immune system produces more immune cells to deal with them. This creates swelling , heat and redness. It's called inflammation.
The idea that plaque is simply a deposit of fat in the artery is quite wrong. The latest research has established that it is an out of control inflammatory attempt by the body to repair damaged endothelium.
So you can see now that if your LDL is too high you have to look more deeply at what is going on in your body.  A good blood test that tells your doctor if you have underlying inflammation is C-Reactive protein.
Homocysteine
Another substance that is thought to damage the endothelium is high levels of homocysteine. Homocysteine (pronounced homo-sis-teen) is a breakdown product of the amino acid  methionine that comes from protein in the diet. You can get a test for this too. If it's too high then you may be lacking in certain nutrients like B12, B 6, or folic acid.
We have been warned that fat, red meat, dairy products and fried food can trigger inflammation but so do processed foods,  sugary foods, white flour products such as white bread, cakes and cookies.
Detox the artery damaging toxins
So this is where the detox diet comes in. It can not only help cleanse your body of the toxins that are damaging your arteries but it can help to reduce inflammation.
A good detox diet can help your blood to become more healthy, your immune system and heart to be stronger.  Studies have shown that a high fruit and vegetable based diet can have a very positive effect on your blood chemistry.
8 servings of fresh fruit and vegetables a day protect your heart

When I say high amounts of fruit and vegetables I mean high. The latest ongoing research into heart disease shows that your 5 a day may no longer be enough. To get maximum protection you need to eat 8 a day. Every extra portion of fruit and vegetables provides you with extra protection.
The inflammation is cooled, your cholesterol drops, you will lose some weight and you're far less likely to have a heart attack. Want to learn more about a detox diet ? Get my Definitive Detox Diet plan here:
The Definitive Detox Diet