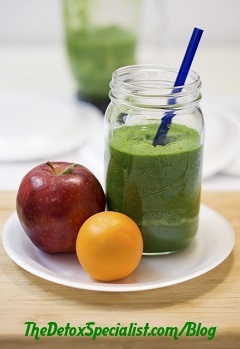 It's not all that easy to do a juice cleanse. It involves the commitment of abstaining from eating solid foods and drinking juice instead, so for newbies it's inconceivable to aim for a 7-day+ juice cleanse. Even a 3-day cleanse is a bit of a stretch if you are only just starting out.
That's why if you're thinking of doing a juice cleanse, you should really start with a 1-day power cleanse and go from there. And that's exactly what I am going to uncover in this post.
I might add, that if you are able to get through this 1 day power cleanse, then you will be better equipped to tackle longer juice cleanses such as the 3 day, 5 day and even 10 and 30 day cleanses. You can learn much more on juice cleanses and recipes by visiting this comprehensive guide.
But how do you do a 1-day power juice cleanse? The process doesn't just involve the actual day of the juice cleanse. Instead, you'll need to prepare a few days beforehand, and then there's a post-cleanse process during which you will need to reintroduce food back into your normal daily diet.
So before outlining the 1 day juice cleanse plan, let's tackle the preparation side of things.
Pre-Cleanse Process
How many days do you need to prepare?
That actually depends on what kind of health aficionado you are (or aren't, as the case may be).
What should you do during your days of preparation?
Now it's time to prepare:
Basically, you're easing yourself into a healthier lifestyle. All these steps will make the cleanse day less of a shock, which makes it more doable.
During the Cleanse
Now what should you do during the actual day of the cleanse? Prepare yourself for the following steps by preparing all the needed materials during the pre-cleanse period.
Post-Cleanse Period
You've done it! Now that you're into your post-cleanse period, here's how you get back to your normal healthy diet.
Just take your time when it comes to strenuous activities, and ease yourself into your workout. The key is to ease into and out of a cleanse, even it is just a 1 day power cleanse, it's important that you get your body ready before and after. The goal is to help you get into a healthier lifestyle afterwards!
1 Day Juice Cleanse Recipe Plan
Breakfast Juice  (Apple Carrot & Lemon)
2 x Medium Green Apples
1 x Medium Red Capsicum
4 x Medium Carrots
3 x Celery Stalks
1 x Bunch Romaine Lettuce
1 x Medium Lemon
Method:  Place all the ingredients through the juicer and serve over ice.
Morning Snack (Cucumber Coco Beets)
1 x Small Red Beet
2 x Medium Cucumbers
3 x Medium Beet Greens
1 x Large Coconut
Method: Set aside the coconut water from the young coconut (about 2 cups). Peel the red beets and chop them into pieces. Process all the ingredients in a juicer.
Lunch Juice (Grapes, Kale and Mustard)
1 x Medium Lemon
3 x Cups of Red Grapes
4 x Kale Leaves
1 x Mustard Green Leaf
Method: Remove the lemon's outer rind. Section it but keep the white pith intact. Use a low-RPM juicer, alternating grapes, kale, the lemon sections, and the mustard green leaf.
Afternoon Snack (Grapefruit and Pineapple)
½ x Pineapple
2 x Grapefruits
Method: Peel the pineapple and cut in half. Set aside the other half for later, and cut the other half into smaller pieces. Peel the grapefruits. Juice them together and drink immediately.
Dinner Juice (Spinach and Pineapple)
½ Pineapple
1 x Lemon
1 x Bunch of Spinach
Method: Wash the spinach. Slice the pineapple that you set aside previously.. Remove the outer rind of the lemon. Feed all the ingredients to the juicer.
Author bio:  Joana is the editor in chief over at The Juice Chief. She's a prolific blogger with a bachelor's degree in Food and Nutrition and is deeply passionate about organic juicing, nutrition and fitness. She also loves helping others succeed with their health goals.
Image by Bertholf
Save
Save
Save
Save