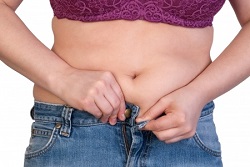 There are many reasons for bloating and abdominal distention but at this time of the year it's usually due to excess refined carbs, sugar, salt and alcohol. Fortunately there are a number of easy, quick and natural fixes to get rid of bloating and restore digestive balance.
Chew food well, Eat slowly and Relax
Abdominal bloating is usually caused by intestinal gas. It is produced by bacteria in your gut that ferment undigested food.
Digestion starts in your mouth with the salivary enzymes. If you just bolt your food without chewing you miss out on this important part of digestion. Your stomach is not designed to digest large pieces of food, and you are more likely to get bloating, indigestion and discomfort if you eat quickly.
Avoid eating large meals. Your digestion can only cope with a certain amount of food. If you overload your stomach with all sorts of foods you won't be able to digest it fully and those bacteria will have a field day fermenting it.
Never eat when you are stressed. Stress hormones slow down the digestive process so try to create a restful and relaxing atmosphere when you eat.
Never eat on the go. It's a complete disaster. When you eat on the go you are likely to take in large gulps of air which gets trapped in your digestive system and causes bloating.
Take 1 tbsp raw unfiltered apple cider vinegar ( ACV) in a little pure water before meals. It helps to provide the acid your stomach needs to digest food. ACV is a natural antibiotic that fights germs and bacteria.
Avoid gassy foods & drinks
Certain foods create more gas than others in your GI tract. Beans, cauliflower, broccoli, Brussels sprouts, cabbage, onions, whole grains (especially wheat), green peppers and citrus fruits are notorious for creating gas. Try avoiding them to see if they help to reduce bloating.
Sugar alcohols found in sugar-free foods (sorbitol, mannitol and xylitol) cause digestive problems for some people. If you have been detoxing sugar and replacing it in recipes with xylitol you may find that you get more gas than usual. You can't win it seems.
Carbonated drinks will just fill you up with bubbles as they release carbon dioxide gas.
Drink Soothing Teas
Ginger Tea
Ginger helps to relax the intestinal tract and it also alleviates intestinal inflammation. Drinking ginger tea is a great way to get rid of bloating if you are prone to digestive upsets or irritable bowel.
Simply peel and chop a small section of ginger root and steep this in warm water for a simple and soothing tea. You can also add fresh ginger to stir fried food, soups and other foods as an effective form of gas prevention.
Peppermint Tea
Peppermint has a calming, cooling and soothing effect on the gut. It has anti-spasmodic properties and helps get rid of bloating and gas. It is also helpful if you have nausea or travel sickness and works well with ginger as a tea.
Researchers found that peppermint activates an "anti-pain" channel in the gut. For quick relief, sip a cup of peppermint tea to help relax the digestive tract.
Morning Bloat Buster
Try this recipe from naturopath and gut guru Michèle Wolff.
Combine 2 tsp. barley, 2 tsp. coriander seeds, 2 tsp. fennel seeds, 4 raisins. Put all into a thermos of almost boiling water overnight. In the morning strain and squeeze the ingredients and add a few drops of lemon juice, 2 tsp. aloe vera juice, 2 pinches of turmeric and 2 pinches of cinnamon.
Beat The Bloat Juice                                                                                                                                                                                        

Pineapple contains digestive promoting enzymes that aid digestion. Celery helps relieve bloating and water retention. Fennel and ginger root are excellent foods for rebuilding the gut flora. All super foods to get rid of bloating!
Ingredients
½ small pineapple
½ medium sized fennel bulb
2 stalks celery
1 inch piece ginger
Cut all ingredients into suitable sized pieces and put through your juicer. Sip slowly.
In this Video Rawvana shows you how to prepare another Juice to Get Rid of Belly Bloating and Gases
Activated Charcoal
Activated charcoal is charcoal that has been treated to increase its binding power. It's available in most health stores in powder, pill and capsule form. This negatively charged substance is believed to bind toxins in the gut that are then eliminated from the body in a bowel movement.
Some Emergency Rooms administer large doses of activated charcoal for certain types of poisoning. I would not advise using it long term for persistant bloating but it can help to get rid of bloating due to overindulgence on festive occasions.
If these quick, natural solutions to get rid of bloating you could try this easy digestive system cleanse.