Brilliant fat loss chef Diana Keuilian has just published her book The Recipe Hacker Cookbook. It's packed with over 100 healthy,  fat burning recipes for metabolism boosting meals and desserts that taste amazing so that you can lose body fat without dieting, counting calories or sacrificing flavor.
Every fat burning recipe in The Recipe Hacker cookbook is made with fat loss promoting ingredients, and that means there is no refined sugar, gluten, grain, dairy, or soy in any of these tasty recipes.
Now you can cook healthy, fat burning, and amazingly delicious meals for yourself and your family!
Yet, when you make these meals and desserts and taste them,  you'll swear that they're good ol' fashioned comfort foods. In reality, they're fat burning recipes that are easy to make prepare and designed to get your body to automatically lose weight and burn belly fat.
I'll let Diana tell you more about them:
Another meal, another salad? When fat loss is your goal, it's easy to fall into a salad rut. And while a dark leafy salad with a side of lean protein is a fantastic choice – it quickly gets boring.
Today I'd like to bring some excitement back to your meals with three of my favorite recipe hacks. What's a recipe hack? It's when you find a super healthy way to create a recipe that tastes like a cheat meal, yet actually burns fat and speeds up your metabolism.
Sneaky, right? Let's dig in…
Recipe Hack #1: Fat Burning Rice
Rice is such a delicious side to enjoy with dinner. It pairs well with grilled meat, stir fried dishes, baked chicken breast, meat loaf and a number of other main dishes.
The problem with traditional rice (yes even brown rice) is that it contains such a high amount of carbohydrates and calories. All of these carbohydrates and calories are going to disrupt your fat loss.
But you already knew that, hence the salad.
What if I told you it was possible to create rice that contained negligible carbohydrates and calories and still tasted amazing? Yes, it's possible, all thanks to the humble cauliflower.
Shredded cauliflower rice truly is fat burning rice. And it's oh-so-simple to make. Here's my basic cauliflower rice recipe, which is ready in 10 minutes flat:
Cauliflower Rice 
Serves 4
• 1 head organic cauliflower
• 1 Tablespoon coconut oil
• Sea salt and black pepper
1. Wash cauliflower, discard the leaves, and chop into small pieces. Grate the pieces with a food processor.
2. In a large skillet heat the coconut oil over medium. Add the shredded cauliflower. Sauté for about 5 minutes, until tender. Season with salt and pepper. Serve as you would traditional rice.
Calories: 66 Fat: 3 Carbohydrates: 7 Sodium: 87 Fiber: 4 Protein: 3
Recipe Hack #2: Fat Burning Noodles
Few foods in life are as comforting as a bowl of warm, starchy noodles. Likewise, few foods are as fattening as noodles, which is why you avoid them like the plague.
What's crazy is that most pasta sauces (with the exception of those creamy, white ones) are full of protein and healthy fiber—but we miss out on these yummy sauces since we don't want to eat regular noodles.
Until now. Drum roll, please…
With the use of a spiral vegetable slicer, wholesome zucchini is quickly and easily transformed into long, tender noodles. Now if you don't have a spiral slicer, and have no desire to purchase another kitchen gadget, no worries, simply use a vegetable peeler to create, long flat noodles.
Now let's welcome our delicious spaghetti sauce back with opened arms, and pour it all over a big pile of fat burning zucchini noodles! Try this comforting recipe:
Fat Burning Spaghetti

Serves 6

• 1 Tablespoon olive oil
• 6 cloves garlic, minced
• 1 yellow onion, chopped
• 1 fennel bulb, chopped
• 4 carrots, sliced
• 1 cup mushrooms, sliced
• ¼ cup chopped olives
• 2 (14.5 oz) cans diced tomatoes
• 1 (14.5 oz) can tomato sauce
• 2 Tablespoons tomato paste
• ½ cup dry red wine (Cabernet works well)
• 2 Tablespoons Italian seasoning
• ½ teaspoon sea salt
• ¼ teaspoon black pepper
• ¼ teaspoon sweet paprika
• 1 pound ground beef
• 6 zucchinis
• ¼ cup fresh Italian parsley, chopped
1. Coat the inside of your slow cooker with olive oil. Add the veggies, mushrooms, olives, tomatoes, tomato sauce, tomato paste, wine and the seasonings. Mix well.
2. Add the ground beef on top of the veggie mixture, breaking it into chunks. Lightly press the beef down into the sauce, but be careful not to break up the chunks.
3. Cook on low heat for 7 hours.
4. Wash the zucchini, and do one of these methods for making noodles: 1) Use a vegetable peeler to create long, flat noodles. Stop when you get to the seedy middle part of the zucchini. Or 2) Use a spiral slicer to create noodles — see the video below to see how.
5. Plate the zucchini noodles and top with warm beef spaghetti sauce. Sprinkle with chopped parsley. Enjoy!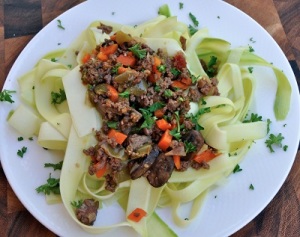 Calories: 241 Fat: 6 Carbohydrates: 26 Sodium: 841 Fiber: 7 Protein: 17
Recipe Hack #3: Fat Burning Flour
When your goal is to lose body fat and to live a lean, healthy life, baked goods become a thing of the past. You walk passed that bakery display without a second glance.
And for good reason.
Traditional baked goods are made with white flour and filled with refined sweeteners. AKA: fat burning suicide.
So what are you to do when you simply can't go another day without a big fluffy muffin? I've come to discover that fat burning flours do exist…flours that are filled with protein, fiber and healthy fats.
You see, the problem with white flour is that it's made of very simple carbohydrates and is lacking any fat or protein to balance those carbohydrates out. (There's also the issue of gluten, but that's a whole other soapbox.) This overload of simple carbohydrates is joined by the refined sugar that's also in your traditional baked good – which sky rockets your blood sugar and begs your body to store the calories as fat.
I've found that by combining high quality protein powder with blanched almond flour, I'm able to create a flour blend that is low in carbohydrates and high in fiber and healthy fats. In addition, I use wholesome sweeteners, such as dates, bananas or coconut palm sugar, rather than the refined, simple sugars of traditional baked goods.
The result is a wholesome, fat burning muffin that you're able to enjoy (in moderation!) with zero guilt. Make a batch of these muffins and you'll see what I mean. If you're loving pumpkins right now, feel free to sub the 1 cup of baked sweet potato with 1 cup of canned, unsweetened pumpkin 🙂
Sweet Potato Protein Muffins

Serves 12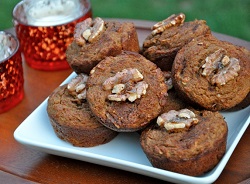 • 1 cup almonds (or almond flour)
• 10 dates, soaked in hot water for 10 minutes
• 1 cup baked sweet potato, skin removed
• 1 cup vanilla flavored protein powder
• 3 organic eggs
• 1 teaspoon vanilla extract
• 1 teaspoon ground cinnamon
• ½ teaspoon ground nutmeg
• ¼ teaspoon baking soda
• pinch of sea salt
1. Poke a sweet potato all over with a fork and bake at 425 degrees F for 40 minutes. Remove from oven, cool, and remove the skin. Reduce oven temperature to 350.
2. Pulse the almonds in a food processor until finely ground. Add the remaining ingredients to the food processor and pulse until fully combined.
3. Generously grease a 12-muffin tin with coconut oil. Divide the batter between the 12 muffin tins and bake for 15-20 minutes.
Calories: 134 Fat: 6 Carbohydrates: 10 Sodium: 107 Fiber: 2.4 Protein: 9
Diana Keuilian, the Recipe Hacker, loves food WAY too much to give up flavorful, delicious dinners, snacks and desserts. In her new cookbook, The Recipe Hacker, Diana breaks the recipe code for your favorite foods by removing the gluten, dairy, soy, grains and cane sugar.
Learn to use easy ingredient substitutions to transform traditional dishes into real, healthy comfort food masterpieces without sacrificing any of the flavor!
Dianna's book with over 100 delicious, fat burning recipes for breakfasts, dinners, and desserts is available now!
Click here to get your copy of The Recipe Hacker, Comfort Foods without Soy, Dairy, Cane Sugar, Gluten, and Grain.