If you want to take your green detox diet a step further than a diet of lots of fresh fruit and vegetables why not add some super nutrition with your own home grown indoor greens?  It's so easy to grow an abundance of high quality, enzyme packed salad greens, to harvest freshly all the year round.
While you may not want to eat an all raw food diet, raw salad vegetables, full of enzymes and chlorophyll, have great health benefits. Full of essential nutrients and anti-aging power they make a great addition to your morning detox smoothie.
I have already reprinted Part 1 of Karen Knowler's article on the what and why's of growing indoor greens here and Part 2 follows below.
The Raw Fooder's Guide to Indoor Greens Part 2: Varieties of Greens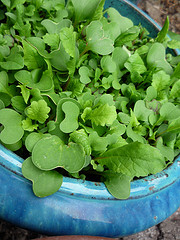 Growing indoor greens is a super-cheap, highly nutritious and fun way of bringing the freshest green plants into your diet. They are high in chlorophyll, which is evident from their lush green appearance, and, like sprouts, are among the most live foods you can eat. Here is my quick guide to the various types of greens you can grow.
Wheatgrass (includes spelt grass, kamut grass and barley grass)
Wheatgrass is now a relatively well-known health tonic sold in juice bars worldwide. It is simply grass which has been grown from wheat grains (or wheat berries as they are also known) and then juiced in a wheatgrass-friendly juicer.
There are many health benefits associated with wheatgrass, ranging from a general pick-me-up to part of treatment programmes for cancer and other "incurable" diseases in health institutes worldwide. It's powerful stuff.
Wheatgrass should not be eaten as is, since the human body is not capable of digesting grass. Some people chew it for a while, like they would chewing gum, extracting the juice that way before spitting it out. It's also great as a breath freshener and healthy gum treatment.
Wheatgrass is very cheap and easy to grow. You can buy it ready grown, but it's easy – and much cheaper – to grow your own. Growing time is typically 3 days to sprout the grains, 3 more days for them to take root in the soil and a further week to grow into grass and to their best height.
NB: Those who have allergies or sensitivities to wheat rarely experience any problems with wheatgrass.
Sunflower
Sunflower greens start life as a simple sunflower seed. For this purpose the seeds need to be unhulled, which means they have either a black or a stripy shell (like bird food). They can be hard to find in the shops but are available by mail order.
At their peak sunflower greens consist of tall, strong shoots with small but thick "leaves" at the top. The whole green is eaten, from the base of the stem up to and including the leaves. They're crunchy and juicy and taste slightly bitter yet slightly sweet.
These are my favourite, providing an exceptionally nutritious plant which tastes incredibly fresh and alive. I like to use them in salads and in wraps.
Buckwheat
Buckwheat "lettuce" looks nothing like lettuce at all! Unhulled buckwheat groats grow into tall thin shoots with a rather weak-looking leaf either side at the tip. It's a valuable green to grow but rather more difficult to master than the others, which are hardier and easier to grow successfully. Buckwheat was once held as the third most valuable indoor green after wheatgrass and sunflower greens, but it has recently been replaced by the much hardier and fresher-looking pea greens. Buckwheat greens can be used in salads or wraps or in green juices.
NB: Some people have allergic reactions to buckwheat greens when eaten to excess.
Pea
Pea greens are grown in exactly the same way as wheatgrass, sunflower and buckwheat greens and are grown from the seeds of snow peas (mangetout). They grow tall and strong, again with leaves developing at the tip, and they're extremely sweet. They are the most beautiful fresh shade of green you can imagine. This is great eaten as it is from the base up, or added to juices.
Indoor greens really are second to none when it comes to adding fresh, green, live foods to your daily diet. I really can't recommend highly enough that you experiment with them, discover your favourites and enjoy a daily dose of health-giving goodness!
What are your favorite greens for a green detox diet?
Karen Knowler, The Raw Food Coach publishes "Successfully Raw" – a free weekly eZine for raw food lovers everywhere. If you're ready to look good, feel great and create a raw life you love get your FREE tips, tools and recipes now at www.TheRawFoodCoach.com.