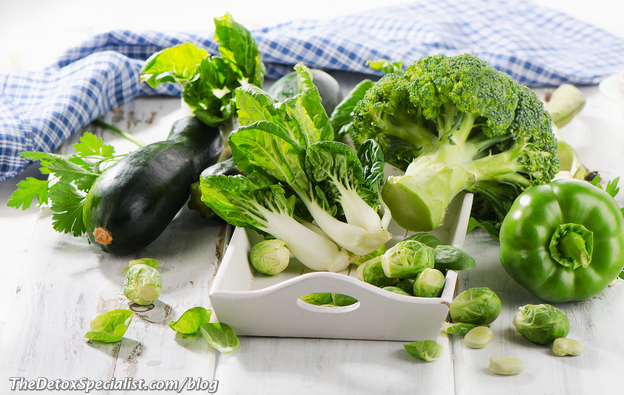 When I say go green I'm talking about green vegetables of course! Packed with vital nutrients they a great way to get your 5 – 9 a day but they have a wealth of health and detox benefits too. Feel your body thriving, tingling with a new-found vibrancy because of these amazing foods you're putting into it.
Your liver neutralizes unwanted chemical compounds that are produced in your body or get into it from your food, drink, and your environment with a two step process known as Phase 1 and Phase 2.
Cruciferous vegetables, (Brassicas) are known to contain substances that stimulate these detoxification enzymes and help to protect you against cancer. It's important that these two systems work well to get rid of toxins as soon as possible.
Cruciferous vegetables include broccoli, cabbage, cauliflower, Brussels sprouts, collard greens, kale, mustard greens, turnips, rutabagas
(swede), Bok choy, watercress and arugula.
Related reading: How to use Kale for Detox
Here's my pick of the leafy green bunch: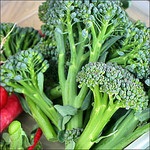 Broccoli
King of the low carb vegetables, broccoli is rich in beta-carotene, vitamin K, vitamin C, folate, calcium, fiber and potent anti-oxidants. Broccoli can be a good source of calcium for those who don't drink milk.
Broccoli contains sulforaphane, a potent sulfur-containing chemical, which can turn on your genes and cause them to produce both antioxidant, and detoxification enzymes . To take advantage of the detox benefits of supforaphane you should eat broccoli raw or lightly steamed. Boiling or microwaving significantly reduces the enzyme that is needed to activate sulforaphane.
There are different varieties of broccoli including calabrese, purple broccoli and white broccoli. The broccoli sold in supermarkets is usually calabrese and not true broccoli at all but for our purposes they are the same thing.
Choose broccoli that has small tight, compact buds with firm stems. Shun broccoli that is turning yellow or is limp. Broccoli can be eaten raw in salads, marinated or served with dips, steamed, sautéed or added to soups and casseroles.
Recipe
Simple Garlic & Thyme Broccoli
Ingredients
2 cups steamed broccoli
1 clove garlic, peeled & crushed
2 tbsp fresh thyme
1/8 – 1/4 cup extra virgin olive oil or flax seed oil
Directions
Mix oil, garlic and thyme together.
Place steamed broccoli into a serving dish
Drizzle the desired quantity of thyme & garlic oil over the broccoli and toss gently.
Enjoy!
Brussels Sprouts
Love them or hate them Brussels sprouts are chock full of vitamins, minerals, antioxidants and fiber. They are low in calories and high in complex carbohydrates so good for your waistline.
Of all the cruciferous vegetables Brussels sprouts contain the highest amount of glucosinolates, the sulfur containing compound that activates the detox pathways. The sulfur that contributes to the overpowering taste and smell of sprouts when overcooked is needed for Phase 2 detox system.
Brussels sprouts probably also contain more antioxidants than any of the other crucifers which play an important part in Phase 1 detox.
Make sure you don't overcook them if you want their incredible health and detox benefits. Brussels sprouts produced these days tend to be less bitter than the older varieties. Roasting them slowly is a great way to remove the sprout's natural bitterness. Braise them or pan fry them in a little olive oil with garlic, shallots, thyme, rosemary or sage or eat raw. Simply shred them finely and add to salads.
Recipe
Garlic Ginger Brussels Sprouts

Makes 2-3 servings
Ingredients:
500 grams Brussels sprouts
5 cloves garlic, peeled and chopped
2 inch piece fresh ginger, peeled and grated or finely chopped
2 – 3 tablespoons extra virgin olive oil
2 teaspoons low sodium soy sauce
2 green onions (spring onions) chopped
Peel off the outer leaves of the Brussels sprouts, trim the stalk, and then halve or quarter if large.
Steam until just tender. Do not over cook.
Heat 2 – 3 tablespoons of the  oil in a large skillet over medium-high heat.
Add the garlic and ginger and cook gently until softened but not brown.
Add Brussels sprouts and stir fry with garlic and ginger until heated through.
Sprinkle over the soy sauce and green onion and gently toss to mix.
Serve immediately.
Green Cabbage
Cabbage has a long history of use both as a food and as a medicine. It was praised by the Greeks and Romans for it's medicinal benefits.
One way your liver eliminates toxins that it has neutralized is through bile that is excreted into your digestive tract. The fiber in lightly steamed cabbage helps to bind up the bile acids carrying them safely out of your body.
Different types of cabbage contain different types of glucosinolates so it's important to eat all varieties. Researchers have discovered that the best way to preserve all the benefits of the glucosinolates in cabbage is to eat it raw, steam it, steam fry it or juice it. These important compounds are what makes cabbage an important vegetable to protect you against cancer.
To steam fry it, heat a little vegetable stock or water in a frying pan until it is just simmering. Add the finely shredded cabbage, cover and cook gently for 5 minutes.
There are some cabbage detox soup recipes here: Cabbage Soup Detox Diet Plan
Kale
Kale is often referred to as a superfood. Research into the health benefits of kale has centered more around it's cancer protective properties than any other health condition. As well as the all important glucosilonates it contains an abundance of antioxidant nutrients, particularly carotenoids and flavonoids.
Kale contains an incredible 45 different flavonoids which increase the activity of the Phase 2 detox system. One of the glucosinolates in kale can be converted to indole-3-carbinol which is a very active stimulant of detox enzymes in the gut as well as the liver. Like Brussels sprouts it contains sulfur-containing phytonutrients.
Kale is rich in Vitamin K, Vitamin C, manganese, folate, iron and fiber that helps to sweep out the toxins from your bowel.
Look for young greens with small leaves as they tend to be milder and more tender than large mature leaves which need long boiling to become tender. Lacinato or Tuscan kale a.k.a. Dinosaur kale is recognized by its dark blue-green leaves and distinctive texture.
Trim away any tough stem ends, shred leaves and stir-fry, sauté or juice them or add a few leaves to Green Smoothies.
Recipe
Spicy Kale
Ingredients
1 bunch young kale leaves, stem removed and cut into ribbons
2 – 3 carrots, peeled
1 tsp mustard seeds
1 tsp cumin seeds
1-2 tbsp coconut oil
1-2 tsp turmeric
1/4 tsp Himalayan or Celtic salt
Directions
Heat oil in a pan over medium heat. Add mustard and cumin seeds.
Add the vegetables as soon as the seeds begin to crackle.
Add salt and mix until the veggies are coated with the oil mixture.
Turn the heat down a little and allow this mixture to cook gently for 5 minutes
Add the turmeric. Stir and cover.
Allow to cook for a few more minutes.
Dino Mist Smoothie
Ingredients
4 ripe pears, cored
4-5 leaves of kale coarsely cut into ribbons
½ bunch of mint leaves
Water, enough to cover blades.
Directions
Blend altogether in high powered blender until very smooth.
Brassica vegetables have been found to protect against coronary heart disease and stroke thanks to high vitamin C and beta-carotene content. They also help to reduce the occurrence of visual problems. So, green is the color of the season. Eat some every day to get their full detox benefits whether you are on a detox diet or not.
If you like this article don't forget to share it using the share buttons below.