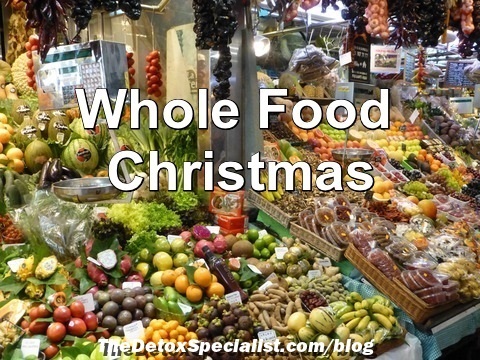 When you've been following a healthy whole food diet, the thought of getting through the holidays without ruining your recent detox or healthy eating plan might seem a little difficult. However, you can still be excited for Christmas even while following this healthy lifestyle!
Here are some of the main difficulties with Christmas and being on a whole food diet:
·       Christmas is often centered around sweet treats, sugar, and chocolate
·       Crafts often include candy and treats, including gingerbread houses and sugar cookies
·       Stocking stuffers typically involve even more unhealthy treats
·       People enjoy having a big Christmas breakfast or dinner that are full of unhealthy foods
There are tons of ways to turn your whole foods Christmas into one where you start new traditions, have delicious food, and even try some brand new recipes. Get your family involved in planning a healthier whole foods Christmas with these tips and tricks.
Christmas Eve Whole Food Ideas
Many people have traditions for Christmas Eve that are hard to break. While Christmas morning is usually reserved for a lighter breakfast and opening gifts, Christmas Eve is often when you eat a big meal with just your family and then maybe have some type of treat afterward.
You might even have a tradition of making a gingerbread house, which is fun to look at, but uses a lot of sugary candy that is not allowed on your whole foods diet. Luckily, there are still lots of options available to you. Here are some different variations on these ideas so that you can still enjoy Christmas Eve with your family, but also stick to the whole foods lifestyle.
Gingerbread Cookies
You might not be able to make your usual Christmas cookies or make the gingerbread house, but you can combine these two ideas and make gingerbread cookies. Gingerbread cookies are actually whole foods-friendly, not to mention dairy-free and work great if you are on a Paleo diet.
The basic ingredients used for gingerbread cookies include molasses, ground ginger, ground cinnamon, cloves, salt, coconut oil, and maple syrup. They usually ask for flour, but you can use almond flour instead. Tapioca starch may also be included in recipes for these cookies.
Ingredients
1 1/2 cups almond meal
1/4 cup tapioca starch
2 teaspoons ground ginger
1/2 teaspoon ground cinnamon
1/8 teaspoon Himalayan salt
1/4 teaspoon baking soda
2 Tablespoons coconut oil, melted
1/4 cup pure maple syrup
1 tablespoon blackstrap molasses
Extra tapioca starch for rolling.
Directions
Preheat your oven to 350F (175C) and line a baking sheet with parchment paper.
Place almond meal, tapioca starch, ginger, cinnamon, salt, and baking soda in a large mixing bowl and stir well to mix. Add the coconut oil, maple syrup and molasses and stir again until well mixed and you have a sticky dough.
Place the dough in the freezer for 30 minutes to allow to firm up.
Form the dough into tablespoon-sized balls, roll them in a little tapioca or coconut sugar, and flatten them on the baking sheet with your hand.
Bake the cookies for about 10 minutes for a soft center, or 14 – 15 minutes for a crisper cookie. (The edges should brown for a crispier cookie.) Allow them to cool completely on the baking sheet as they will be soft until they cool down.
Christmas Fruit Salad
Why not make a delicious fruit salad in place of other treats? Fruit is sweet so your family will love it!
There are a couple things you want to do with your fruit salad to make it special. First of all, use some fruits that are fun to combine in the winter but that maybe you don't have all that often. Some good winter fruits to use are pomegranate, mandarin oranges, kiwis, pears, grapes and unsweetened dried cranberries.
The next thing you can do is use a dressing on top that only contains ingredients you are able to have on the whole foods diet. For example, you can make a tasty dressing with lime juice and good quality maple syrup or simply dress with some fresh orange juice.
Winter Glazed Salmon
If you want to make your Christmas Eve dinner extra-special, why not combine a classic meal with a winter twist? A good option is to take healthy wild salmon and glaze it with ingredients that are popular in the winter, such as rosemary and orange. For the glaze, you can use fresh rosemary, lemon juice, orange juice, honey, orange zest, and cornstarch. Apply the glaze over the salmon, then cook it in the oven. Your family will feel like they are having a special treat on Christmas Eve.
Christmas Breakfast Whole Food Ideas
You may be a family that likes to make a big breakfast on Christmas morning. Unfortunately, making your traditional cinnamon rolls, French toast or egg and cheese quiche isn't going to cut it when you make the switch to the whole foods diet.
Luckily, there are some alternatives that are close to the breakfast foods you enjoy eating, but don't contain sugar, milk, cheese, and other ingredients that are big no-nos. Try out one of these Christmas morning breakfast recipes to wake up to.
Eggs and Potatoes
First of all, if you usually make a big breakfast with homemade quiche or cheese omelets with potatoes, you can still make this breakfast, but do it a little bit differently. Instead of making a quiche with eggs, cheese, and milk, you can instead make a simple veggie scramble.
A scramble doesn't need any milk or cheese as long as you have other ingredients. Put avocado oil in a pan, then add some chopped veggies and sauté them. Onions, tomatoes, bell peppers, mushrooms, and spinach are all really good veggie options to pair with eggs. Once the veggies are soft, add your beaten organic eggs and cook them together with the veggies. You can then serve on a plate with some sautéed red potatoes if you like.
Gingerbread Waffles
Does your family like to have a big plate of waffles on Christmas morning? Instead of regular waffles that contain unhealthy ingredients that you want to avoid on a whole foods diet, you can have gingerbread waffles. These are really delicious, super festive, and healthy. For your gingerbread waffles you will need almond butter and almond milk, eggs, coconut oil, molasses, vanilla extract, coconut flour, baking soda and baking powder, ground ginger, cinnamon, and allspice. Combine these ingredients and add the batter to your waffle maker. Once they are done spread with some almond butter and  a little pure maple syrup.
Hot Fruit Bake
Fruit for breakfast may sound boring, but when you make a hot fruit bake with seasonal spices, it turns into a delicious Christmas morning treat. Use seasonal fruits that remind you of Christmas, such as pears, cranberries, and apples. Combine them with a little coconut sugar or raw honey, and lemon juice. Add some spices to really add to the flavor, such as nutmeg and cinnamon. You can top it  with chopped walnuts.
Christmas Dinner Whole Food Ideas
Now it is time to think about your Christmas dinner! As you know, if you choose to make a ham, roast beef, or turkey, your family can definitely enjoy that while on a whole foods diet. You just want to be careful about adding sugar and other unhealthy ingredients that aren't included in a whole food way of eating.
It is usually the appetizers and side dishes to the Christmas dinner that you want to avoid  such as the butter and milk in potatoes and the creamed soup in your green beans. The following recipe ideas are perfect for Christmas dinner and 100 percent whole foods-friendly.
Brussels Sprouts With Cranberries
What better vegetable to go with your Christmas dinner than Brussels sprouts ? This vegetable is low in fat, super healthy, and is a cruciferous veg so is a detox food.  Not to mention the fact that it is perfect for the holidays since it happens to be in season during the winter.
To make it more of a festive side dish, you can sauté the Brussels sprouts in some avocado oil, adding seasonings like salt and pepper, and maple syrup. When they're done, drizzle balsamic vinegar, and add cranberries and pecans on top. This is a simple recipe and one that your family will enjoy without feeling like it is a "diet" food.
Pineapple Honey Ham
Instead of having a regular ham for your Christmas dinner, why not go with a more unique recipe? Pineapple is often considered a summer fruit, but many regions have it in season in the winter, and it is the perfect combination to go with honey when making your ham. This gives your ham a nice sweet taste without having to use any sugar. For the glaze on the ham, you want to use organic honey, stone ground mustard, and pineapple juice. Instead of sugar, you can add some coconut palm sugar to the recipe if you need it a little bit sweeter.
Stuffed Acorn Squash
Another winter vegetable that goes great with Christmas dinner is acorn squash. These are small yellow squashes shaped like acorns. You can stuff them to make a really fun side dish for your holiday dinner. For a really impressive stuffed acorn squash, combine almond butter with coconut palm sugar, then mix in some chopped walnuts and fresh cranberries. Take this mixture and stuff each half of the acorn squash, then bake it.
Christmas Dessert Whole Food Ideas
Now for your dessert! This is often one of the most difficult parts of being on any type of healthy eating plan during Christmas, though you should look at the whole foods diet as more of a lifestyle and not a "diet" as such.
For dessert on Christmas, you want to think about ways to have something sweet that looks and tastes like a treat, but doesn't contain regular table sugar, cream, or some of the other ingredients that aren't good for you and not included in the whole foods diet plan. Here are some desserts even your kids will be impressed by for Christmas.
Chocolate Coconut Fudge
Fudge is a crowd favorite for Christmas, but it is usually made with chocolate that contains sugar and regular milk to make it creamier. However, this recipe isn't going to use any type of dairy. Instead of regular chunks of chocolate, you want to use dairy-free and refined sugar free dark chocolate pieces or chips. You can usually find them in a health store or online. Combine these with coconut milk, coconut oil, and vanilla extract.  Below is a recipe for Chocolate fudge that is made with raw cacao powder and sweetened with dates and  .
Ingredients
1 cup medjool dates
1/4 cup coconut flour
2 tablespoons raw cacao powder
1 tablespoon coconut oil, melted
1 teaspoon chia seeds
1 teaspoon natural vanilla extract
Unsweetened shredded coconut (garnish)
Directions
Line a 7 x 7 inch pan with parchment paper
Combine all ingredients apart from garnish in a food processor and blend for 1 – 2 minutes until the mixture has formed a dough.
If the mixture seems too dry, add water a little at a time and pulse to combine until the mixture becomes dough like.
Press mixture into the prepared pan.
Sprinkle shredded coconut on the top.
Place in freezer for at least 2 hours.
Remove from freezer and cut into bite-sized squares with a sharp knife.
Store in an airtight container in the freezer.
Fruit With Coconut Whipped Topping
A simple way to make a healthy dessert for Christmas is to have bowls of winter fruits, such as the ones previously mentioned, then top with coconut cream instead of regular cream. Or you could use some coconut yogurt. There are lots of recipes for making whipped topping from coconut milk instead of regular milk.
Eggnog Bites
Eggnog is a very popular drink to have at Christmas, and eggnog fudge is quickly gaining popularity. While you can't make the eggnog fudge, you can still make eggnog bites that are similar, but don't use any type of sugar, dairy, or flour that is not approved for your whole foods lifestyle. The eggnog bites will use almond or coconut flour instead of regular flour, along with coconut palm sugar, Himalayan salt (preferable to sea salt these days to avoid the plastic fibers in most sea salt), nutmeg, cinnamon, cloves, nut butter, and soy eggnog.
For some healthy no bake eggnog bites try Arman's recipe:
No Bake Eggnog Bites
The internet is flooded with healthy recipes for whole food Christmas food that there is simply no excuse not to eat healthily. It may take a little while to get used to the different flavors but when you think how much better the food is for your health you'll be happy that you  made the effort.
You can get more healthy recipes in this post: Healthy Christmas Recipes That Won't Ruin The Detox