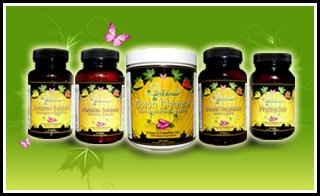 I keep coming across claims that Dr Floras colon cleanse is the best cleanse on the market – well don't they all claim that!  So I thought it was about time I investigated it. Who is Dr Floras anyway? Probably just a name they invented as a front, I thought.  I looked all over the site but could not find out who Dr. Floras is, so being the inquisitive type, I called the company.
Who Is Dr Floras?
Carrie from customer services told me that Dr Floras is a real medical doctor and he was the main doctor involved in formulating the colon cleanse. Why was he so interested in bowels, I asked. Was that his specialty?  But she could not answer that one.
No irritant laxatives = no cramps
So why has Dr Floras been voted the No 1 colon cleanse I wonder?  I have used enough colon cleanses in the past to have a good idea of what to look for in a product. The first thing I liked about it was the fact that it does not contain senna. This is a pretty powerful laxative herb that always gives me (and a lot of other people) cramps so I avoid cleanses that contain it. It does not even contain cascara that so many other cleanses include. Cascara stimulates the peristalsis movement of the bowel and can sometimes cause cramp in sensitive individuals. Two good points so far.
The list of ingredients is not big by any means. It consists of just Psyllium, Bentonite Powder, fennel seed powder, apple and grapefruit pectin. You don't want too many things in a cleanse. If there is a great list of herbs then there is not much of each in it.
Colon Sweep with a difference

Psyllium fiber isn't known as the colon sweep for nothing. It is the main ingredient in most bowel cleanse products but this isn't just ordinary Psyllium.  Dr Floras came up with the idea that to get a really good cleanse you need something coarse to scrub out the main stuff that's clogging you up and then something finer to get into all the nooks and crannies.
So the psyllium is cut into different particle sizes and used in a very specific ratio. This patent pending Psyllimax ingredient is the magic ingredient that gets the results that other cleanses do not. So how do they know that, I asked Carrie. Did Dr Floras do trials with it? Yes, she said. How many people were in these trials I asked (you have to have enough people to get a result that means anything). That she didn't know.
Pulling Power of Bentonite & Pectin

Bentonite Powder is used in some but by no means all colon cleanses. It is great at pulling out all the toxins. It acts as a sort of magnet attracting heavy metals and all sort of other toxins that you are better off without. I have always had the best results with cleanses that include Bentonite. So far so good.
Pectin adds more cleansing power with its soluble and insoluble fibers and can pick up toxins and heavy metals Fennel seed stimulates the flow of saliva and gastric juices and stops cramps so your system feels comfortable when you cleanse. Many people are saying how much better they felt on this cleanse than others they did that caused a lot of gas, bloating or cramps. And that's really important. You don't want to put yourself through any torture just to feel better in the end do you?
Herbs to soothe your system
But, they probably added the Cleanse Support. This is one of a number of add on products. The Cleanse Support is a collection of gut soothing herbs. And to be sure you get a very thorough cleanse there is a Parasite Cleanse you can add too.  With so many people harboring parasites they didn't even know they had it's a wise choice.  And to complete the cleanse there are probiotics to put the good bacteria back into your clean bowel. Dr Floras seems to have thought of everything.
What does it taste like? Well everyones taste is different. They recommend mixing it in water but from what I've heard some don't like the taste. You can mix it in juice but not citrus as it can cause cleansing reactions. Apple juice is probably the best choice.
No fasting needed
What about diet? They are not recommending any drastic fasting, just a good healthy diet of vegetables and lean protein like chicken and fish and plenty of water of course.  I have to say though, that the best results I have had from cleanses are the ones that involved a few days of juice fasting. When you are not eating food then the psyllium and Bentonite can get to the walls of the intestine to pull out old fecal matter and toxins. But in spite of  this people are getting some gross stuff out of their bodies. Have a look if you dare!
So is Dr Floras the number one colon cleanse or is it just a load of hype? Well I have convinced myself that I should try it and then I can really tell you what I think.  If you want to hear what others are saying about it and see some of the results.  Go to Dr Floras website now!